Black and Gold Lace Evening Gown
As much fun as it has been having so many glimpses at the wedding dress previews, I've been eager to get back to creating some collages! As soon as I saw this black and gold lace evening gown, I knew I had to style it. So, for a little break from white lace, organza, and silk, we'll take a look at this black tie look! I hope you love the results!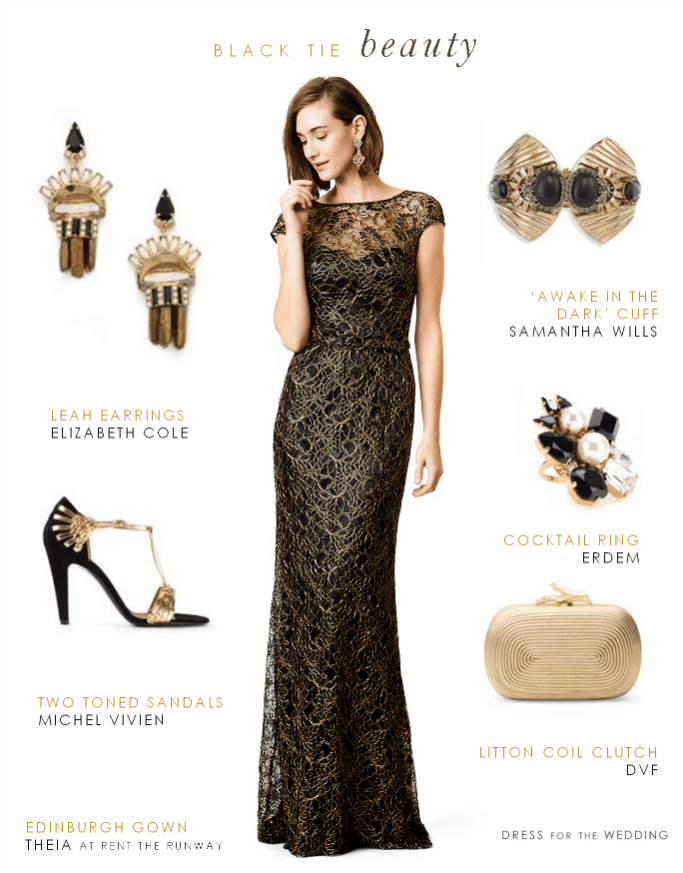 Evening gown: Theia Edinburgh Gown at Rent the Runway // Earrings: Elizabeth Cole Leah Earrings // Cuff: Samantha Wills 'Awake in the Dark' Cuff // Cocktail Ring: Erdem Cocktail ring from My Theresa //Clutch: Diane von Furstenberg Lytton Coil Leather Clutch // Sandals: Michel Vivien Two Toned Sandals
Black Lace and Gold Gown for a Wedding
It has been a few weeks since my post on formal dresses for fall weddings, and since then my radar has been up for pretty full-length gowns. The holiday season is just around the corner, and there will be lots of parties, events, and weddings that might require a little dressing up. This gown could also be a stunning choice for the mother-of-the-bride or mother-of-the-groom. The gilded details keep this gown light and festive!
This gown is a new Rent the Runway selection, so unless want to purchase it from Saks, where many styles from Theia are carried, you can rent it for your event. It's certainly a classic gown, but also has the makings of a once-in-a-lifetime gown to wear! And, please, let us not forget those shoes, and ornate accessories. Those shoes are a work of art! If a black tie event beckons you this season, this might just be the perfect dress!


Shop the Post and shopping links use links to our affiliate partners. More details here.
More posts and shopping links you might like:
Shop Formal Dresses for Black Tie Weddings
Black Dresses for the Mother of the Bride
More style ideas you might enjoy :