Little Black Dress with Emerald and Pale Green Accessories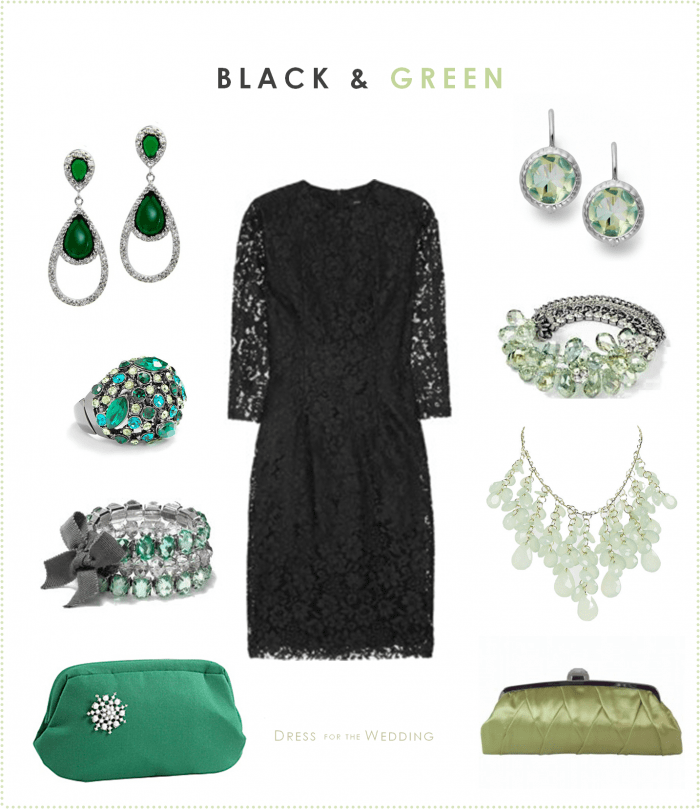 Emerald Green: (top to bottom) Gala Emerald Classic Teardrop Earrings / Simulated Crystal Cocktail Ring / Simply Vera Dark Green Bracelet with Bow / Jesse B. Kennedy Collection Emerald Clutch
Pale Green (top to bottom):  Victoria Townsend Green and Silver Earrings /Vera Wang Pale Green Stretch Bracelet / Stefan & Co Pale Green Necklace / Menbur Clutch /
Black Lace Dress with Green Accessories
I think black looks lovely with many shades of green. Certainly emerald and black look sharp together, and I also like a pale gray-ish green, but shades of lime or bright green are wonderful with black as well. To give our mother-of-the-bride some choices, I decided to show this with a deep emerald green, and also a pale minty green color. I like this shoe with either look.
See more related posts from our mother-of-the-bride's quest for accessories with a little black dress.
Shop selected items the post and more green accessories.