Blush and Gold
I've probably said this several times, but blush and gold is one combination I can't get enough of for weddings. I have created several collages (like this and this) with this theme, and I have a blush wedding inspiration board, and gold wedding inspiration board, and a pink and gold in an attempt to harness all the love I have for these colors!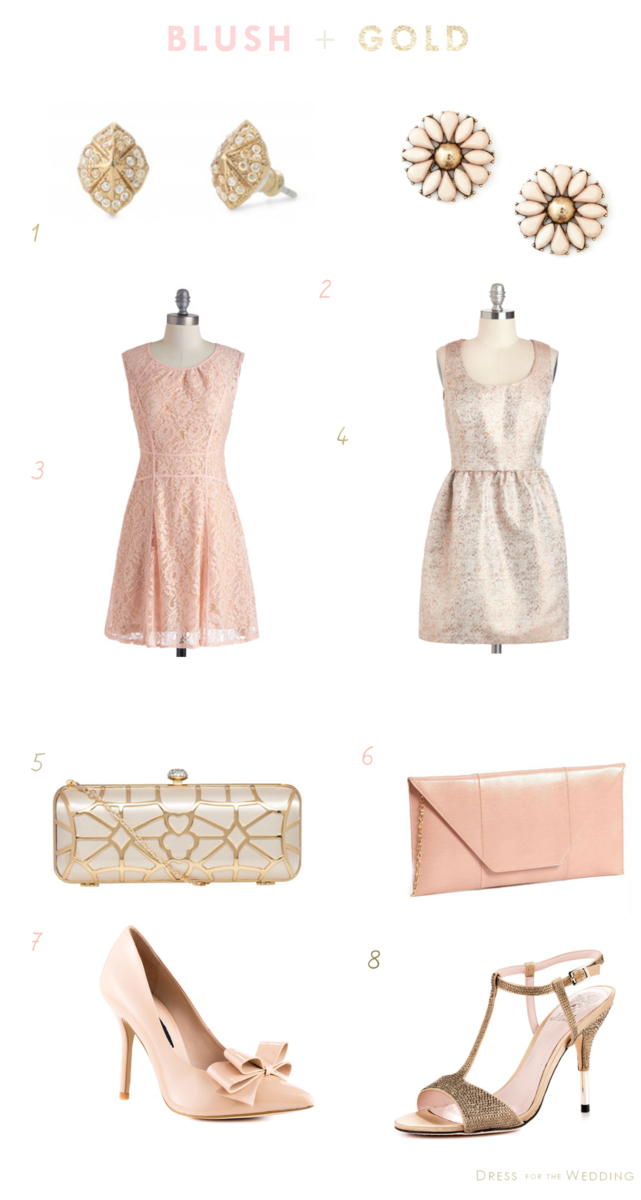 1. A Nod to your Pastel Earrings by ModCloth 2. Eden Studs by Stella & Dot 3. Garden Chess Dress  4. Good as Golden Dress 5. DP Occasion Blush metal caged boxblush and gold clutch 6.  Halogen Blush Clutch from Nordstrom 7. Ravesh Blush Patent Bow Heels by Steve Madden 8. Kherington Heels by Vince Camuto in Summer Gold
Gold and Blush Inspiration
I don't use the word swoon often, but I get pretty close to it, when I see things images like the pink and gold cake . The board above is my attempt to capture some this same pink and gold loveliness for you to wear - these colors are great for bridesmaids, or to wear to showers or engagement parties. Use the board above to mix and match blush and gold pieces to your heart's content.
Image via My Sweet & Saucy Shop
Want more blush and gold prettiness? Check out:
This Blush and Gold Inspiration on French Wedding Style created by Burnett's Boards 
Gold and blush inspiration via Emmaline Bride
Ans this blush and gold wedding theme on One Charming Day
Blush inspiration on The Perfect Palette
See more images like these on my Gold and Blush Pinterest Boards as well as this Pink & Gold board.