Our picks for the best bridesmaid clutches and bags. Where to shop and find makeup bags, totes, and purses for bridesmaids and wedding attendants.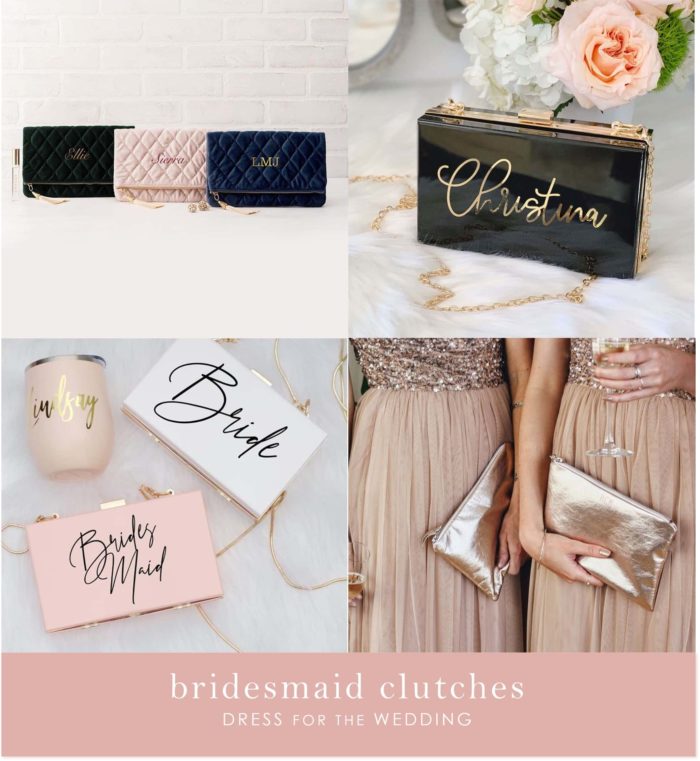 Image and product sources: 1. Personalized Velvet Clutch from Love and Luxe Handmade on Etsy 2. ModParty on Etsy 3.Personalized Clutch from The NativeBride on Etsy 4. SuedeandCo on Etsy
Clutches for Bridesmaids
Nearly each of our bridesmaid outfit ideas shows a clutch or other accessory with the outfit. While most bridesmaids walk down the aisle with a bouquet and no room to carry a clutch, we still think clutches for bridesmaids make for a great accessory and are wonderful ideas for bridesmaid gifts. After all, even if a bridesmaid dress has pockets, bridesmaids often need somewhere to stash wedding day essentials like phones, money, gum, makeup, or any other items. That's why we think it's a nice idea to give bridesmaid clutches, or makeup bags as a gift to pair with their outfits. If a clutch isn't your style, then a bridesmaid tote might be for you!
Where to Shop for Bridesmaid Bags and Clutches
Here are some of our current finds for bridesmaid clutches and bags from retailers and sellers on Etsy. You can also find our picks for Bridesmaid Earrings , Bridesmaid Robes, Bridesmaid Giftsand browse our favorites on Etsy for more finds.