Cranberry Dress and Champagne Accessories
As I mentioned in an earlier post this week, around this time of year I like dresses to do double -- if not triple-- duty. I want anything I buy for a wedding to be suitable 1. for the wedding, 2. for the holidays, and 3. for special occasions throughout the year. This combination of a cranberry dress and champagne accessories does just that. I think it both makes for a lovely wedding guest dress or would be a beautiful outfit for bridesmaids in a wedding with cranberry and neutral color scheme, and it definitely makes a great holiday party dress!
Affiliate links are used in this post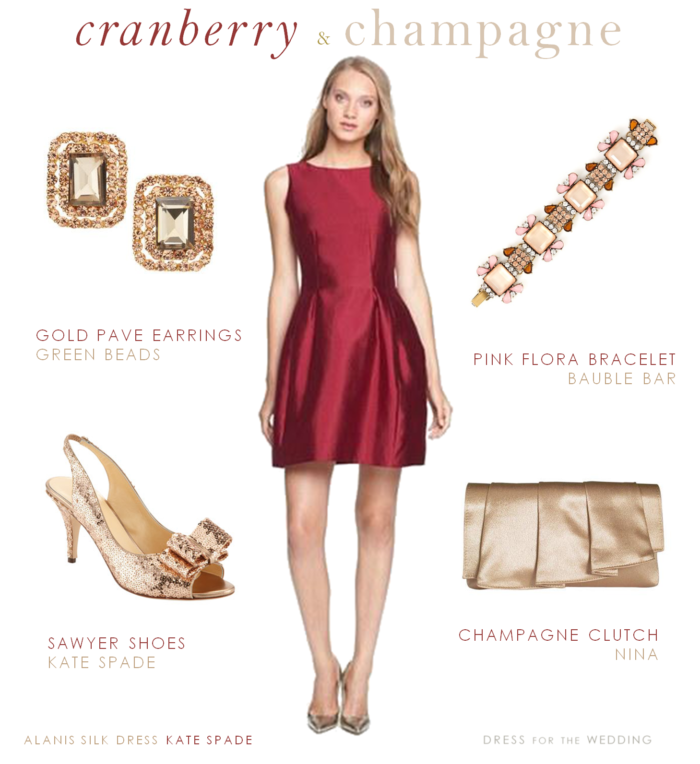 Alanis Dress by Kate Spade (out of stock try this one! kate spade mini cocktail dress with bow / Gold Pave Earrings by Greenbeads / Pink Flora Bracelet by Bauble Bar // Sawyer Mini Sequin Slingback by Kate Spade
Today's cranberry and champagne color combination was inspired by a few inspiration boards I've seen lately: The Perfect Palette showed some Cranberry Love, On the Go Bride, had this Cranberry and Neutral Theme recently, and Burnett's Boards showed this Maroon and Champagne combo for a reader request. All three made me realize how champagne and neutral colors perfectly temper a cranberry red like this. I also like to add a touch of rose gold to make it autumnal and add a little rosy color for interest. When I saw this perfect Kate Spade red party dress, I knew I had to style it, and so neutral champagne colors were the first thing that came to mind.
Cranberry Dress with Gold Accessories
What do you think of this color pairing? Can you see wearing this dress to a late November wedding and being a favorite dress all the way through February? Or can you see this as the perfect thing to dress your bridesmaids in for a fall or holiday wedding? One could even wear it to a fall rehearsal dinner as a guest! Get even more inspiration from these burgundy outfits for weddings. At the very least, if you don't get the dress, those sequin shoes alone will add holiday sparkle to any outfit you wear! Also take a look at these winter wedding guest dresses, and these holiday party dresses, for more special occasion style inspiration for the winter season!
Shop Dresses in Cranberry
Commissioned links are used in this post.

Related posts:
Red Dresses for Wedding Guests
More style ideas you might enjoy :