The Bridesmaid Dresses from The Bachelor Wedding
This past Sunday night was quite a night for fashion events, which is why you could find me on the couch switching between The Bachelor Wedding and the Grammy Awards to see who wore what.  The Bachelor Wedding completely won out when beautiful Monique Lhuillier dresses started appearing. You should really come watch tv with me to see the kind of happy little couch dance I do when a dress or designer I've featured on DFTW shows up on the screen. I get all excited like I practically made the dress myself... I don't know why, but it's a little thrill.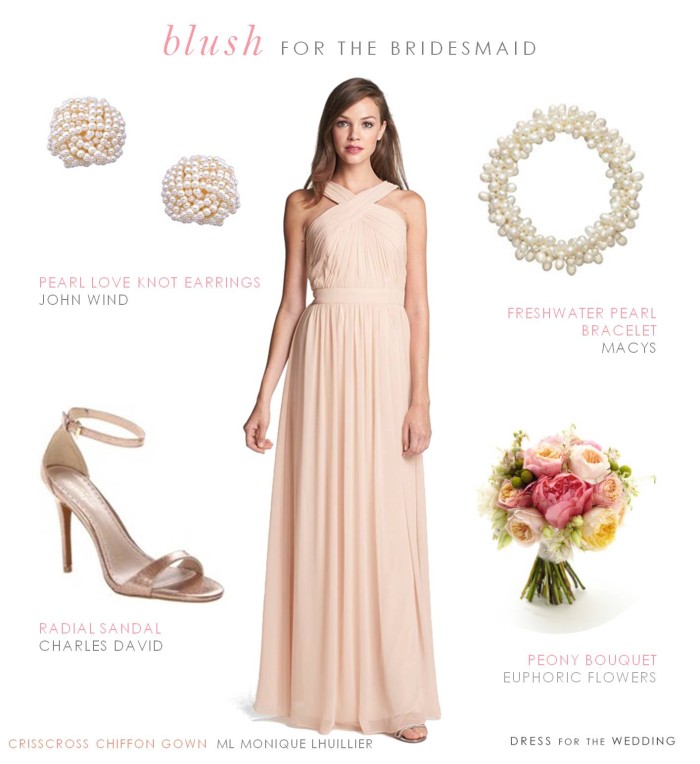 ML Monique Lhuillier Bridesmaid Dress in Blush Chiffon /John Wind Maximal Art Pearl Love Knot Earrings at Max & Chloe / Freshwater Pearl Bracelet at Macy's /Bouquet Image via Wedding and Wedding Flowers UK  Designed by Euphoric Flowers / Charles David Radial Sandal
So you can imagine my excitement when Catherine Giudici (now Lowe) stopped in at Monique Lhuillier and started trying on wedding gowns. I saw several familiar dresses, and it reminded me I still need to show you the full Monique Lhuillier 2014 collection. (I've shown a few of my favorites along the way in this post and my top wedding dress picks for 2014.)
In any event, the blush bridesmaids dresses that Catherine chose for her maids were just so lovely. I know I just did this post on a blush bridesmaid dress, and I have a few others, but I still feel compelled to chat about how gorgeous these dresses were! Talk about dresses your bridesmaids will love to wear, and pictures you'll never-ever have that what was I thinking?! - moment with. It doesn't get more classic than floor-length blush bridesmaid gown, designed by the inimitable Monique Lhuillier. I'm happy to say I have the official word from Monique Lhuillier Bridesmaids that the dresses that the 12 bridesmaids wore were three different styles ( I love a little style mix!) The gowns were styles 450064 , 450022 and 450036, and are all currently available at Bella Bridesmaids stores.  ( I also need to show you the latest Monique Lhuillier Bridesmaid Collection - gorgeous!)
The ML Monique Lhuillier Bridesmaids line is also found at Nordstrom which is where I found this pretty dress for my style collage. I'm pretty sure that it is note any one of exact styles listed above, but the blush chiffon and crisscross detail looked close to me, and conveys the style idea well.  My take on this classic gown gets even more traditional, with the addition of pearls and peonies.
I also really got all happy when I saw Sean's mother seemed to be wearing this Tadashi Shoji gown that has long been one of my Pinterest picks for mothers of the bride or groom.  I love its subtle sparkle and shape, and Mrs. Lowe looked fantastic in it! Sadly, it's out of stock right now, but Nordstrom will put you on the waitlist! If I get a chance, I'll be taking a shot at styling that too.
Well, Sean and Catherine are no doubt on their honeymoon, so join me in wishing them much happiness, and know that your bridesmaids'  happiness is pretty much guaranteed if you pick a classic dress like this!


More style ideas you might enjoy :