Floral Themed Weddings
Happy Dress to be WEDnesday from Dress For The Wedding and LiveEventfully-KristynJennifer Events! This post is featured in its entirety on LiveEventfully's Blog today, so head over there for the full view, or keep reading here.
Spring is here, and with spring comes flowers. (Eventually, I guess... they haven't arrived here, yet!)
I'll be the first one to admit, I tend to shy away from bold patterns and florals. After all--florals can get a bad rap as being too splashy, or--conversely--too dated and grandmotherly. But this season, beautiful, vibrant,  youthful florals are everywhere--and I'm a becoming quite a fan.
Florals are perfect for a wedding because they are completely romantic and feminine. The wedding ceremony and reception will likely be filled with real flowers, so why not add a few floral patterns to wedding decor, or have your bridesmaids wear a pretty floral print?
There are so many ranges within florals themselves, that I'm certain there is a floral to suit every style. One can select anything from the bright prints of Amy Butler and Lilly Pulitzer, which are perfectly preppy, to the pretty romantic shabby chic patterns that convey grace and romance.  We've pinned a full range of floral wedding inspiration: everything from fun vintage floral looks,  to romantic Victorian tea party styles, to punchy bold prints.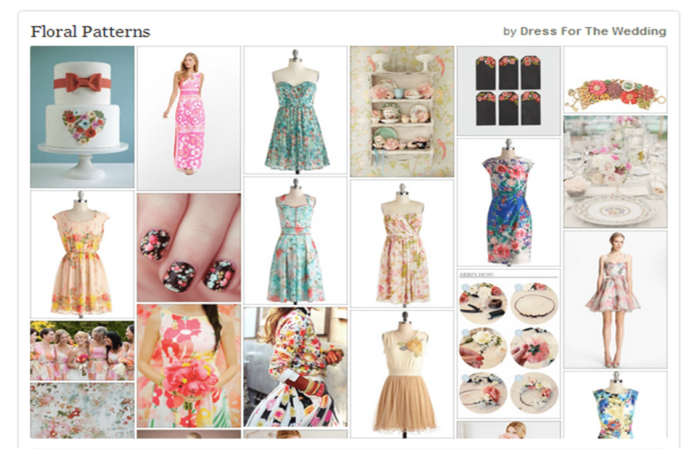 Floral Wedding Inspiration Board on Pinterest
Floral heart cake by Petal and Posie Cakes, inspired by Rifle Paper Co.'s heart print/ pink dress/ blue floral dress / china shelves / tags / floral bracelet/ peach floral dress/ floral nail art/ blue floral dress/ pink and green floral dress/ bright blue pink and white floral dress/ china/ bridesmaids in group/ floral bridesmaid/ floral mix/ dress with flower/ floral crown DIY/ Floral skater dress
Take a look at these three dresses I've selected and see if you're ready to pick a few floral trends for yourself. I'll be showing one a day on this site, or  visit LiveEventfully - KristynJennifer Events to see all the picks.
First up is this Lilly Pulitzer Dress.
The second pick was this white floral dress for a bridal shower
The third dress is this dreamy garden goddess.