Golden Bridal Accessories
One of my favorite bridal trends has been the return of gold and glamour to weddings. The current trend is so far from the over-the-top gold that used to look so flashy in years past --- these  gilded bridal pieces are completely regal and elegant. Platinum and silver are still lovely, but golden bridal accessories have really captured my heart this season.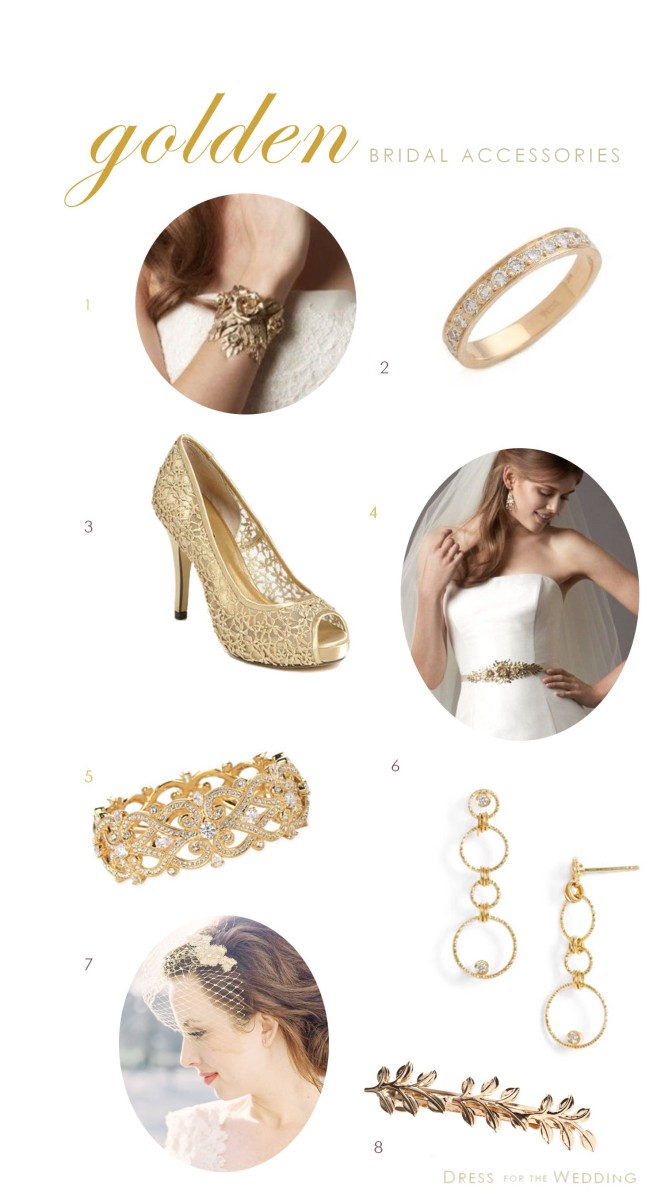 1. Euphoria Runway Cuff by Thomas Knoell for Watters  2.  Blanca Monros Gomez 14 Carat White Diamond Band Ring 3.  Menbur Strass Pump in Gold 4. Euphoria Belt Watters Accessories by Thomas Knoell 5. Nadri Celtic Knot Crystal Bangle  6. Moresque Diamond and Gold Drop Earrings  7. Doris Gold Veil from Hushed Commotion 8. ASOS Golden Grecian Leaf Barrette
Gold Bridal Accessories
If you love this trend you'll certainly want to check out the full line of  bridal accessories for Watters created by Thomas Knoell as well as his current collection for ideas for how to incorporate these golden accessories in your wedding day look.
Watters Accessories by Thomas Knoell Euphoria Runway Crown
I saw Thomas Knoell's creations in person this past bridal market, and so I can definitively say these golden accessories are beyond gorgeous and so versatile. For instance, the Euphoria belt can be worn as a belt, headband or cuff.
Another favorite bridal accessory designer of mine, Hushed Commotion, is also showing the most lovely pieces in gold  -- including beautiful gilded veils. ( See the Doris veil in number 7 above, and my piece on Hushed Commotion's 2013 Accessories.)
So dear brides, if you want to feel like royalty on your wedding day, get some gold going!
Related posts:
Wedding Dresses in the Boutique
Designer Wedding Gowns in The Collection