Karen Willis Holmes Wedding Gowns in New York City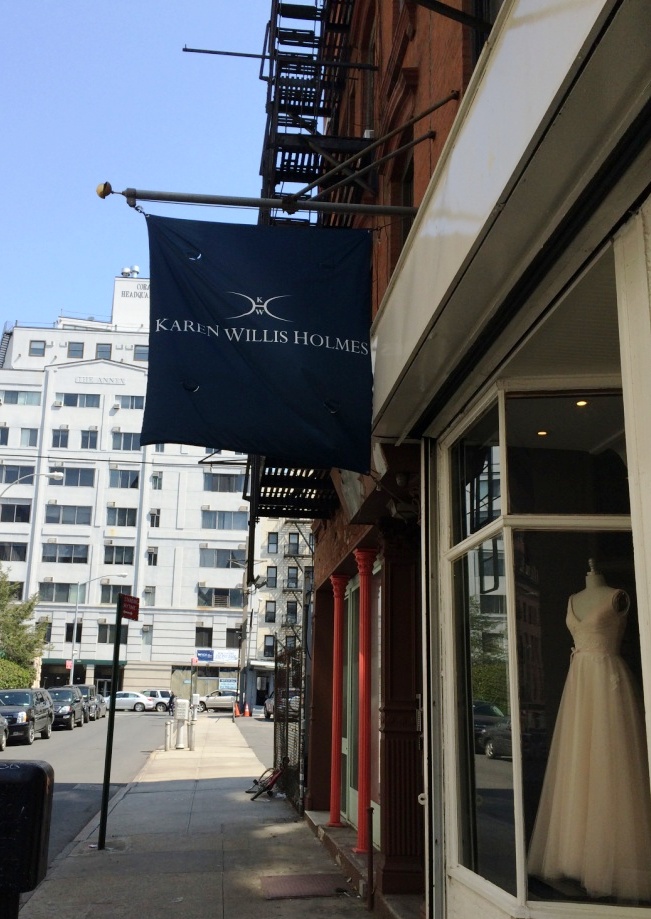 If you see this flag, you have arrived! Exquisite Karen Willis Holmes  wedding gowns are in store for you!
The Karen Willis Holmes Bridal Boutique Opens in New York City
I've been making my way through my bridal coverage at a snail's pace, but I can truly say I've saved the absolute best for last! On the final day of my New York visit, I planned a trip to the new Karen Willis Holmes New York City flagship boutique which is located at 7 Centre Market Place,  in Lower Manhattan, near Little Italy, in the most charming little area of shops and restaurants. Even if the most gorgeous wedding dresses weren't here, it would be worth a visit, but since they are here, I'm really telling you, that you must make the trip!
You may remember last year when I had the chance to meet Karen Willis Holmes, and came home for 2013 Bridal Market raving about these dresses. At that time, these gowns were just available at selected boutiques and the e-boutique on karenwillisholmes.com.  Through sharing some of the collections, I soon found I was not alone in my love of these gowns.  Jamie and Lyla have been some of the most popular wedding dresses on my Pinterest board, and I've had many requests for where to find them!
Happily, that is now easy to do! Since Karen Willis Holmes is based in Australia, you might have mistakenly thought your dream wedding gown was half a world away, but it's not so! Selected Karen Willis Holmes wedding gowns are now available now at many North American stockists, and the entire collection can now be seen at the gorgeous New York flagship, which opened in February, and had an official opening earlier this spring.
Not only is the new Karen Willis Holmes boutique completely lovely with charcoal grey walls, chandeliers, and other gilded touches that set off the dazzling gowns beautifully, but Stephanie Martinich, Manager of the Karen Willis Holmes New York Boutique, is the most welcoming, helpful, and knowledgeable bridal boutique manager a bride could ever hope for. She knows every aspect of these gowns and is a delight to work with!  Stephanie helped me choose some of my favorite wedding gowns from the various Karen Willis Holmes collections to put on our "bride" mannequin to photograph to share with you. (She even brilliantly suggested we snap these in front of the mirror so you could see all angles in one shot!) Some of these you've seen before on DFTW, but as you'll see here, getting to see and feel the textures and details of these gowns in person in the way to go!
I truly can't recommend stopping by this boutique enough, even if you have the slightest inkling that one of these gowns might be your dream wedding dress. I assure you, the gowns are just even more exquisite in person, and service is unparallelled.
With all there is to do in New York, you may not need an excuse to visit  anyway, but whether you're in the city or have to hop on a train or plane, the trip to 7 Centre Market Place where these wedding dress delights reside, should be at the top of any bride's shopping destination list. Here's a peek at what's in store for you there: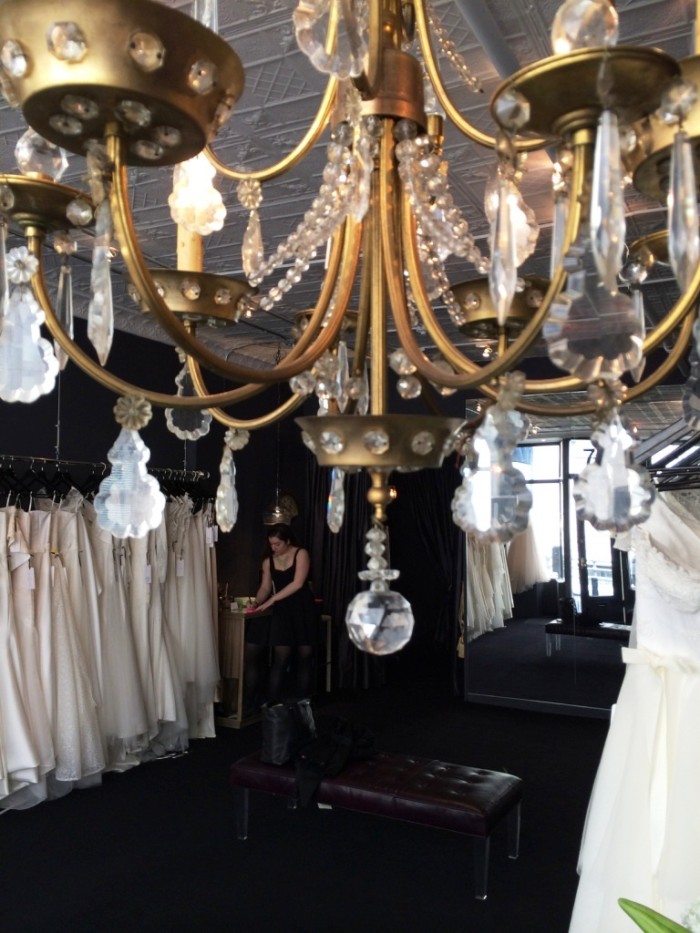 The fabulously helpful Stephanie amid the gorgeous gowns (and golden chandeliers!) at Karen Willis Holmes.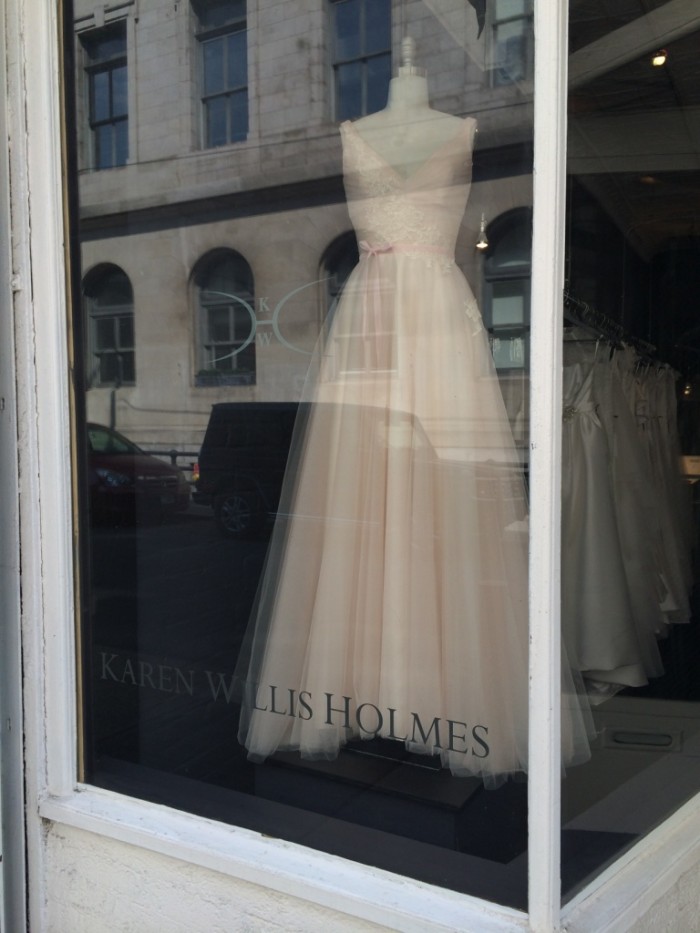 A blushing beauty in the window of Karen Willis Holmes new New York City Boutique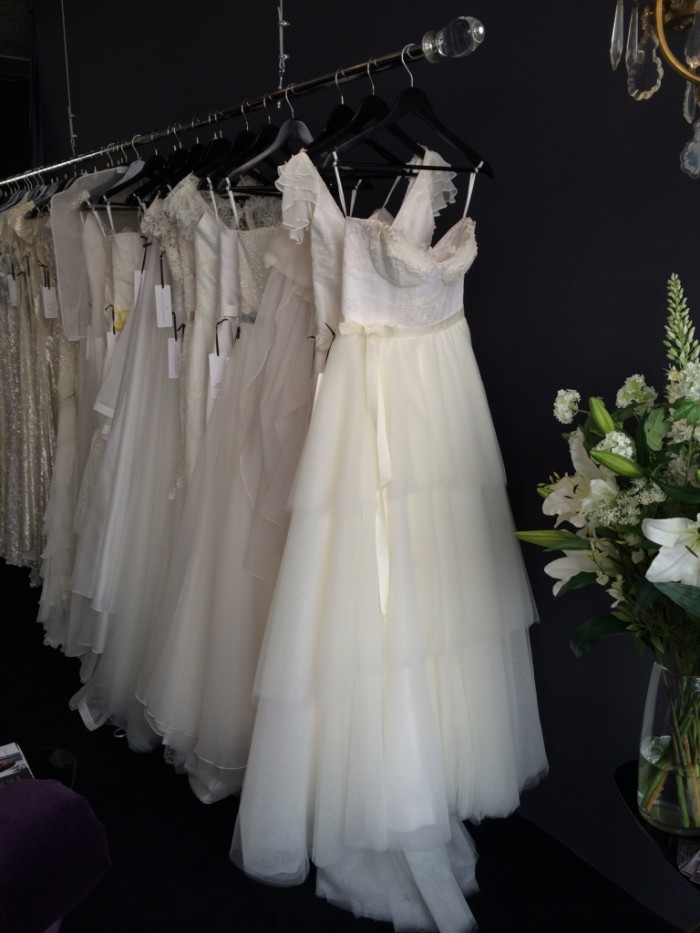 The gowns you've been dreaming of, all in a row.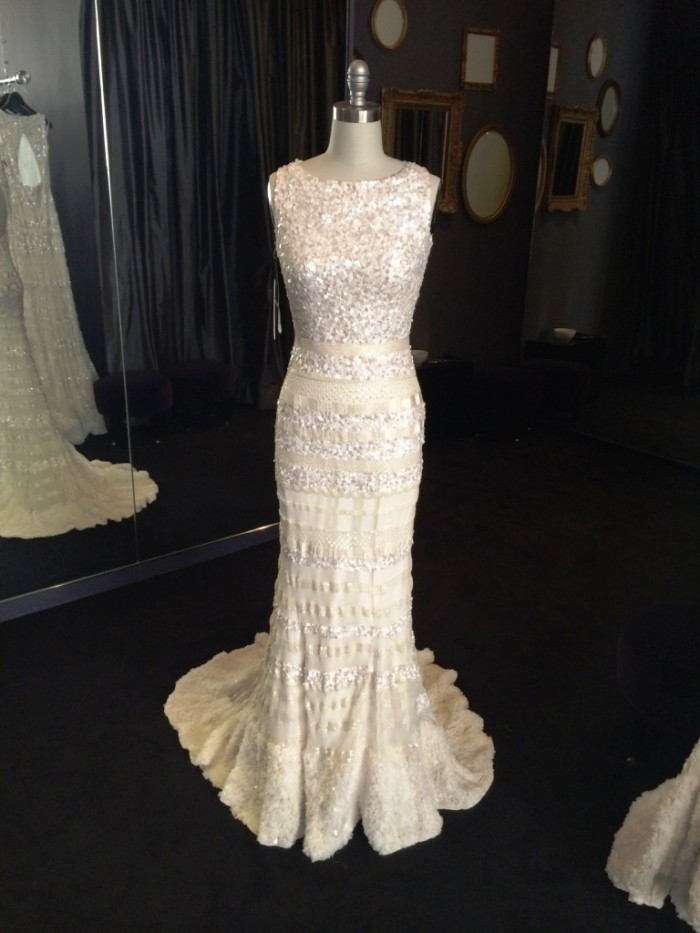 Josie
 Stephanie and I started dressing our mannequin "bride" in Josie, a favorite of ours. With sequins, beading, and figure flattering bands of embellishment; this gown can evoke both the most glamorous Art Deco feel, or be at home in a relaxed beach wedding.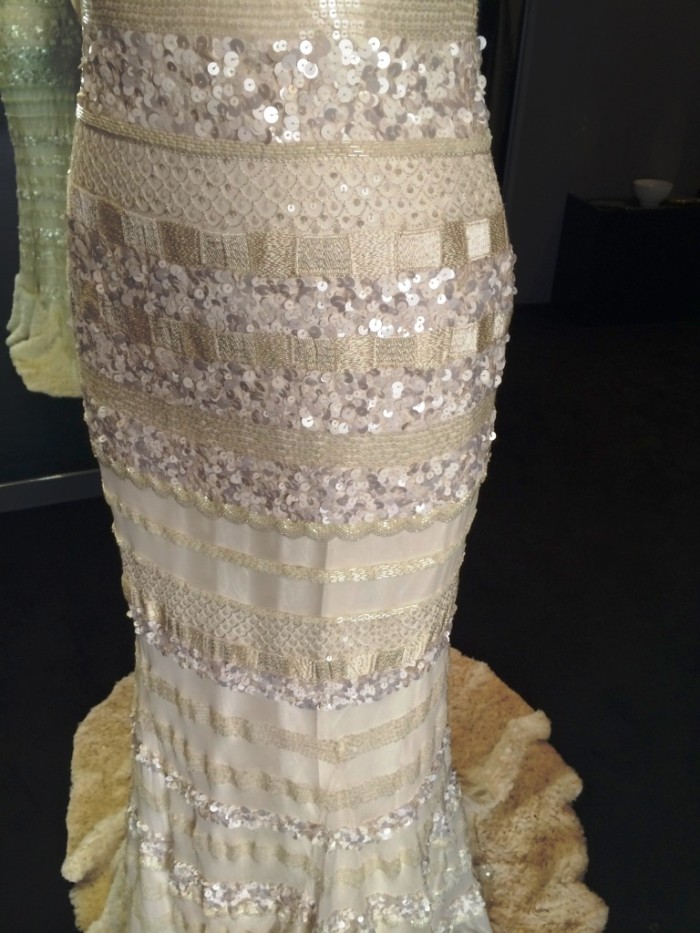 A detail of the beading on Josie.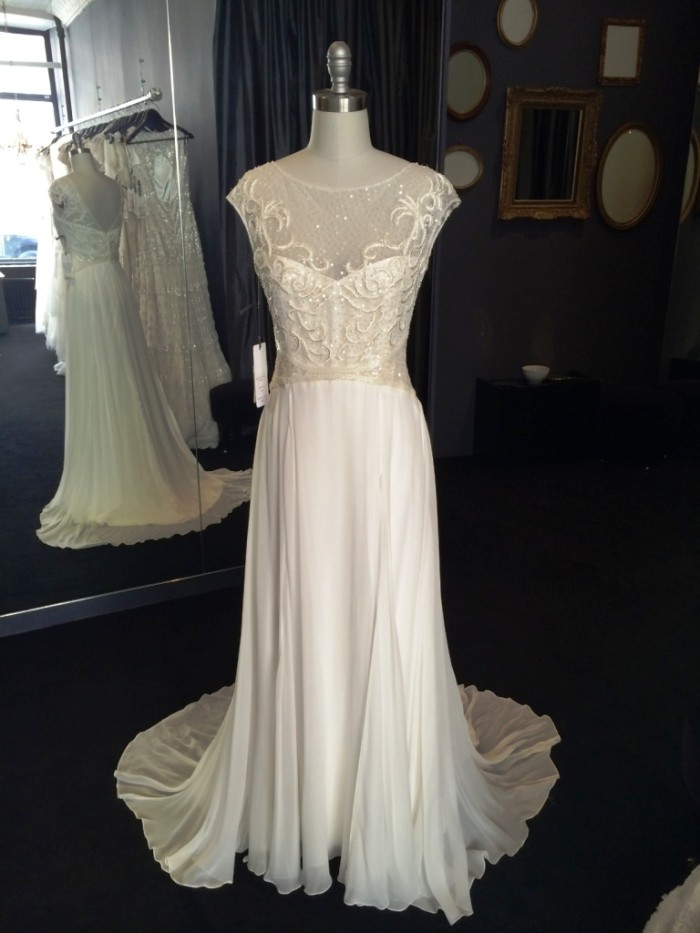 Jamie
Everyone loves Jamie, and it's easy to see her charms! I love the cap sleeve and sequin beading at the bodice with a beautifully flowy silk georgette skirt.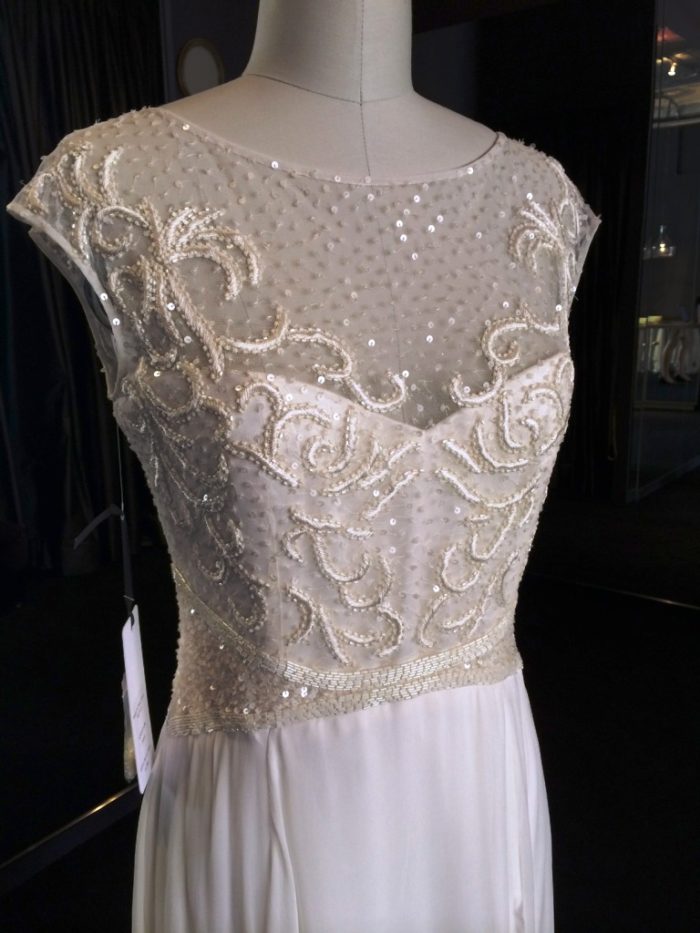 A look at the beaded detail on the bodice of Jamie.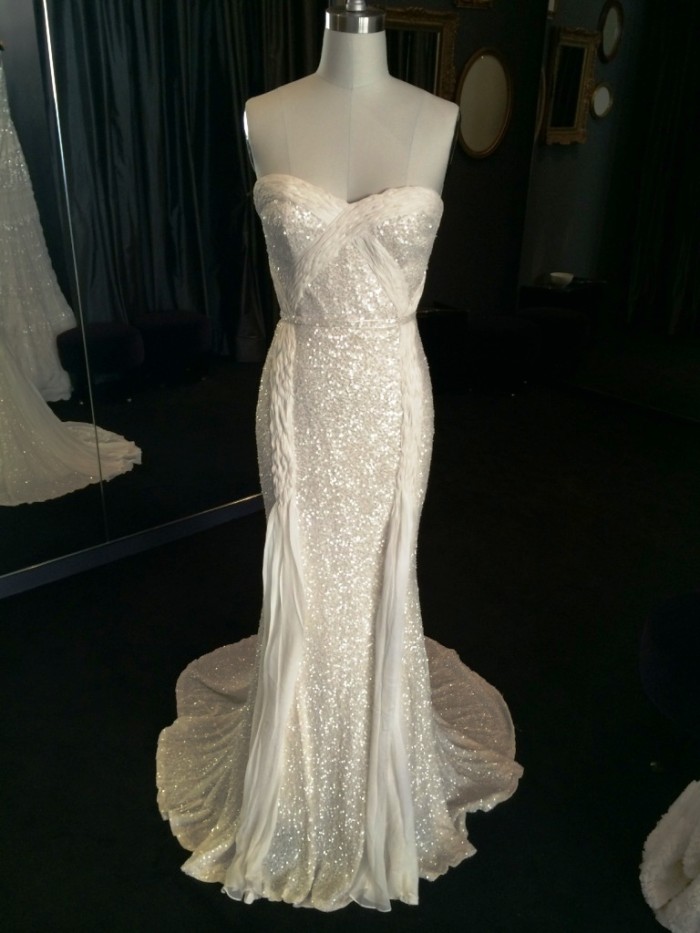 Taylor
Wow! This was definitely one of those must-see dresses. I had seen images of Taylor before, but her Hollywood starlet looks are even more apparent in person!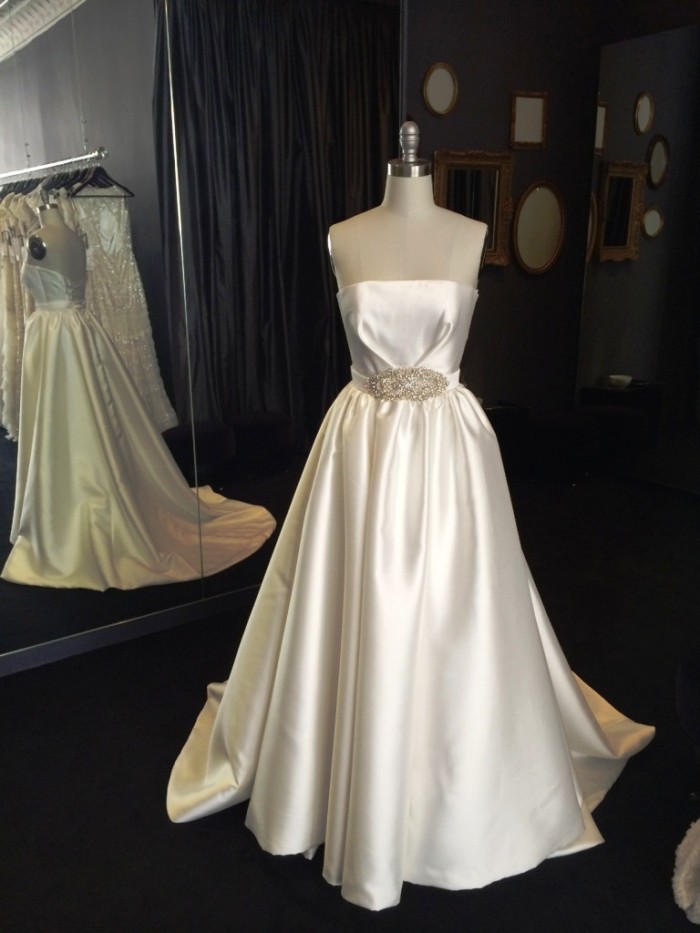 Crisp and classic with a beautiful ballgown skirt, Jacqueline is the quintessential strapless bridal gown of the collection. There is a complete array of bridal sashes that will allow you to customize this timeless look and make it your own.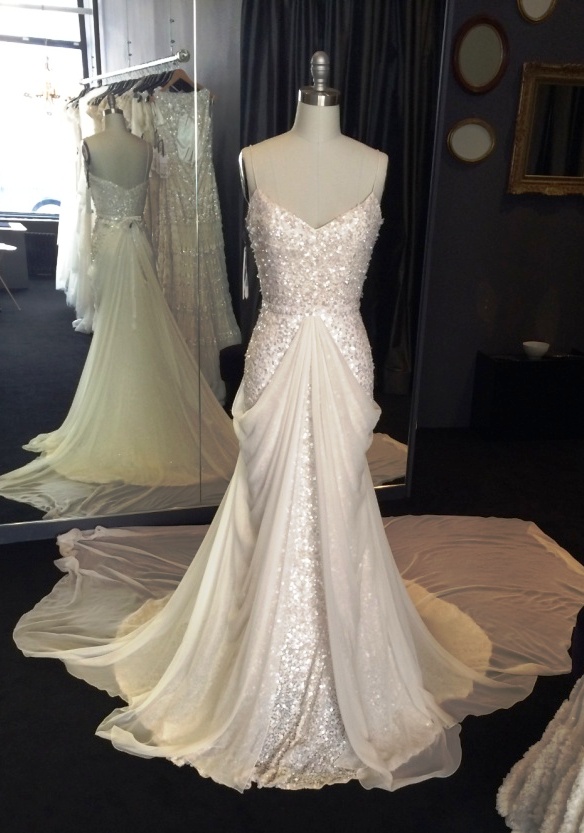 Anya with Genevieve Skirt Drape
On her own, Anya's sequined silhouette will already stop you in your tracks. Add this gauzy Genevieve overlay, and you have an  completely unique gown. The overlay gives this dress a gorgeous train for gliding down the aisle which can be removed for a new look for the reception.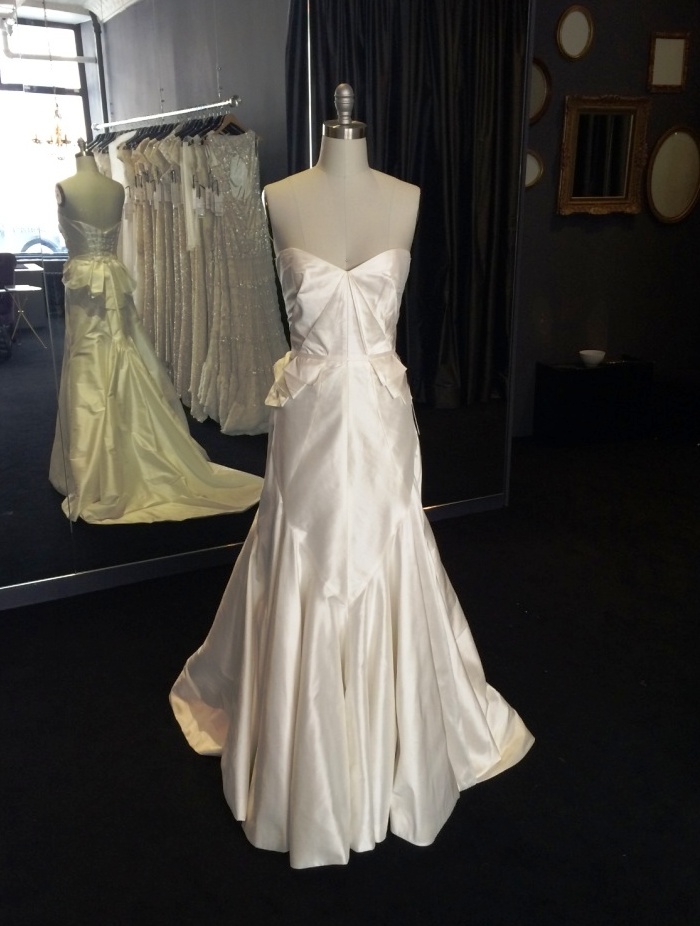 I am so drawn to all the architectural details in these gowns. Alassandra looks like the wedding gown equivalent of a gorgeous, modern skyscraper. I love how the geometric angles beautifully accentuate the feminine figure.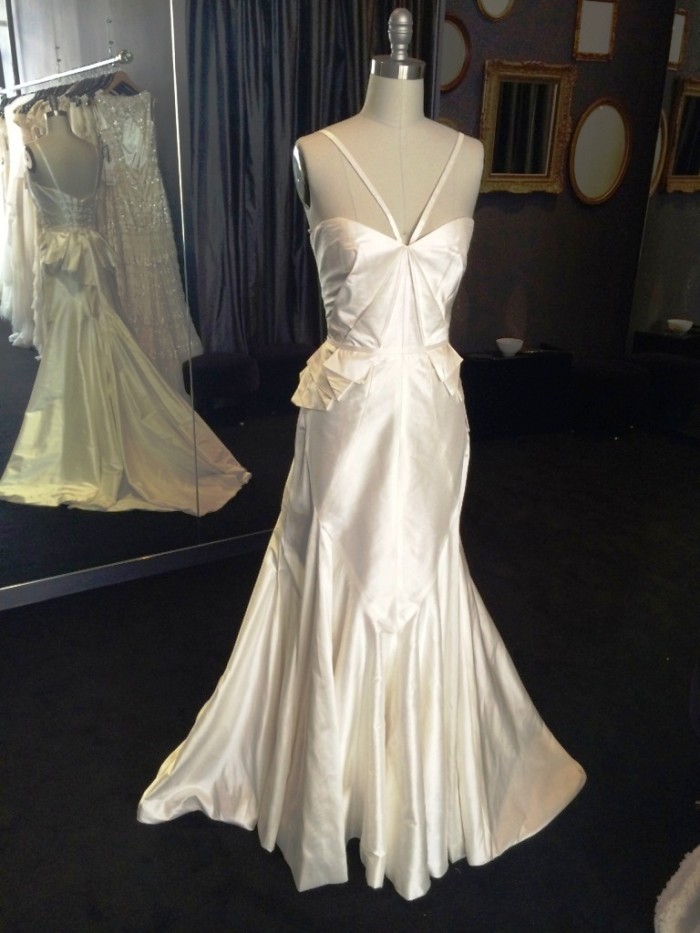 Another look at Alassandra, this time with straps. Karen Willis Holmes has thought through many options for her brides, and allows for immediate customization of the gowns through the addition of straps, overlays, and sashes.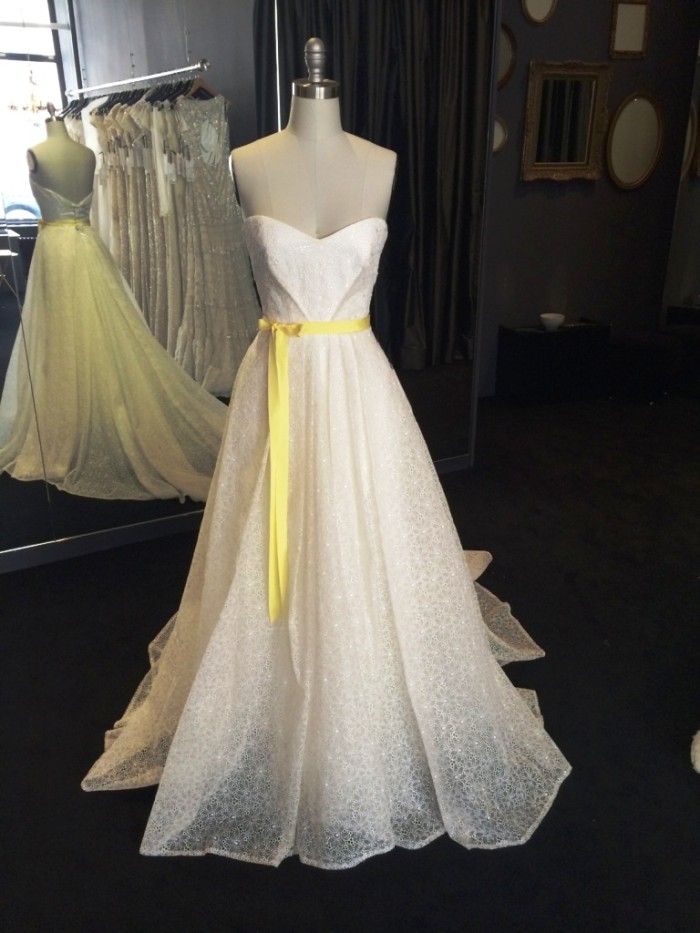 This is Lillianna. The lace work here is beautiful cut-out pattern that looks like eyelet. This would be a beautiful gown for a garden wedding, or a summer bride. The sash can be customized to nearly any color.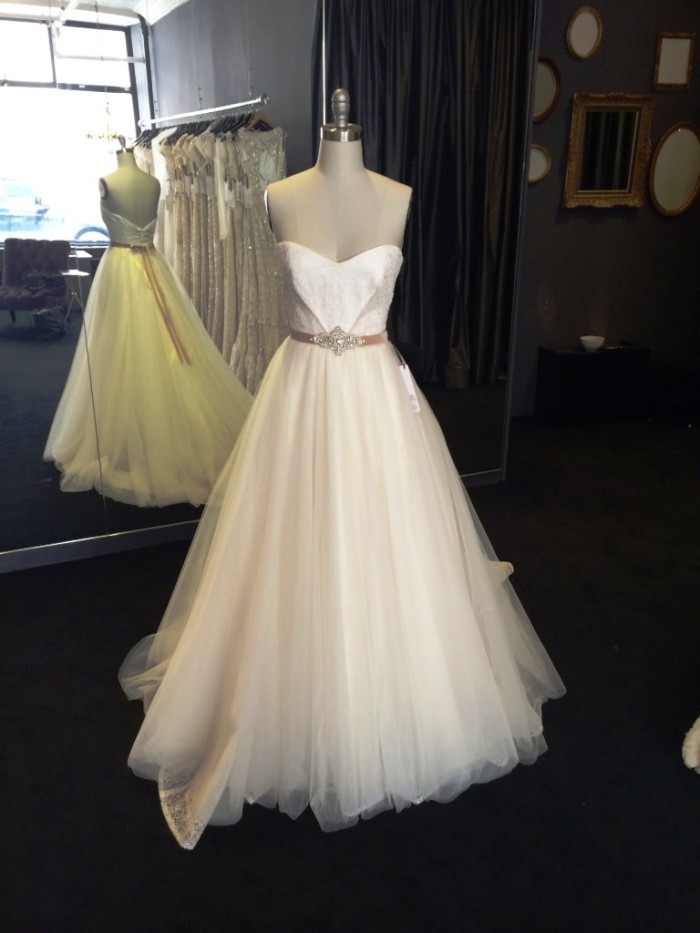 Here is Lillianna again, this time with the  "Maggie" Overlay, and a jeweled velvet sash. The same gown that would work for a summer bride above, now suits a formal fall or winter wedding. So elegant and versatile!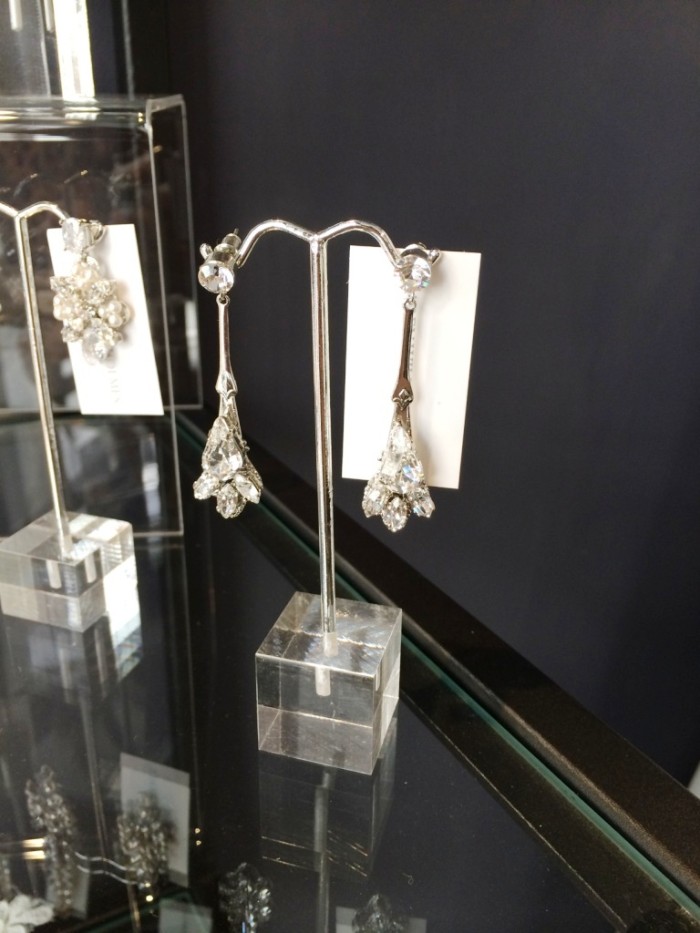 You can also find the perfect finishing touches at the boutique. Veils, earrings, bracelets, and combs--all designed to bring out the best in the gowns--are all here.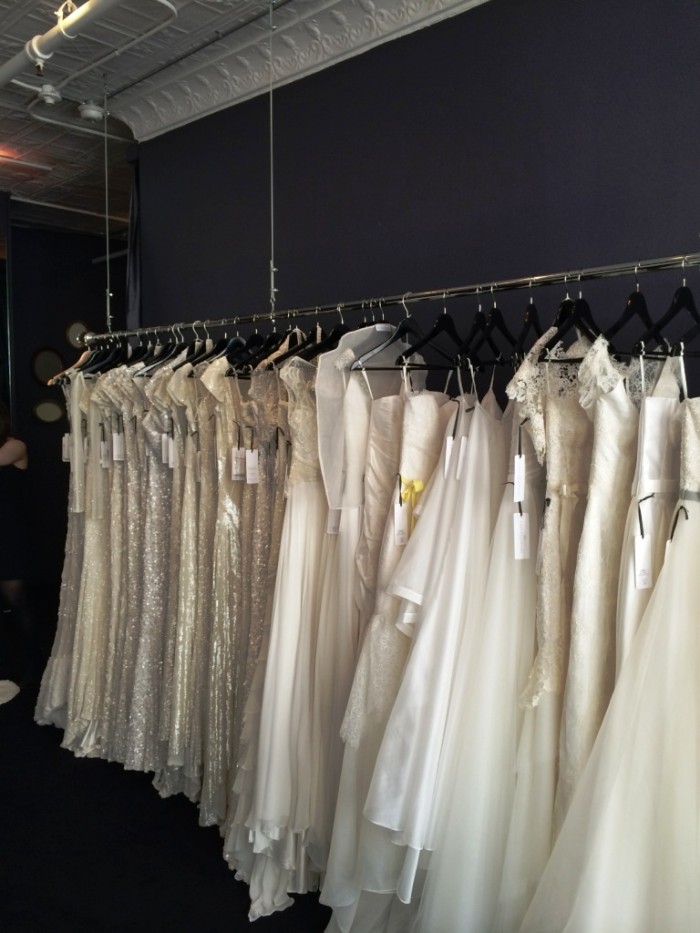 Gowns galore!
This was just a very small view of the wedding gowns and options that await you at the new Karen Willis Holmes NYC flagship boutique. You can still visit karenwillisholmes.com online to start to dream about your gown, but truly meeting your dress in person in this delightful bridal boutique is the way to go.
Karen Willis Holmes New York is located at 7 Centre Market Place ( Between Broome and Grand Streets)  New York, New York 10013.
Please call 646. 912.9298 to make your appointment.