Short Grey Bridesmaid Dress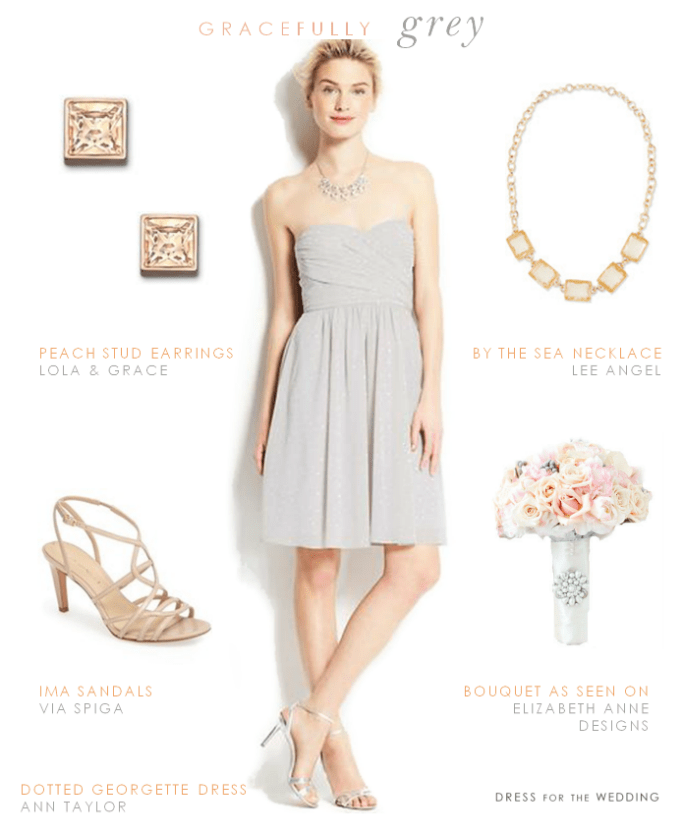 Ann Taylor Polka Dot Georgette Strapless Dress in Fancy Nickel | House of Frazer Lola & Grace Stud Earrings in Peach | Lee Angel By the Sea Crystal Necklace | Pale Pink Bouquet with Rhinestone Brooch, see original image from Elizabeth Anne Designs, Photography by Connie Lyu Photography now known as The Great Romance | Via Spiga "Ima" Sandals in Taupe Tropic
Grey Dress with Peach Accessories
If you saw last week's post on grey ties, then you know that I've been really into grey (or gray*!) as a wedding color scheme. While it sounds like it could be cheerless, gray actually provides an elegant neutral color palette, against which all sorts of peppy colors can shine.
This grey bridesmaid dress is in a shade called "Fancy Nickel" by Ann Taylor. It also has little silver dots in the fabric, which, of course, I adore. I love putting grey with yellow, sage green, navy, lavender, and pinks of all shades, but today I decided to put peach accessories with it for a little change. While silver or pearl accessories would also be a fine choice, peach is subtle bit of color that adds a golden warmth and an unexpected color combination.
While silver sandals are also natural pairing with silver like this, I thought a neutral strappy sandal would add a nice wear-it-again shoe, since a neutral shoe in any color that blends with one's own skin tone always seems to elongate the leg no matter what the outfit. Add a pretty peach bouquet with a little bit of sparkle to it, and your bridesmaids are ready for the aisle in style!
* Random grammar/spelling /color musings : I seem to be one of the few folks that usually spells gray with an "a", which I guess is considered the American spelling. Grey is the British spelling, but is adopted by many Americans and writers of all nationalities, and is considered by some to be a totally different color (i.e., a light shade of grey) like this. It also happens to be how Ann Taylor spells this color, so today, I'm spelling it grey!
More Grey Wedding Inspiration:
Grey Wedding Inspiration on Pinterest
Gray Bridesmaid Dresses on Pinterest