Laser Cut Wedding Invitations from Invitations by Dawn

Transparent Love Laser Cut Invitation by Invitations by Dawn
Wedding Trends: Laser Cut Wedding Invitations
As a reader of Dress for the Wedding, you probably already know how important I think wedding invitations are! Not only do they tell you the where and when of the event, but they convey so much about the style of the event and the couple themselves.  That's why I'm thrilled today to bring you this partnered post from Invitations by Dawn. As you'll see from these fantastic laser cut invitations, many of the lace and laser cut details in wedding fashion trends are making their way into invitation styles! If you love these cut-out details as much as I do, then surely you'll want to include this kind of  fresh laser cut look in your wedding invitations--it's the first impression of your wedding!
Invitations by Dawn has created a fantastic collection of  laser cut wedding invitations that will help you present all of your wedding elements in style! Whether you are planning a rustic wedding or an elegant affair, you will have no problem finding your dream invite; all of the designs in the Laser Cut Collection are simply stunning!  With clean lines and intricate details, what's not to love about these laser cut invites? Once you've decided on the style that is right for you, you can customize everything online from the wording to the ink colors and fonts. You have complete control over the finishing personal touches to create your perfect wedding invitations.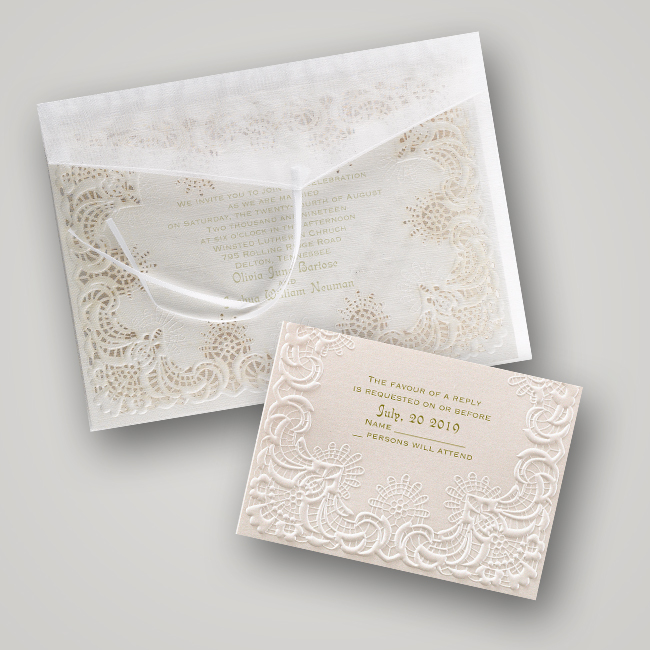 Simply Radiant Laser Cut Invitation Love the sheer envelope!
While wedding invitations are one of the first fun choices you'll make about your wedding style, the process can also seem a little daunting.  Have you been wondering about wedding invitation wording, or whose name goes where? If you want to be sure everything is just right, Invitations by Dawn is the place! Invitations by Dawn has been offering the top wedding invitations for over 30 years, and they have the friendliest and most knowledgeable staff to help you with all of the questions of design and etiquette that can come up when ordering your invitations. They make the process a pleasure!  In addition to the Laser Cut Invitations, they also offer most current trends like metallic shimmer papers and embossed prints, with invitations to suit every style and budget, from the high-end Letterpress invitations to affordable Seal and Send Wedding Invitations.
So if you want to make a lasting first impression on your guests, you'll of course want to choose a show-stopping wedding gown, and have great food and music, but to start everything off with a bit of glamour and to build your guests' anticipation for your wedding, choose a laser cut invitation suite!
Here are a few of my favorite laser cut styles from Invitations by Dawn, with my take on what kind of wedding style they'd fit best. When you find the style that's right for you, please take advantage of this great special offer just for Dress for the Wedding readers! Get 25% off your wedding invitations with code DRESFORWED25. Excludes Disney Invitations. Offer valid through 8/31/2014.

Beaming Beauty Laser Cut Invitation
 Lace will always be synonymous with weddings and is such a hot trend right now in dresses. This lace overlay with a twine tie and gold shimmer invite peeking through, looks like the ideal choice for a rustic glam wedding!

Abundant Beauty Laser Cut Invitation
Delicate laser cut details and embossed flowers edge this invitation suite in such a pretty way! Wouldn't this be a great choice for a romantic garden wedding?

Simply Striking Laser Cut Invitations
With a clean circular pattern, and an Art Deco font, this invitation looks like the perfect choice for a modern city wedding with a bit of an Art Deco theme.

Ebony Floral Laser Cut Invitation 
Pretty black lace edging gives this invitation a decidedly elegant look. A great choice for a formal evening wedding.
Invitations by Dawn has graciously sponsored this post, but the words and enthusiasm for these invitations are all my own!
Don't forget the  special offer just for Dress for the Wedding readers! Get 25% off your wedding invitations with code DRESFORWED25. Excludes Disney Invitations. Offer valid through 8/31/2014.
More style ideas you might enjoy :