Cornflower Blue and Melon
A few weeks ago, a pin came across my Pinterest feed  from Martha Stewart Weddings, hailing cornflower blue and melon as a suggested wedding color combination.
It immediately got my attention as a great softer variation of the coral and turquoises I've been drawn to, and as an alternative (a few notches in different directions on the color wheel) to the mint and peach or blush combinations we've been seeing.

Peach and Blue Bouquet via Wedding Chicks /Cornflower and Blue Stationery via Martha Stewart Weddings by Smythson /  Images of Bride and Bridesmaids and Peach and Blue Bouquet against a blue dress both via Coral, Peach, and Blue Wedding Flowers via The Full Bouquet Blog  Photo by Kate Headley

Since blue and orange are opposites, they naturally have some pop when put together, so a muted cornflower blue and melon are softer version of that contrast, toned down and made lovely for a wedding.
Melon can be a little misleading as a color term since melon can be green like honeydew, or muted pinky red of a watermelon, so perhaps "cantaloupe" is more accurate. It's very similar to peach, but perhaps with a little more yellow undertone and vibrancy. If your wedding colors are peach and blue, or cornflower and melon, or even pale coral and blue, it's sort of all in the same family -- it just depends on the saturation you want to choose.
Pale Blue Dress with Peach and Melon Accessories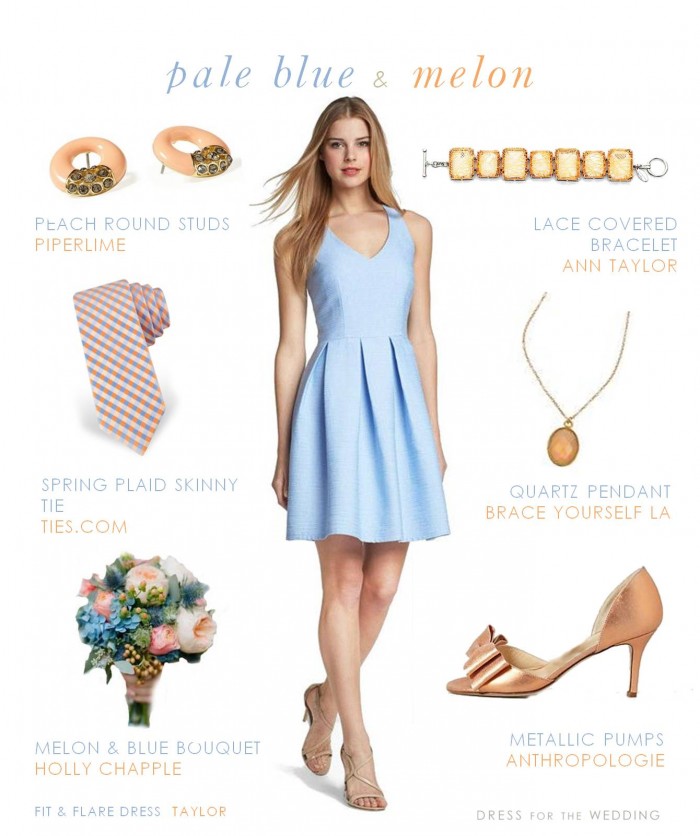 Taylor Cutout Fit and Flare dress in light blue / Peach Round Cut Out Studs from Pim +Larkin /Lace Covered Bracelet from Ann Taylor / Peach Quartz Small Pendant Necklace from Max & Chloe by Brace Yourself LA /Metallic D'Orsay Pumps from Anthropologie / Bouquet by Holly Heider Chapple /Spring Plaid Skinny Tie in Orange and Blue by Ties.com
The shopping sources on this site use affiliate links, which means this site may earn a commission if you make a purchase from our links.
To help you dress your wedding party in attire that will make the most of this color combination, I'm suggesting this pale blue dress below from Taylor. It was in a previous post on dresses under $150 (with a different image) where I recommended it for a guest to wear to a dressy casual morning or early afternoon wedding. It has cute little cutouts on the back, but nothing so daring that would make it inappropriate for for modern wedding attire.
Above, I found a new picture and I styled it as an option for the bridesmaids, and since the dress is $98, it's a reasonable price ( although I got a little spendy with the shoes, but they are too cool not to show!) I  have several melon-colored accessories for you to choose from (sometimes with a color story like this I go overboard with the matching accessories just to show options, but choose one or two, or mix it with some gold or copper for a little texture, interest and variation), and a tie for the groomsmen in pale orange and blue to compliment the other colors.
If you want to flip it  and have melon as the dress color this coral, gold and turquoise outfit is slightly more intense in color, but in the same idea that dress could be considered a shade of melon, just pair it with softer blue. You could also check out these peach bridesmaid dresses too.
If you'd like more melon and blue or peach and blue wedding color inspiration, here are a few great blogs featuring this color combination:
This recap of Martha Stewart Wedding's  cornflower blue and melon color scheme on MountainSide Bride
The Perfect Palette paired a melon-y peach and blue in this inspiration board.
A peach and blue wedding from Lovely Little Details
A romantic pale blue and peach beach chic wedding from Bridal Musings
A vintage peach and blue wedding from Every Last Detail
Let me know in the comments. What do you think? Is cornflower blue and melon a "good thing" as Martha used to say?
Check out more bridesmaid dresses.