Navy Blue and Bronze Dress for a Wedding
As much as I hate to admit it, since fashion functions a few months prior to the pending season, it's time for me to start looking at transitional colors and fallish tones. (Remind me that I should start doing summer dresses in January!) I'm trying to find fabulous dresses for wedding guests that can transcend seasons, like this midnight blue bow halter dress from Halston Heritage.
Commissionable links are used in this post
Navy Blue Dress with Bronze Accessories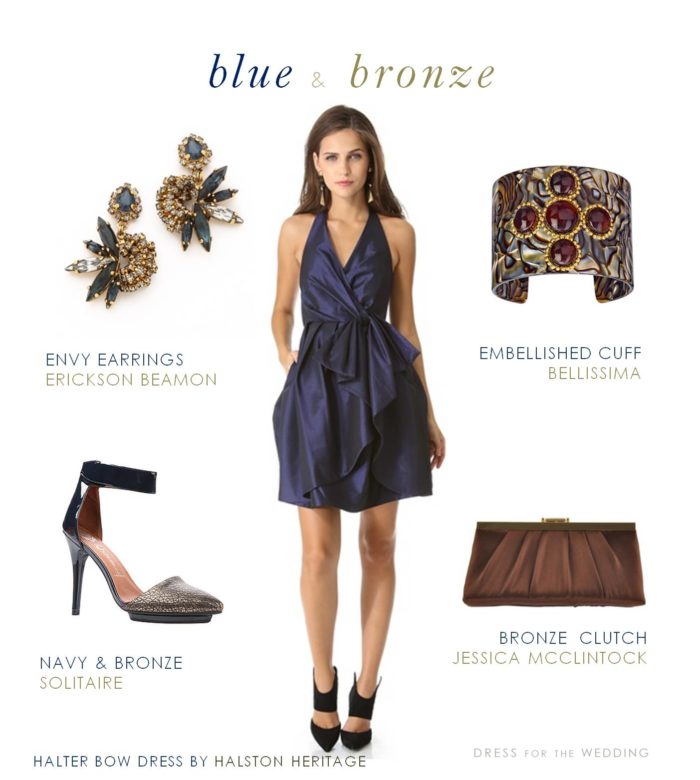 Bow Halter Dress with Pocket ( May be old out at Shopbop but you can also get it at Bloomingdales ) / Erickson Beamon Envy Earrings / Bellissima Safari Embellished Cuff / Bronze Clutch by Jessica McClintock /The Solitaire Shoe in Navy Patent and Bronze
I absolutely love the big flouncy bow, the rich fabric, and the fact that it has pockets! To get out of the usual navy with silver and navy and gold pairings I've done; I've put bronze accessories with this, but it's navy -- so it could have purple, pink, green - nearly any accessory color paired with it!
Bridesmaids could definitely wear this for a sweet navy bridesmaid dress, but here I've styled it for a fall wedding guest, with a rich contrast in bronze satin and metallic. One doesn't necessarily think of brown or bronze as a pairing with navy, but it looks rich to me. I'd wear this combination for a city wedding, or for a semi-formal fall wedding.
Let me know in the comments. What do you think of this unusual pairing of bronze and navy? Check out more Fall Wedding Guest Dresses, more Navy Blue Dresses for Weddings, or Wedding Guest Outfits.
Commissionable links are used in this post
Shop Similar Dresses

More style ideas you might enjoy :