Purple Mismatched Bridesmaid Dresses
A look for purple mismatched bridesmaid dresses–with a convertible bridesmaid dress that makes for many possibilities!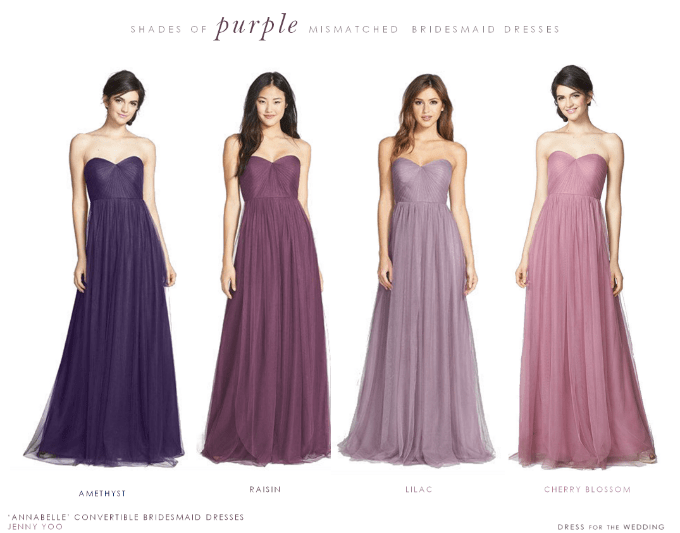 Jenny Yoo Annabelle Gown  at Nordstrom  in Amethyst // Raisin  // Lilac // Cherry Blossom
Mismatched Bridesmaid Dresses in Shades of Purple
The mismatched bridesmaid dress trend shows no sign of stopping, and I can understand why! Once you start looking at all the possibilities, there are so many reasons to embrace this trend! Today's look is using a pretty mix of purple bridesmaid dresses, and I've also started collages for a few more shades, so stay tuned if this isn't your color. ( Also check out the pink, neutral, and other mismatches I've done.) I have so many ideas of color combinations and ways to mismatch, that I can barely create collages fast enough!
I've detailed in past posts the general techniques of how to mismatch (i.e. either through changing the neckline or bodice style; by using variants of shades and styles to create an ombre or gradient effect; or really going for it and mixing textures, fabrics and patterns, and sometimes lengths) so I won't go in to great detail again. I'll just get to this look!
The purple mismatched dress look I have today is a combination of the simple and ombre mismatch. It's simple in that it uses the same dress,  and it's ombre, because of the color gradation. The simple change of necklines is a cinch, thanks to this awesome convertible bridesmaid dress style that I feature all the time from Jenny Yoo– you can get 15+ looks with just one dress. Watch this video for more details!
I was inspired to take a look at the shades of purple today by a Jenny Yoo photoshoot that I keep pinning images from. The shoot used two shades of the Jenny Yoo gowns with beautiful results, and showcased the beautiful ways this gown can be tied ( If you'd like to see it, is on the Jenny Yoo site, and featured in  Pacific Weddings Magazine.)  I actually like to mix it up even more than just the two purples, especially by using that last shade which has a lot of pink tone to it. With this array, you can go all out with 3 or 4 for a soft ombre look, or just use one or two colors and let the dress styles be your variation.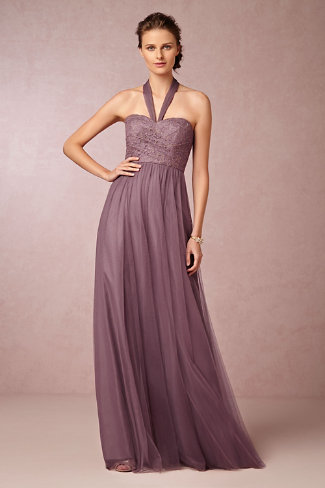 'Juliette' in Soft Plum  from BHLDN
I usually like eve a bit more mismatch with some texture and embellishment, and that's a possibility with this color, too. The newest Jenny Yoo dress, Juliette, is available at BHLDN. It has lace overlay in the bodice, which it gives the perfect amount of texture. That, plus all the convertible options = SO many ideas!
Just imagine this look either with all 4 shades, or just a few, and your maids wearing these dresses tied in the way that they like the most! Pretty, pretty!  And if you want a mismatched look featuring a short dresses, try the Wren style or the Keira style, and check out the shop links below for more ideas.
More ideas:
Purple Bridesmaid Dresses in the Shop
Follow me on Pinterest



More spots to shop:
Purple bridesmaid dresses from Dessy ( Shop by color, with a ton of purple dresses! See 'mix and match' styles to find all colors in a shade.)
Bridesmaid Dresses at Nordstrom
Also try these Donna Morgan styles in purple.
Featured links and shop items use affiliate links.
More style ideas you might enjoy :