Navy and Pink
Happy Weekend! Today I decided to do a little bonus post, featuring one of my favorite color combinations: Navy and Pink! I have an entire Navy and Pink Pinterest board, and I have been wanting to pair these colors in a collage for some time.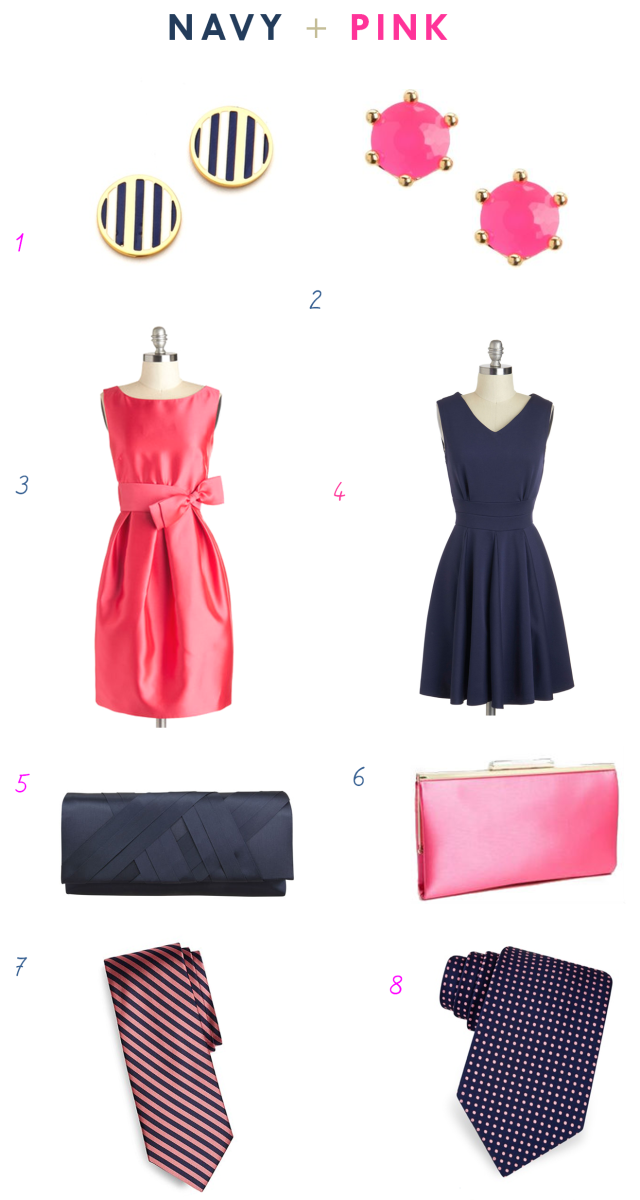 1. Gorjana Sea Stripe Circle Stud Earrings 2. Juicy Couture Deco Stud in Pink 3. The Gift of Good Taste Dress 4.  Who Could be Blue? Dress from Mod Cloth 5.  Nina Leesie Clutch in Navy 6. Nordstrom Glint Clutch 7.  Navy and Pink Dot Tie from Ties.com 8. B#5 Repp Tie from Brooks Brothers in Navy and Pink 
The dresses I've shown could work for bridesmaids, wedding guests, or for anyone to wear to a shower, engagement party or rehearsal dinner! Instead of shoes I decided to show some ties for your date or the groomsmen in navy and pink. This pink and navy pairing is classic, with a twist from that bright almost neon pink! If you prefer your navy with the more purple fuschia, I've added some of those pieces below. Enjoy!
Here is some more Pink and Navy wedding inspiration from some of my favorite blogs:
Heart Love Weddings brings us this pretty navy and pink wedding.
Southern Weddings Magazine featured this preppy navy and pink wedding
And this elegant,vintage take on navy and pink by 100 Layer Cake.
Also check out :