Peach and Mint Wedding Style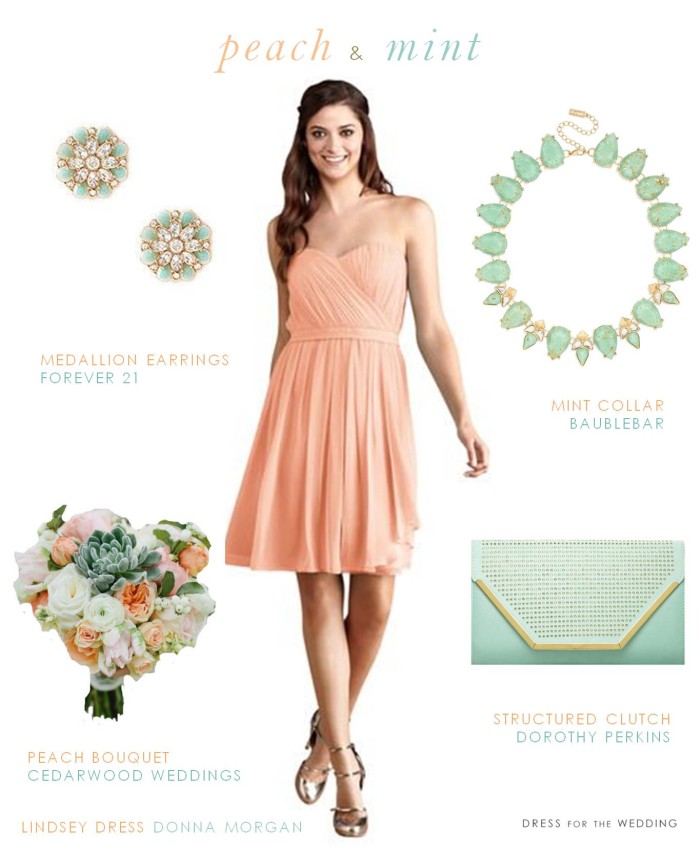 Lindsay Dress in Peach Fuzz by Donna Morgan  from Weddington Way / Forever 21 Dazzling Medallion Studs / BaubleBar Gold Dust Collar Necklace in Mint / Mint Studded Structured Clutch by Dorothy Perkins / Peach Bouquet with Succulents via Style Me Pretty by Cedarwood Weddings Photography by Kristyn Hogan
Sometimes, it's pretty funny to me that the to-do list that sits next to me each day is actually just an endless list of colors, dress names, and color combinations.  I've been working down the list and I'm kind of amazed sometimes when I find I haven't tackled certain combinations; especially one that is as popular as the one I have for you today: peach and mint!
I honestly wanted to do peach and blue first  (it's also on the list, and I was thinking kind of the reverse of this cornflower blue and melon style) and I've already done a coppery peachy rose gold with sage green, but when I started putting accessories together, peach and mint was what happened, and since I hadn't tackled it yet as a color combination, I continued!
These two pastels couldn't be any hotter for spring again this season, and why shouldn't they be? They're so soothing and pretty. Peach dresses with some coral pigment to them are great pick,  since they are likely to look nice on anyone, especially when they have a little warmth to them like this. The accessories are pretty effortless to wear -- that mint collar is so pretty, your bridesmaids are sure to wear it later! The little mint studs are demure and won't compete with all that the necklace has going on.  For a bouquet, I chose this peach and cream arrangement which is full of succulents. The light blue green of the succulents gives this a nice mint shade to it, making this a natural choice for color coordination. These colors work all the way from spring to fall weddings. If you've fallen for these colors for your wedding, I hope you like how I've combined them in your bridesmaids' attire!
Here are a few more peachy ideas for you:
Peach, Pink and Coral Bridesmaid Dresses in the Shop
Peach and Mint Wedding inspiration from The Perfect Palette, Burnett's Boards, and Bajan Wed!