Hello Dear Readers!
I had an exciting submission a few weeks ago from our "We'd Love to Hear From You" Section, where I invite you to submit any wedding attire conundrums so that I may attempt to help. Through that forum, I received a delightful note entitled "Flummoxed by Fall Wedding Fashion".
The author gave me some wonderful details about her wedding situation, and I was really excited by the challenge and wanted to find the perfect dresses for this wedding guest. Here are the details:
Please help me find something fabulous to wear to the below wedding.  I had a baby girl 3 months ago and this will likely be the first date night that my husband and I have since she was born.  It will also be the first time that I get all dolled up and I want to make sure I do it right!  
 Thanks so much for your help,
Flummoxed by Fall Wedding Fashion
Wedding date: November 2012
Location: Minnesota (BRRR!) Ceremony: Catholic Church, Reception: Library
Evening [ I read this as cocktail attire which will be appropriate for the church ceremony, too]
I'm open to lots of colors - I have very fair skin, so anything that complements my skin tone
I'm tall (5'9") and slender, so something that suits my frame
Not looking to spend a fortune on an ensemble - maybe $200 for a dress and $150 for shoes?
Other notes:
As mentioned, I'm tall and can easily tower over folks when wearing heels.  Can you help me find cute heels that are 2-2.5 inches or under?   I'd also be interested in cute flats, if you think that works.
I'm hopeless about tights with fancy dresses.  What color?  Opaque, semi-sheer, something else?  Ugh.  
I'm breastfeeding and strapless bras aren't really working for me right now.  I'd love a dress that I can wear a regular bra with.
My husband is a groomsman, so we'll also be attending a rehearsal dinner the night before the wedding.  If you're feeling generous, I'd love suggestions for that, too!
What a fun scenario! New baby, first date night!
I also asked this wonderful reader for a little more input on her taste, and if there were any dresses she had seen on my site that we here style; just so I'd have an idea without seeing her in person of what her personal style is.
To that, she said:
My style is preppy/classic and I think I look best in navy, emerald green (loved that post!), dark purples, and black.  I also love to dress up "plain-ish" dresses with fun accessories.  [Editor's note: "Hey, me too!]
Here are some dresses that I've featured previously, that our wedding guest-to-be also mentioned she likes:
This 

Yellow and Gray Dress

 [ Editor's note, again:  I found a similar one for much, much less, but alas, I don't think it's available in the correct size and it ships from the UK, which can take time. Still, for anyone in a size 10, 12 check out this 

Pretty Yellow Dress

.}
And if left to her own devices, she said she'd probably just get one of these dresses from J. Crew: [ Editor says: Nothing wrong with these!]
So, without further delay,  here are my picks for this November Wedding Guest. And, since this post is already lengthy, I have broken these into parts. and will also log them as separate posts to further explain why I've chosen each one and group them by color.
Kay Unger Dresses in Pretty Jewel Tones
First, to address the Yellow and Gray Dress that our Wedding Guest liked , I found this pretty greenish yellow dress ( pictured below)  from Kay Unger, plus a few more pretty Kay Unger dresses in some of the colors our guest-to-be mentioned she liked. All of these are under $200, except the last, which is around $220 (maybe we can use a Blue Fly Coupon Code ?)
I didn't style these, just thought they were  pretty ideas on their own, but I'll include some accessory ideas a little later.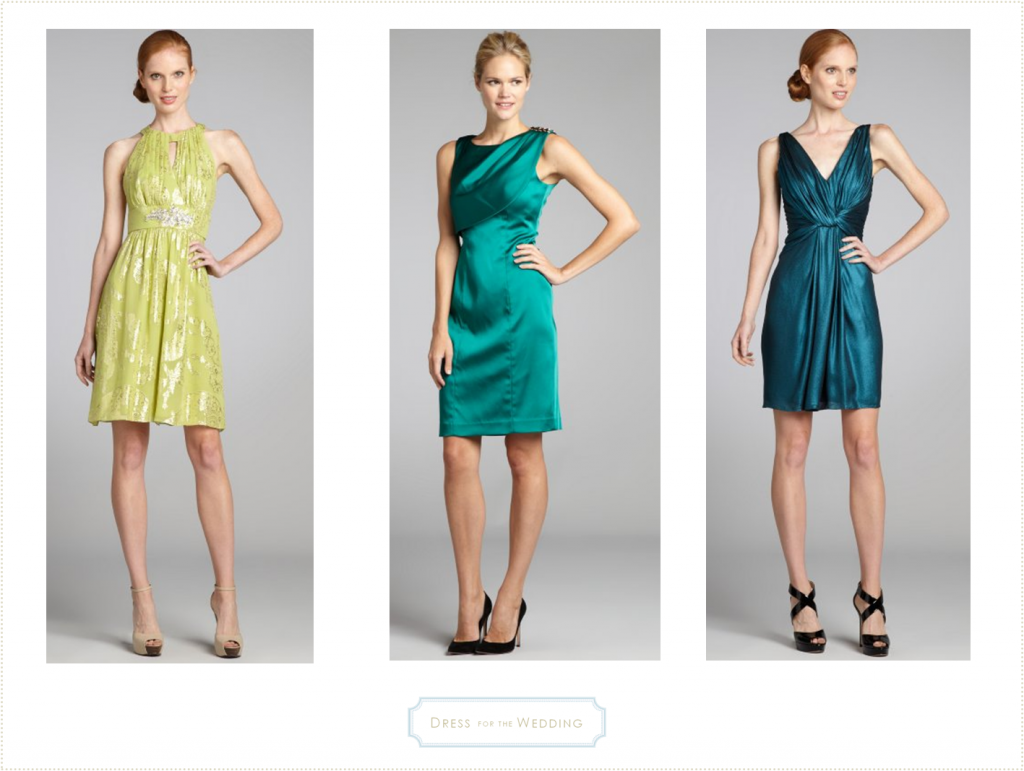 From Left to Right:
 Kay Unger Lime and Gold Brocade Dress
 ||
Kay Unger  Emerald Satin Bib Front Dress
 || 
Kay Unger Turquoise Pleated Silk Knotted Waist Party Dress
Mallard Blue Satin Dress for a Wedding Guest
Then, I found this satin mallard or peacock blue dress. I like satin for a cocktail reception or semi-formal evening event, and since our Wedding Guest mentioned she wanted to get dressed up, I think this dress is a great way to be a little fancy. I love the detail around the collar,  the color, and that it's bra-friendly.
I'll be the first to admit, that I went a little (way) overboard with the matchy-matchy on this look, but I was really excited that I found those low kitten heel shoes to match the dress and accessories I was already thinking about! If it's a bit much for you, dear Guest, please check out the myriad of other low heels I found. You could easily put gold, nude, blue or just plain black heels with this, too. Or, you could wear the patterned shoe, and just some simple gold or silver accessories! I also put a wrap with this to help a little with the chill of a Minnesota evening.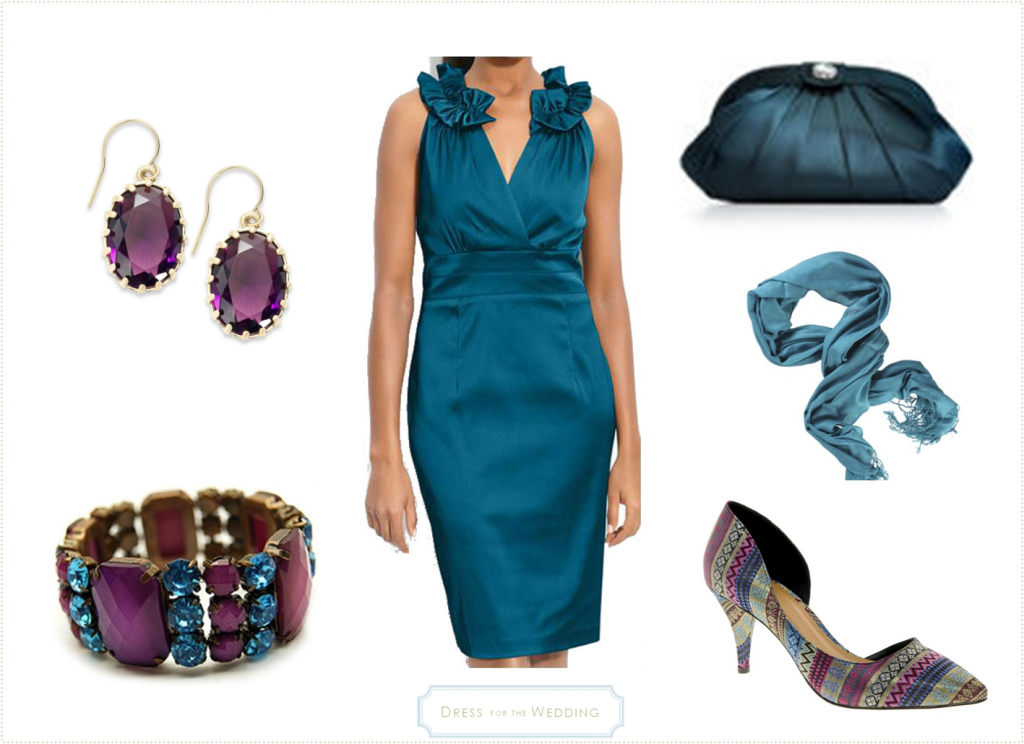 Dress:
Donna Ricco Two Piece Sheath Dress ( $148)
 || Clutch:
 Style&co. Minibag, Leila Satin Evening Bag 
|| Wrap:
Journee Collection Fringe Detail Pashmina Scarf - Green
 || Kitten Heels:
ASOS STORM Pointed Heels
 || Bracelet:
Parker's Purple & Blue Rhinestone Stretch Bracelet 
|| Earrings:
Ralph Lauren Bezel Stone Earrings
Emerald Green Dress for a Fall Wedding Guest
Since our guest mentioned she likes emerald green, I was more than happy to oblige and find a green dress. I wanted to find one that was a little different than the ones I had shown before in this post, so I found this one, with an asymmetrical flutter shoulder, and matched it again with some accessories including flat heels, a wrap and some cute preppy-ish bow details.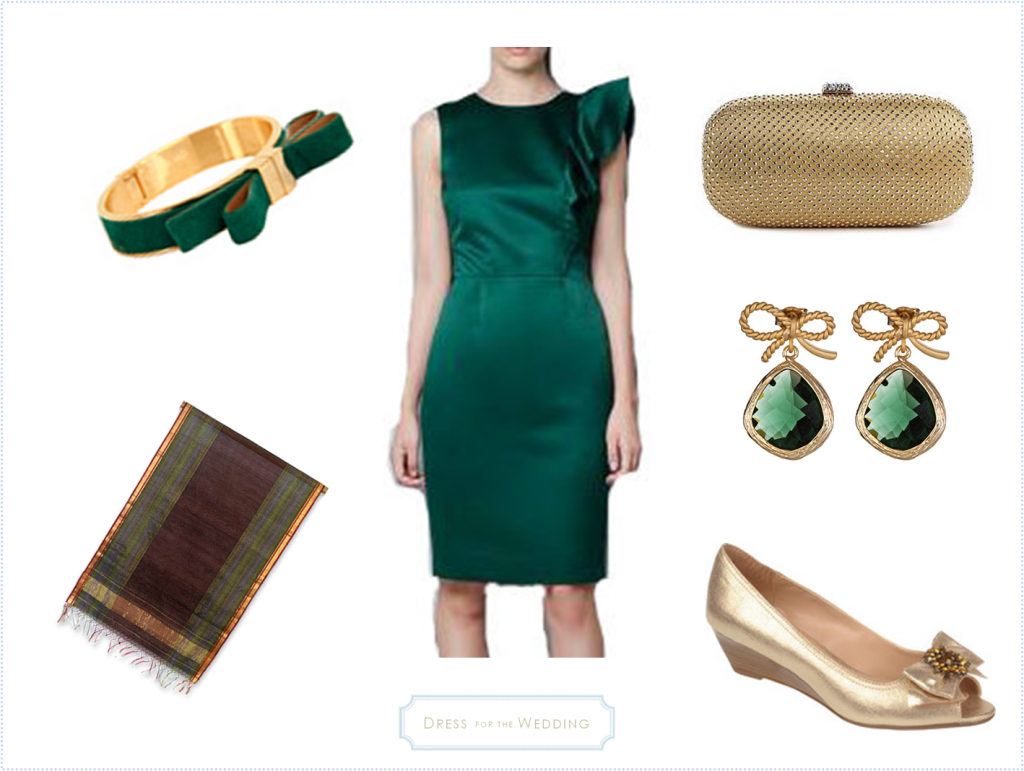 Dress:
Zara Dress with Asymmetric Shoulder and Frill
 || Clutch:
Lulu Townsend All Over Sequin Minaudiere
|| Earrings:
Emerald Glass-Drop Susie Earrings
   || Low-Heeled Shoes:
Etienne Aigner Ulivia (Women's) - Gold Leather
  || Wrap:  
Cotton and Silk Shawl
||
Bracelet: Vince Camuto - Emerald Suede Bow
Purple Dress with Green Accessories
Now for a little bit more color, and bit of a  preppy look, I took the idea of the colors found in that first Shoshanna Dress, and put some green together with purple. Yes, it's bright, but also a great way to perk up November! These green accessories can also coordinate with the post above - again just wanted to present a few options, and I thought this would cover taking a plain dress and pairing it with some fun accessories.
Shop The Post ( Thumbnails of selected items from or inspired by the post)