Pink Lace Gown for the Mother of the Bride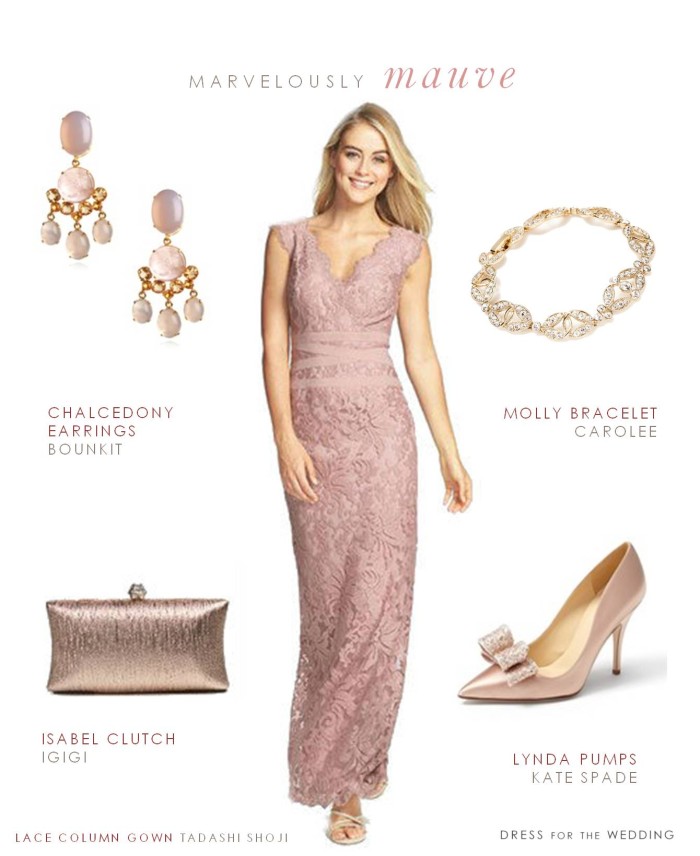 shopping links use affiliate links
Tadashi Shoji Lace Column Gown | Bounkit Chalcedony and Citrine Earrings | Carolee Molly Crystal Bracelet | kate spade new york "lynda" pumps |Isabel Clutch in Champagne by IGIGI
Mauve Pink for the Mother of the Bride or Groom
Hello! I'm coming to you this afternoon with this mother of the bride dress post to make good on my promise that I'll be showing lots of dresses for mothers of the bride in May!  This pink lace gown is a perfect style for a mother of the bride or mother of the groom. Why? Well for starters, lace is always an elegant choice, and this particular lace has a contemporary look and is applied to a modern, fitted  and flattering silhouette. The v-neckline and cap sleeves are also so appealing. I know I get lots of mothers who want a bit of a sleeve just for a little bit of shoulder coverage, and this gown certainly provides that.
As far as the accessories, it almost goes without saying that if you have your own favorite jewelry, or prefer diamonds, crystals, gold, silver,  or pearls they will all certainly go with this gown! Here, I went a little overly "matchy-matchy", but just to show that if you like  coordinated colors --  and I know many women do, including my own mother -- then matching accessories are available.  You may have noticed, I'm featuring a lot of pieces from Bounkit lately ( his earrings were in yesterday's post) I'm such a fan of his candy-colored statement pieces.
This dress certainly isn't limited to mothers of the wedding, it would be suitable for a wedding guest as well! Hope this is a happy start to the month of mothers! I hope this rosy dress suits you!
Find more mother of the bride style ideas here:
Mother of the Bride or Groom Style Ideas
Pink Mother of the Bride Dresses
Mother of the Bride Dresses in The Collection



More style ideas you might enjoy :