What to Wear To a Rehearsal Dinner
I get a number of questions about what to wear to a rehearsal dinner. Just like a wedding, the location, time, and type of event will certainly dictate what you should wear. Some rehearsal dinners are very casual backyard affairs or simple local restaurant gatherings, while others can rival the wedding reception in terms of formality.
My usual guideline for dressing for the rehearsal dinner is to take the same approach as business casual attire, realizing that dresses and skirts, and even in some cases dressy pants may also be appropriate.  For women, I think you'll always be safe with a dress, or nice skirt and top. For men, a nice sport coat with pants, or a shirt, nice sweater, and pants is probably appropriate.
My main rule is don't upstage yourself; in other words, don't wear a dress in the same color you plan to wear to the wedding the next evening, or else you risk being known as the "blue dress lady" for the entire weekend. Also, I don't recommend wearing something that is considerably more formal than what you plan to wear to the wedding.
For our November Wedding Guest, I'm not sure of the exact details of the rehearsal dinner she's attending, but I've compiled the following dresses that might work. Depending on the formality, I thought a nice sweater dress could be a good option; so at least our guest will have one night of warmth in Minnesota. I've included some skirts, too, although I don't recommend wearing them with a casual sweater as shown. Instead, I'd pair them a nice dressy top or camisole with a blazer.
Rehearsal Dinner Clothing for the  November Wedding Guest
I also liked these two dresses: this plum colored dress, or this color blocked dress which are both from Suzi Chin and available at Bluefly. Either of these could be good if our guest doesn't wear these colors to the wedding itself.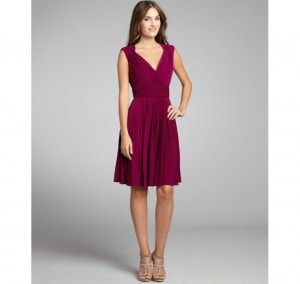 Plum Colored Dress From Bluefly.com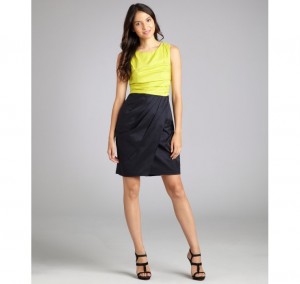 Colorblocked Dress from Bluefly.com
More style ideas you might enjoy :