Here at Dress for the Wedding, we love all kinds of special events and special occasion dressing, not just weddings! That's why this year we've vicariously headed back to high school, by looking at the best homecoming dresses for this season of celebrations.
Products and retailers featured on Dress for the Wedding are selected by our editors. We may earn a retail commission on purchases through our site.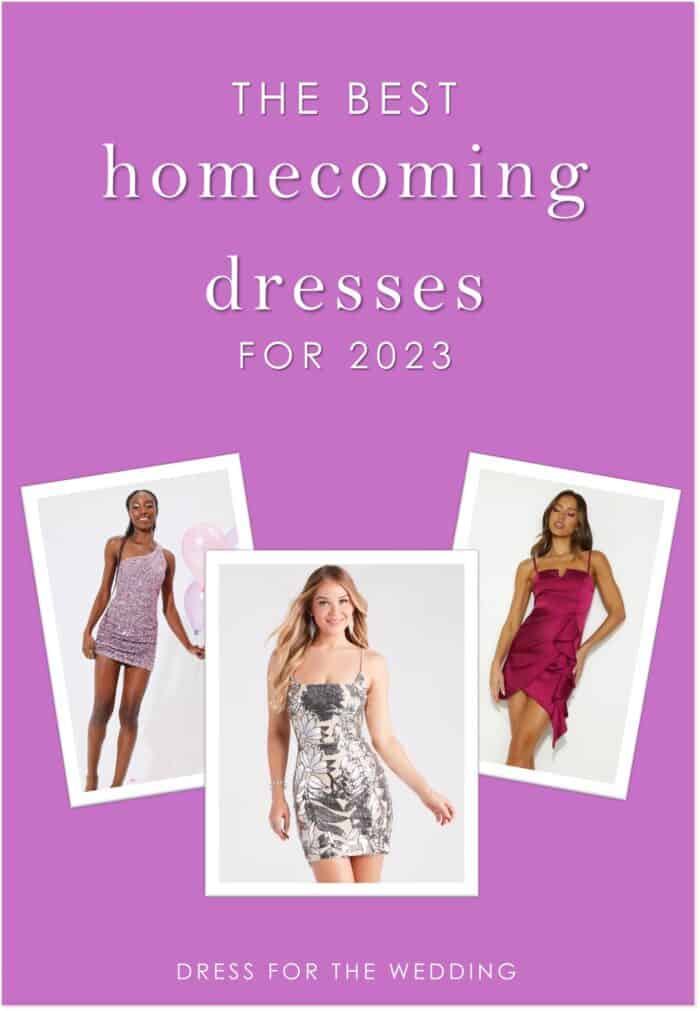 Feature image and shopping credits: 1. One Shoulder Iridescent Sequin Dress from Lulus 2. Wendy Floral Sequin Party Dress from Windsor 3. Frill for You Satin Dress by Hello Molly
The Best Homecoming Dresses for 2023
Finding the perfect homecoming dress adds to the excitement of celebrating with your friends. It's the first chance of the school year to dress up and create unforgettable memories. Finding the perfect outfit or dress just goes hand in hand with enjoying yourself and feeling your best!
Today we'll show you our picks for the best homecoming dresses we've seen this season! We'll show you over 75 options we found, plus more ideas for homecoming dresses by color, style, and also other ideas for those who don't want dresses at all!

Top Homecoming Dress Trends for 2023
We picked the following dresses based on a few things. Either we loved the style, color, we feel the look is very on-trend, it's a unique look, or we just feel it's a gorgeous dress!
Here are a few of the trends we're seeing in 2023 that you might want to consider.
Pink Party Dresses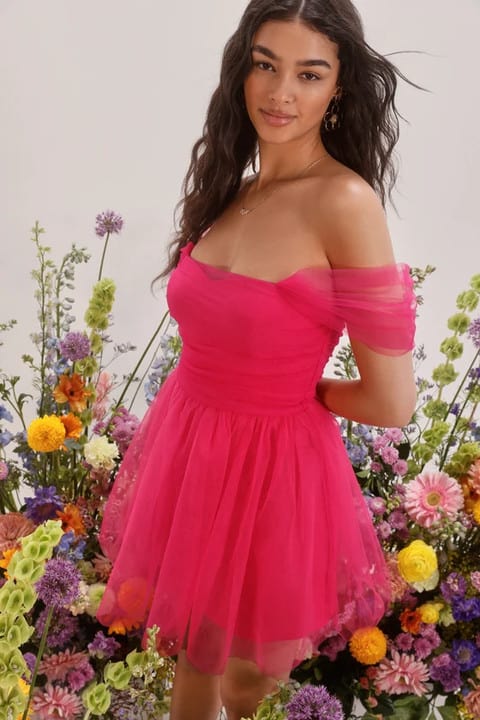 Lulus Effortlessly Remarkable Tulle Off the Shoulder Dress
This summer's Barbie movie is showing up fashion trends everywhere, and pink is undeniably has been having a big moment in the spotlight. Fun, voluminous and bright pink dresses like this one by Lulus are one way to wear the look.
Unique Sequins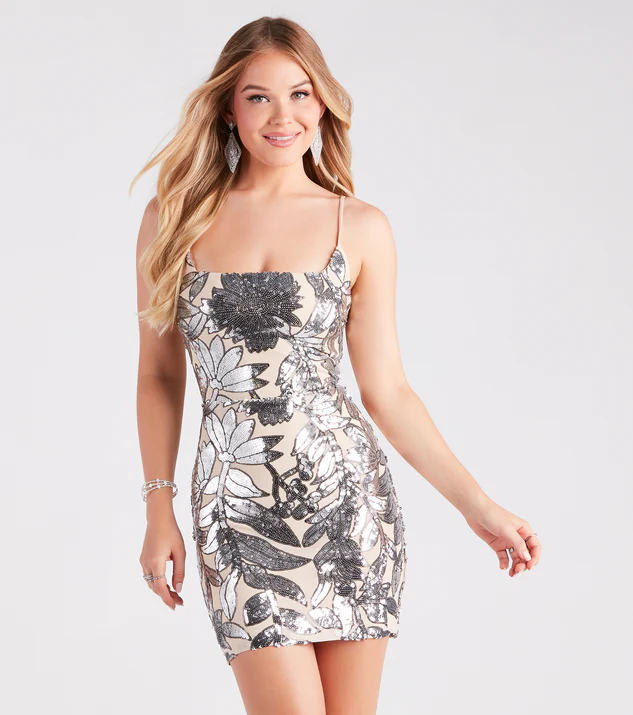 Wendy Floral Sequin Party Dress from Windsor
Sequins are always a standard in in homecoming and party dresses in general, but this season we're seeing sequins in gorgeous colors like deep green, multicolor, and iridescent white, and sequins in prints and patterns like this dress from Windsor.
Fringe and Feathers


One of the looks we're most excited about this season is the fringed and feather-trimmed dresses we're seeing. They give a bit of a 1920 meets 1960s retro style. They also give a little bit of interesting movement and detail that is sure to be a great look while dancing.
Longer Lengths

HOCO dresses are notorious for being super short mini dresses hitting the mid-thigh but we're starting to see a bit more of a cocktail-length dress at the knee or even a midi with a thigh-high leg slit takes over as a popular look. If you're not afraid to break the mold of the super short homecoming dress check out these midi and tea-length styles for wedding guests, that could also work for homecoming dresses for those seeking a longer style.
Satin Styles

We are seeing lots of draped satin cocktail dresses this fall and we love the look for homecoming. After all, since it's an autumn celebration, a little more coverage can be nice!
Classic Little Black Dresses

You can never go wrong with a little black cocktail dress. It's a sophisticated style that you won't regret and might be able to wear again!
Best Places to Shop For Homecoming Dresses Online
Buying a homecoming dress online is a great idea for several reasons. First, of course, you can get the best selection online. You aren't limited to the stores in your area. You can also generally find dresses in all sizes and price shop so that if you find a dress at one store you can see if you can find it for less, or in a different color and get the ideal dress.
While it can be daunting to buy something online, a HOCO dress is often somewhat affordable and a low-investment piece, so the risk is low and most online retailers make returns easy. Best of all, you can get input before you buy your dress from our friends and family, and read reviews. Some places like Amazon, do the "try before you buy" option where you have a window for return. It's a great way to try on a bunch of styles with your friends from the comfort of your home.
Here are some of our suggestions for where to shop online for a homecoming dress:
Other Places to Buy Your Perfect Homecoming Dress
There are many spots to look for and buy the best homecoming dress. As a website, we only have access to share other online sources, so we tend to look for dresses and try to find the best online shops.
That said, we also love small business. You may already have a favorite store or boutique in your area, that carries a fantastic selection of dresses. Definitely check our their selection to see what they have that will work for finding your perfect homecoming dress.
If your local bridal boutique carries prom and bridesmaid dresses, chances are they also do homecoming dresses. Looking at your local wedding boutique is a also great place to start, as they usually do carry special order dresses.
You might also have luck finding just the right dress at your favorite stores at the mall, or stores like TJ Maxx, Nordstrom Rack, or Marshall's. Certainly, nothing beats being able to try on your dress and leave with it right that day!
Do You Wear a Short or Long Dress to Homecoming?
In most cases, long formal gowns are reserved for prom events, but if you are in the homecoming court or if your school or group of friends has decided longer gowns are the look, then feel free to browse some of those styles!
What to Wear for Homecoming
Homecoming dresses are all about finding that perfect mix of your own personal style, along with a dress you are drawn to and can't wait to wear!
Generally, most homecoming events and dances are semi-formal events, so shorter dress, often at or below the knee is what we commonly see. Pair that length with a dressy fabric like satin, sequins, or stretch lace, in a color and silhouette you love and you'll be set to go. Of course, if dresses aren't your style, any kind of semi-formal look should work with your school's dress code. Here are some of the dressy jumpsuits we love.
For guys, we see guys going all out with suits and ties, while some schools are slightly less formal, and we see either dress pants, shirts and ties, or suits with a dress shirt and no tie. Typically the attire guidelines are sort of selected by the school and the general consensus among your friends what their style will be, along with any fun and creative ideas you and your friends might have for homecoming attire.
Where to Find Suits and Dress Shirts and Ties for Homecoming
If you're looking for a suit, shirt, and tie to wear to We saw that Men's Wearhouse has a special combination deal for homecoming featuring a suit,tie and dress shirt combination. If you don't need all of these items, getting a tie, shirt, or suit from a major department store is usually a great option. Macy's Nordstrom as well as TJ Maxx and Marshalls are good spots to look for ties and shirts.
When to Shop for Homecoming Dresses
Early fall is the best season to look for dresses since most coming games come up quickly in early October or sooner! Shopping almost as soon as school goes back in session is a great idea. However, if yo u wait until the last minute, most of the online stores ship quickly, so you won't be waiting too long before you get your dress.
No matter what you choose to wear to homecoming, have a safe fun, and happy time celebrating with friends!