White Dresses Under $100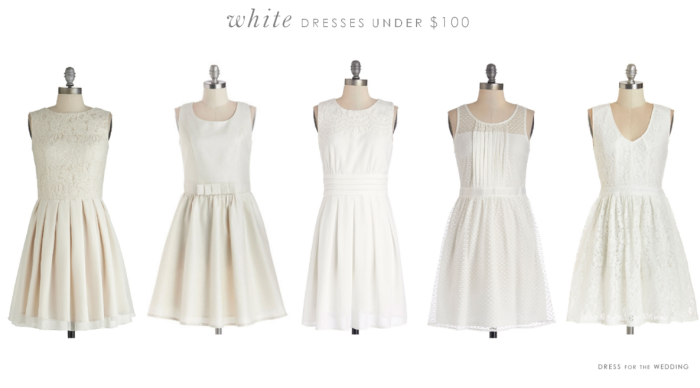 All From ModCloth:
All Over Elegance Dress $89.99 | Graceful Gleam Dress $64.99 |V.I. Pleased Dress $74.99 | Illuminate Your Elegance Dress $49.99 | Promenade to the Party Dress $54.99
Little White Dresses Under $100!
It's the season of the white dress!  I've missed the boat a little this year on those who are wearing white dresses to graduations, but for brides who want to wear a little white dress to their bridal shower or rehearsal dinner,  or as a reception dress at the end of the wedding  — the season is still very much upon us.  These are also great choices if you're having your bridesmaids wear white dresses, which is a trend right now that I find to be a very pretty look!
Why did I pick the price point of under $100? Even with the plethora of dresses I dream about and feature on this site, it's very rare for me to spend more than $100 on a summer dress. That's why I'm completely surprised at myself for not clearly defining more dresses in that price range, since that's usually what I seek out for myself. So I'm starting today to include more of these picks, and I'm starting with the the purest of all colors – white – for brides to wear to wedding events and for the rest of us to wear during the summer when we're not attending weddings!  When budget is a factor, but I still want great quality and great style, I look at picks from ModCloth  for ladylike retro styles, Nordstrom for classic white dresses, and ASOS, for the latest trends at great prices! Macy's also has a great selection of little white dresses, but I didn't do a collage 🙂  Here's a collection of over 20 white dresses under $100! Enjoy!
Classic Little White Dresses under $100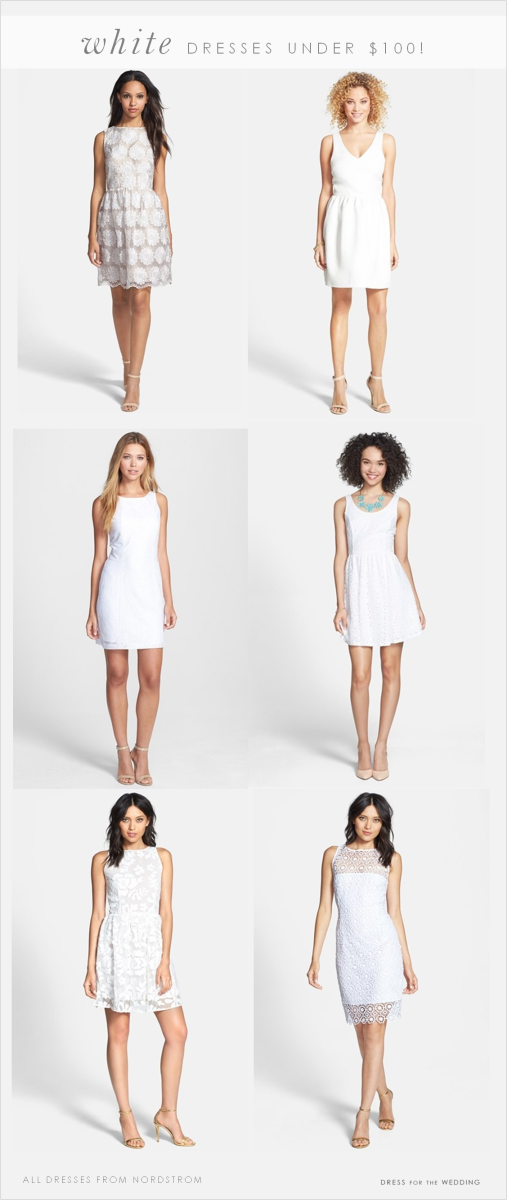 All from Nordstrom, starting top row: 
Embroidered Organza Fit + Flare $98.00 | V-Neck Embossed Fit + Flare $48.00 
Sparkle Lace Sheath Dress $99.00 | Floral Lace Skater Dress $48.00 
Sibley Floral Applique Lace Fit+ Flare Dress $88.00 | Tisa Lace Dress $88.00
Nordstrom is always my first stop for sourcing dresses, because they have such a wide selection,  great quality and unparalleled customer service, along with so many beautiful little white dresses at great prices!
 Trendy Little White Dresses Under $100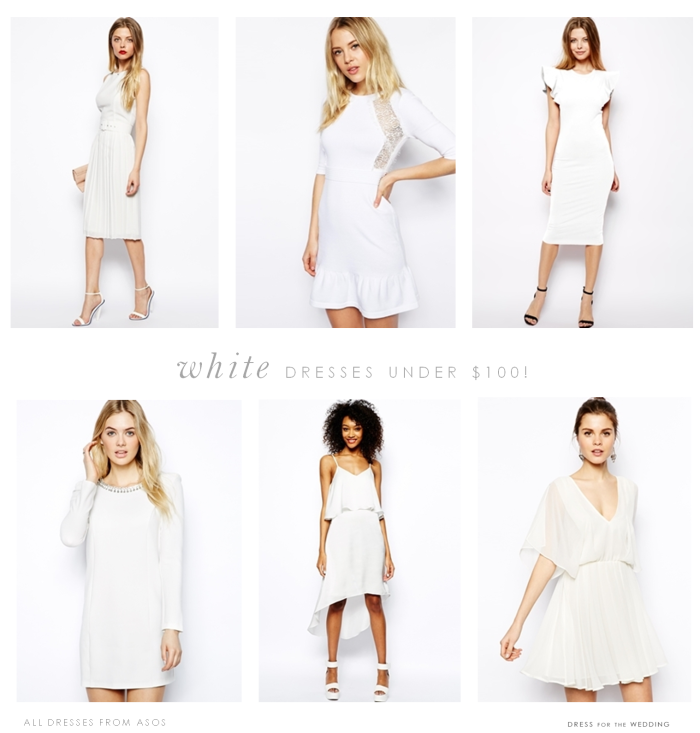 All from ASOS:
Midi Skater Dress $ 91.46 |Knitted Dress with Cutouts $76.22 | Structured Dress with Ruffle Sleeve $53.35
Mini Shift with Embellished Collar$74.31 |  Double Tier Cami Dress $66.69| Angel Sleeve Skater Dress $66.69
ASOS is my first stop when I know I want something modern and on-trend at a great price. Look at these great dresses – so many unique, current styles, with fun details and shapes.
I hope this will help you rock your summertime bride-to-be style for less! Next to your beloved wedding gown, I hope you find your second favorite white dress here!
More white dress inspiration:
Is it Ever OK to Wear White To a Wedding?