White dresses under $100 for wedding events like bridal showers, engagement parties, wedding rehearsal dinners, engagement photos, informal ceremonies, vow renewals, and more. An affordable way to stock up on all the white dresses you'll need for all the pre-wedding parties in your honor!
Affiliate links are used in this post. This means this site may earn a commission if you make a purchase from the products or sites we've linked to here.
White Dresses Under $100 for Wedding Events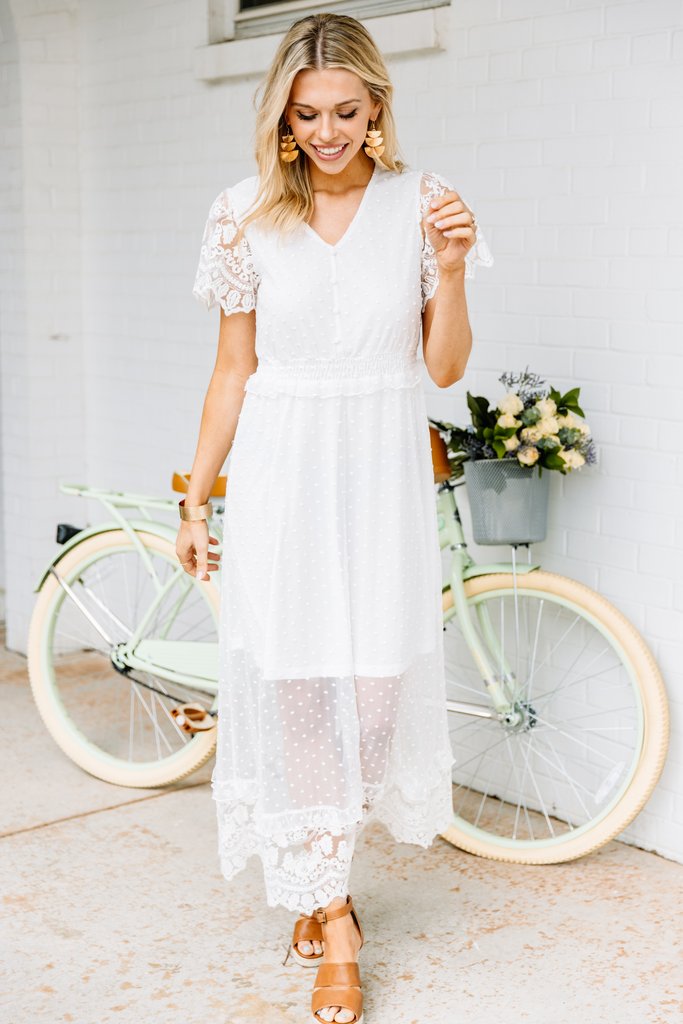 Lately, the tradition has been for the Bride-to-Be to wear white to many if not all of her pre-wedding events, like engagement parties, bridal showers, couples showers, bridesmaid brunches, and the night before the wedding at the rehearsal dinner.
If you are planning to wear white to most of your wedding events, then you probably don't want to splurge on all of those dresses!
That's why we've created this guide to white dresses under $100. Many of these finds are actually under $50! These dresses are also great to consider if you want a simple and affordable wedding dress under $100!
Many of the longer maxi dress styles are perfect for a backyard ceremony, simple beach wedding, vow renewal, or even a City Hall wedding.
Where to Find Cute White Dresses for the Bride Under $100
We find shops like Red Dress Boutique, Pinklily, Mint Julep, and Lulus specialize in offering dresses under $100, and they also keep many pretty white dresses in stock. They offer lots of styles of white lace dresses, white cotton dresses, and white maxi dresses which are all great styles for brides to be.
Little White Dresses Under $100!
Here's where you can shop for dresses!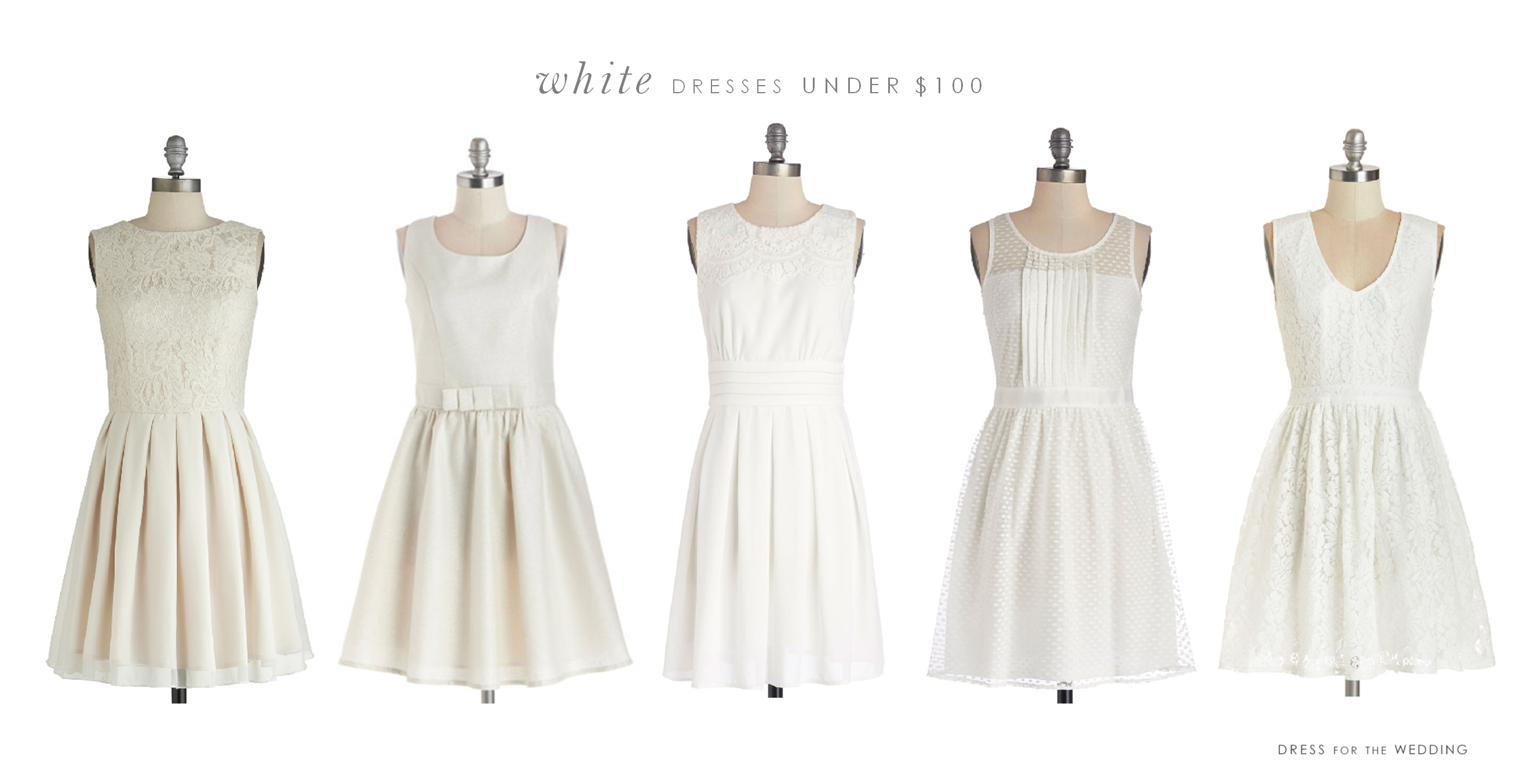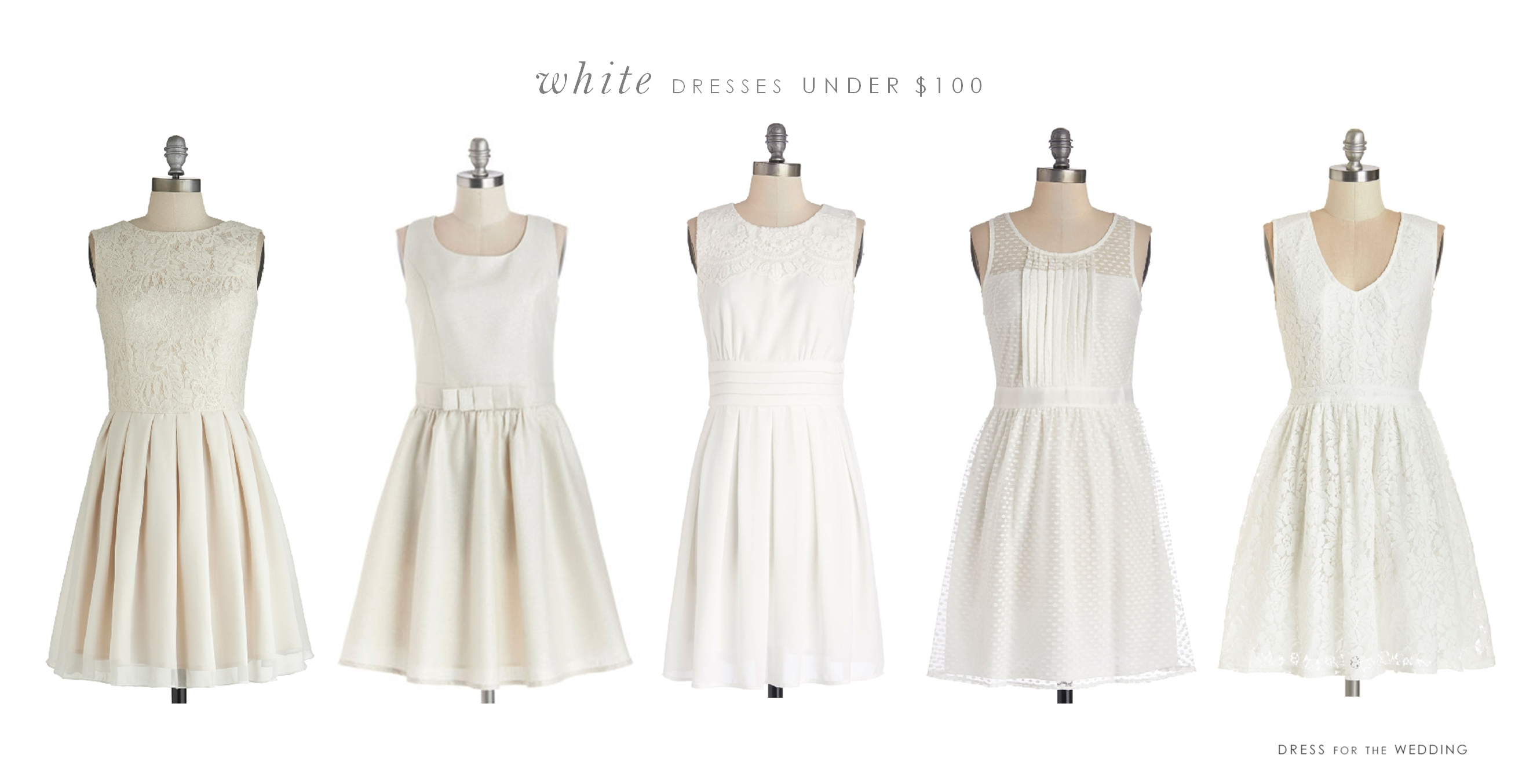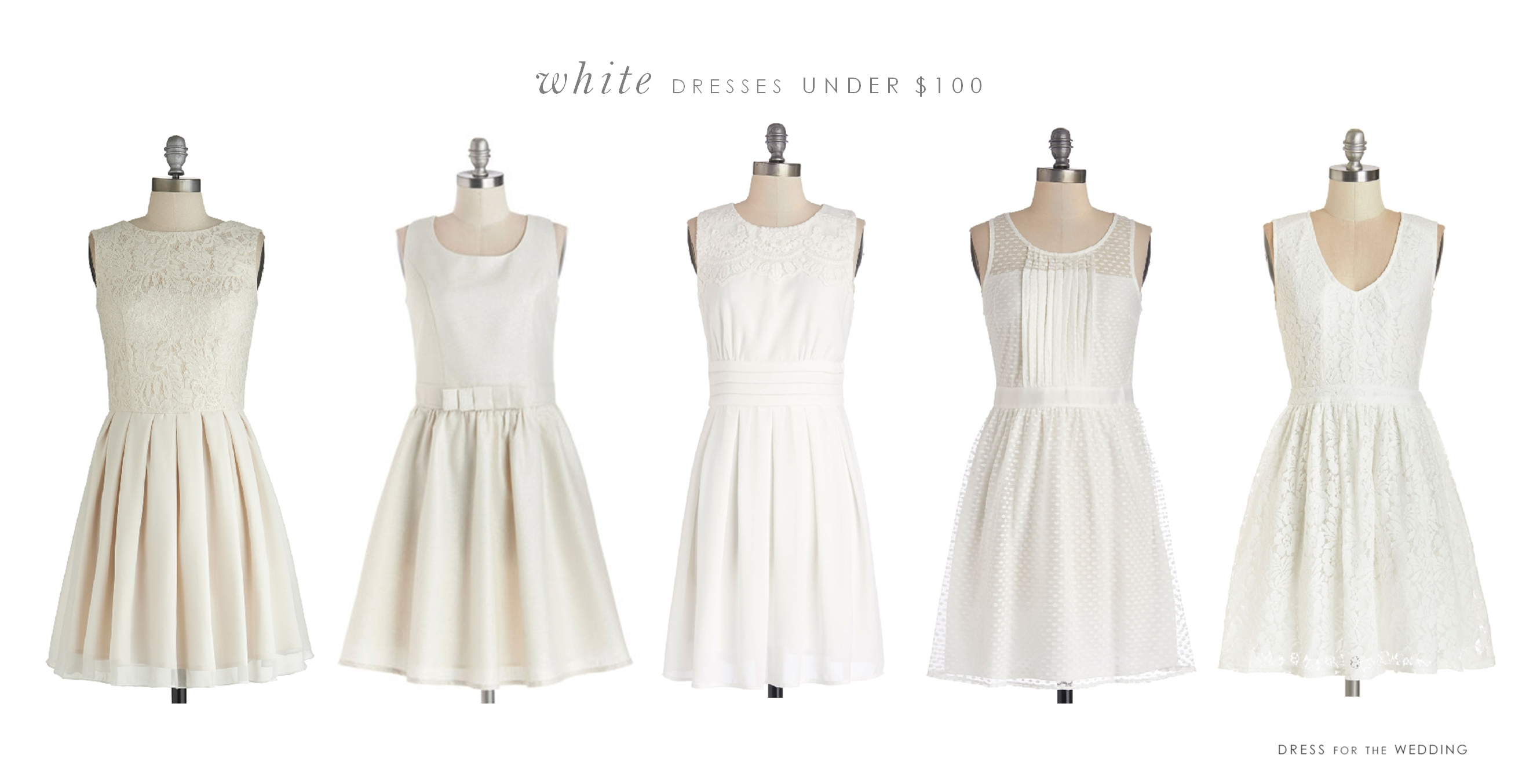 More Dress Inspiration
I hope this will help you rock your summertime bride-to-be style for less! Next to your beloved wedding dress, I hope you find your second favorite white dress here. You might also like these posts!
Is it Ever OK to Wear White To a Wedding?
---
This post was written and published on June 15, 2014 and was updated on May 3, 2020 with new dress picks. The remainder of the old post is here for reference in case you've reached this page from an old Pin on Pinterest! Most of these white dresses below are now out of stock.
More About Affordable White Dresses for Less Than $100
It's the season of the white dress! I've missed the boat a little this year on those who are wearing white dresses to graduations, but for brides who want to wear a little white dress to their bridal shower or rehearsal dinner, or as a reception dress at the end of the wedding -- the season is still very much upon us. These are also great choices if you're having your bridesmaids wear white dresses, which is a trend right now that I find to be a very pretty look!
Affordable Dresses in White, Cream, Ivory
Why did I pick the price point of under $100? Even with the plethora of dresses I dream about and feature on this site, it's very rare for me to spend more than $100 on a summer dress. That's why I'm completely surprised at myself for not clearly defining more dresses in that price range since that's usually what I seek out for myself.
So I'm starting today to include more of these picks, and I'm starting with the purest of all colors - white - for brides to wear to wedding events and for the rest of us to wear during the summer when we're not attending weddings! When budget is a factor, but I still want great quality and great style, I look at picks from ModCloth for ladylike retro styles, Nordstrom for classic white dresses, and ASOS, for the latest trends at great prices! Macy's also has a great selection of little white dresses, but I didn't do a collage 🙂 Here's a collection of over 20 white dresses under $100! Enjoy!
ModCloth White Dresses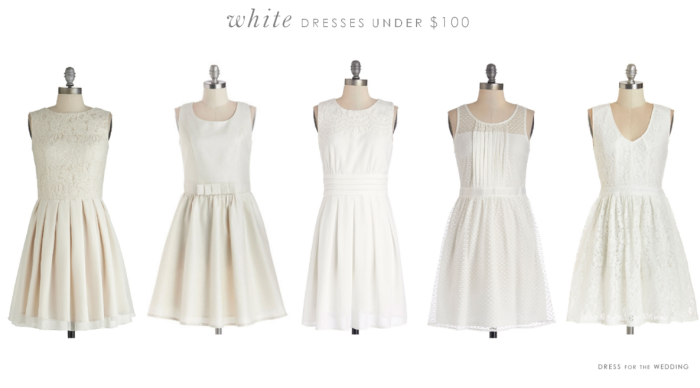 All From ModCloth:
All Over Elegance Dress $89.99 | Graceful Gleam Dress $64.99 |V.I. Pleased Dress $74.99 | Illuminate Your Elegance Dress $49.99 | Promenade to the Party Dress $54.99
Nordstrom White Dresses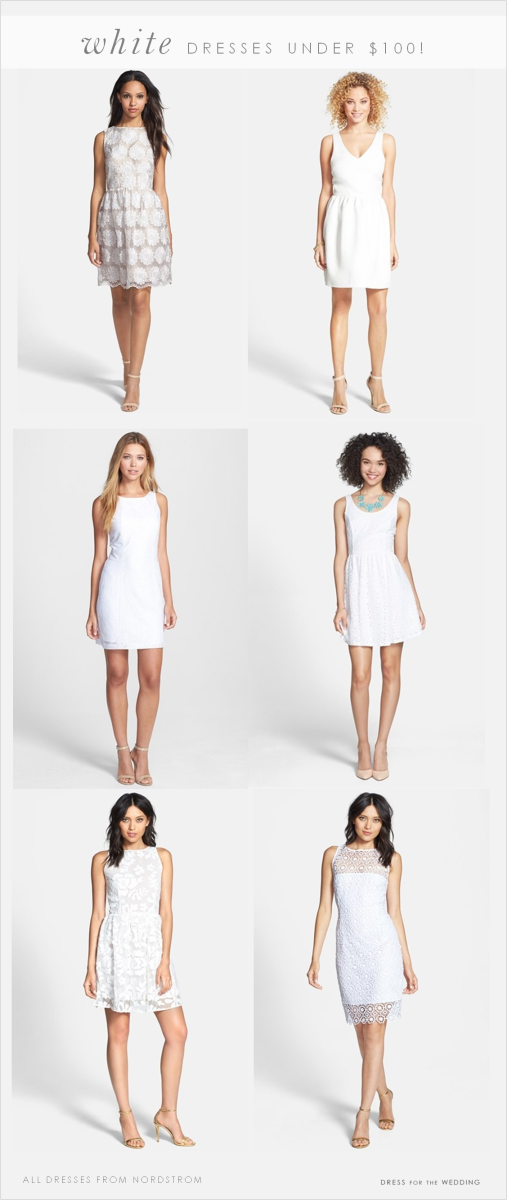 All from Nordstrom, starting top row:
Embroidered Organza Fit + Flare $98.00 | V-Neck Embossed Fit + Flare $48.00
Sparkle Lace Sheath Dress $99.00 | Floral Lace Skater Dress $48.00
Sibley Floral Applique Lace Fit+ Flare Dress $88.00 | Tisa Lace Dress $88.00
Nordstrom is always my first stop for sourcing dresses, because they have such a wide selection, great quality and unparalleled customer service, along with so many beautiful little white dresses at great prices!
ASOS Dresses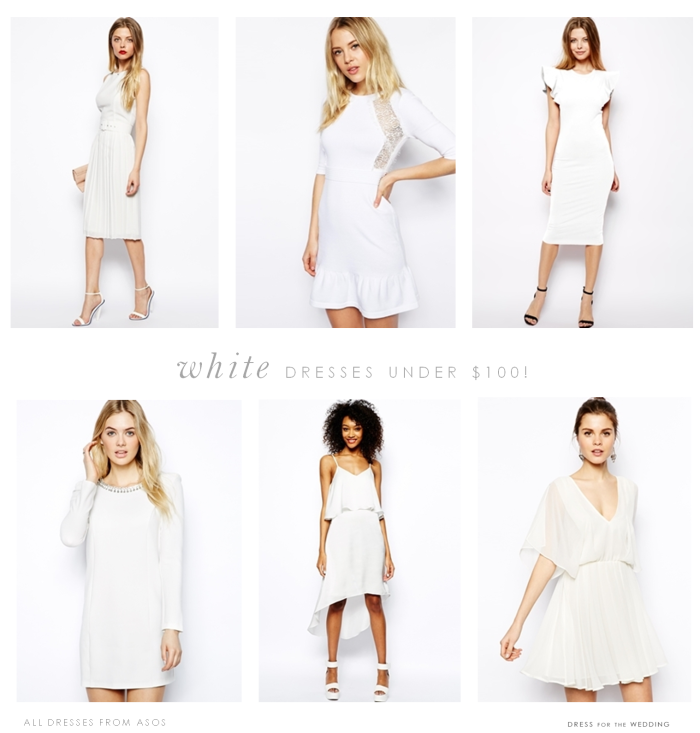 All from ASOS:
Midi Skater Dress $ 91.46 |Knitted Dress with Cutouts $76.22 | Structured Dress with Ruffle Sleeve $53.35
Mini Shift with Embellished Collar$74.31 | Double Tier Cami Dress $66.69| Angel Sleeve Skater Dress $66.69
ASOS is my first stop when I know I want something modern and on-trend at a great price. Look at these great dresses - so many unique, current styles, with fun details and shapes.