A bridesmaid styling idea with a sage green bridesmaid dress and more places to find sage green bridesmaid dresses.
Sage Green Bridesmaid Dresses
Today's 'flavors of fall' bridesmaid style idea is sage green, a color choice inspired by the savory herb, sage, that flavors some of the aromatic cuisine this time of year. Sage green is a beautiful color for fall or winter weddings; to me, it's an idea combination of a pale green with a bit of blue and gray. More on this lovely sage green style below!
Affiliate links are used in this post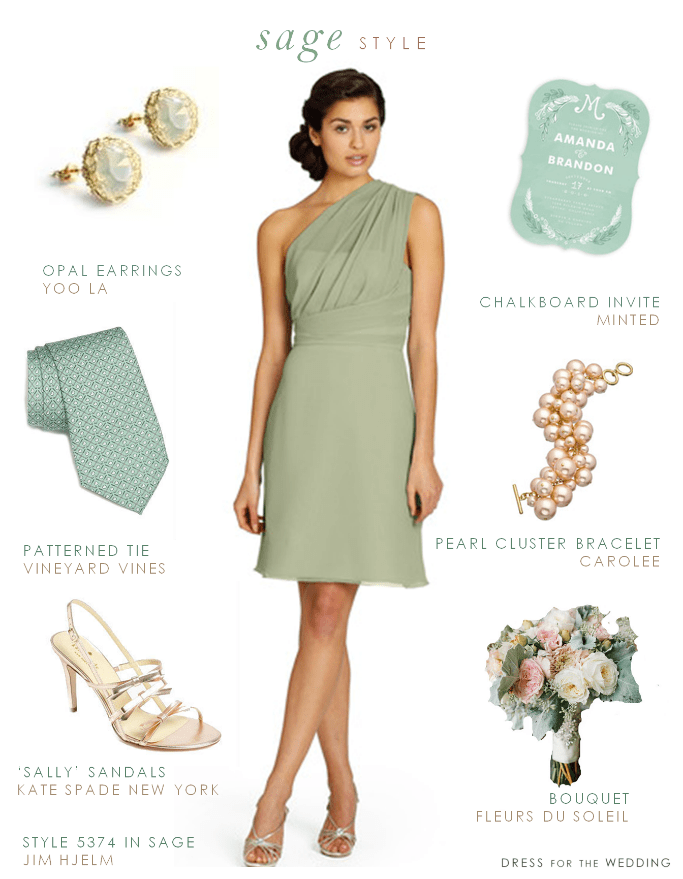 Dress: Jim Hjelm Bridesmaid Dress Style 537 in Sage // Earrings: YooLa Opal Earrings at Bottica // Invitation: Chalkboard Invitation in Seafoam by Althea and Ruth at Minted // Bracelet: Pearl Cluster Bracelet by Carolee // Bouquet by Fleurs Du Soleil as seen on Style Me Pretty, original image photographed by Delbarr Moradi Photography // Heels: kate spade new york 'sally' heels // Tie: Vineyard Vines Patterned Tie
I don't do many pale green looks here, and I'm not sure why--it's certainly one of my favorite colors for bridesmaids! While I didn't give this sage shade an overly fall-ish look, I just love the way it combines with peach, blush, pale blue, darker greens, silver, gray and so many other colors. This herb has a nice earthy scent as well as color, so if you like this natural, organic-inspired look, think about carrying a fragrant bouquet with blush and yellow flowers using herbs as the greenery, or having this muted green shade as one color in a group of mismatched dresses in varying shades of green. Let me know in the comments - what's your favorite detail?
Commission links are used in the shop section
More Green Dresses for Bridesmaids

More bridesmaid dresses and ideas:
Green Wedding Attire Style Ideas