Sequin Bridesmaid Dress
When I hear about the return to glamour in weddings, a few images that I've seen this year completely stand out. An image of sequin bridesmaids dresses (and the bridesmaids wearing them!) all in a row really caught my eye. They look absolutely stunning with their updos, chandelier earrings, and sequined gowns. Want a cocktail length style? Here are some picks for short sequin dresses.
Sources in this post use affiliate links.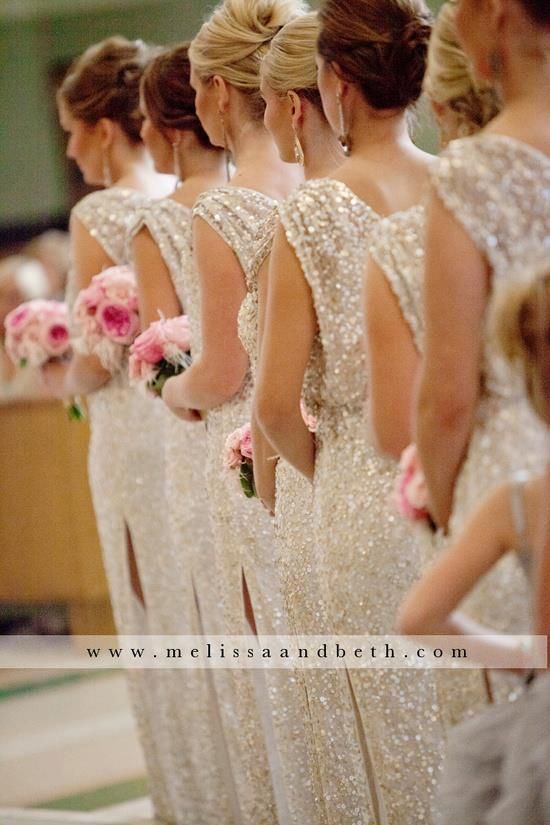 Yay! I found these Sequin Bridesmaid Dresses featured on Melissa and Beth Photography
 I found the exact sequin gown that is shown in the photo ( the comment that had them identified now seems to be missing!) but this dress from  JS Collections via Weddington Way certainly looks pretty close to me! (Update: It's out of stock at Weddington Way right now, but in stock at Nordstrom!)
Sequined Bridesmaids Dresses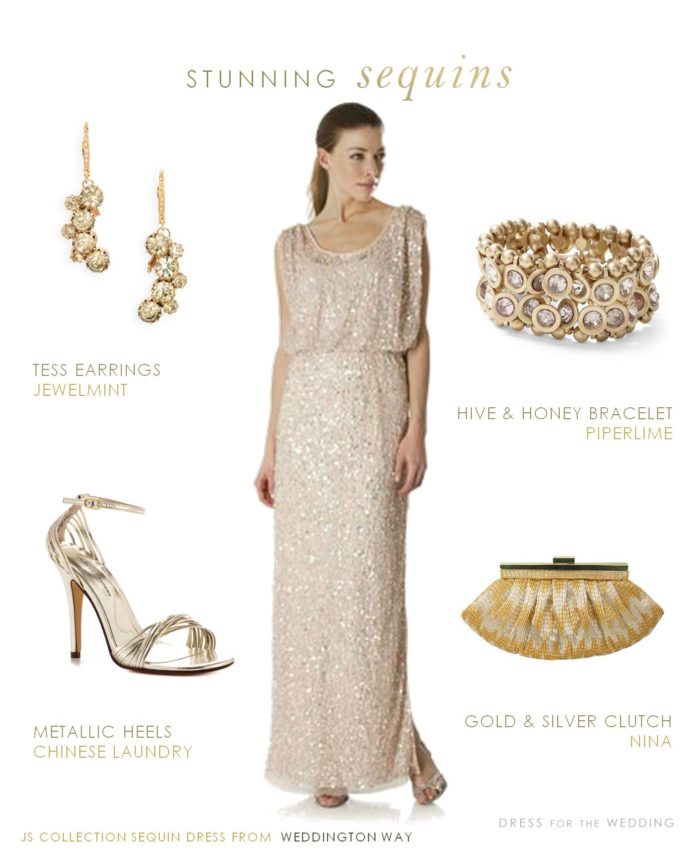 Weddington Way JS Collections Sequin Dress (out of stock) now in stock at Nordstrom / Tess Earrings Jewelmint  / Hive & Honey Rhinestone Stretch Bracelet – Gold /  Nina Beaded Frame Clutch Gold/ Champ/ Silver / Chinese Laundry Heels Legendary Light Gold Metallic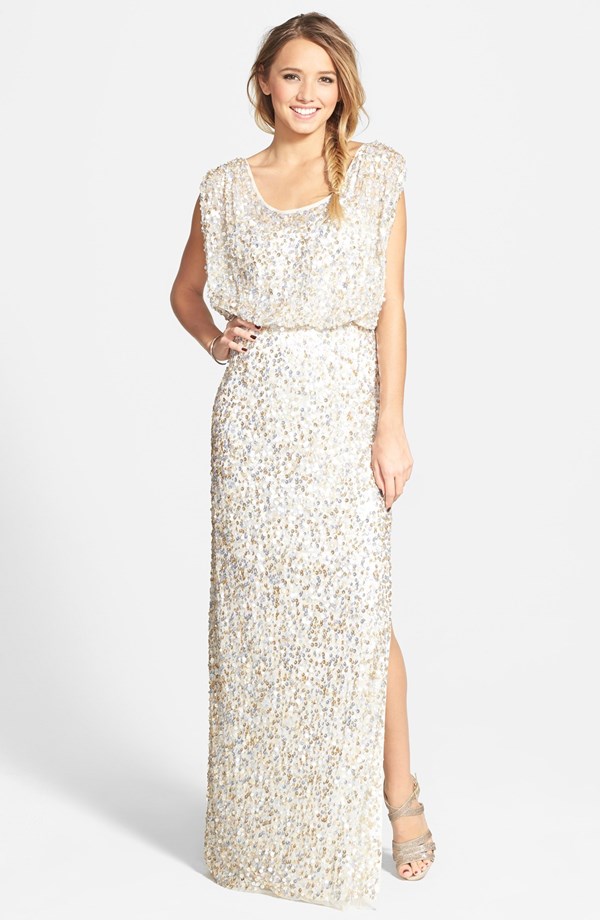 I am so taken with the idea of sequined bridesmaid gowns, that I of course had to style a look for it. I love the long gown shown here, but shorter looks or gowns with more lace or beading are great, too!  It used to be that a sequined bridesmaid dress sounded like something that would be a little too over the top , but today's dresses balance the sequin look with classic lines and are completely glamorous and tasteful.  The key is also to keep the jewelry and other accessories simple and elegant.

Another view of this sequin gown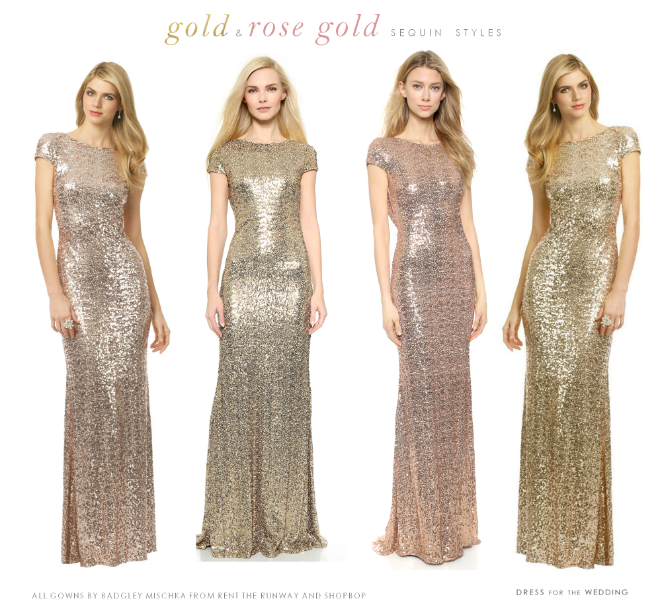 Blush sequin gown from Rent the Runway $70- $80 2. Badgley Mischka Gold Sequin Cowl Back Gown from Shopbop 3. Badgley Mischka Blush Sequin Cowl Back Gown from Shopbop   4.Gold Sequin 'Night at the Oscars' Gown from Rent the Runway $120
Update – these sequin bridesmaid dresses are really having a moment too, and so many of your have asked about where to find them! This cowl back gown by Badgley Mischka comes in gold and blush (which reads as a rose gold) you can buy it from Shopbop, but if you want a more reasonably priced option – especially if this is for your bridesmaids –  you can rent it for $120 from Rent the Runway! It also comes in these short versions.



Here's another one of my favorite examples of how this glamorous look can be done perfectly. This golden wedding style was featured on one of my favorite blogs for wedding eye candy, Style Unveiled.   The whole look was styled perfectly by Davia Lee Events with simple gold accessories, and beautiful orchid florals from our friends at Panacea Event Floral Design.  Here's another look at how those orchids look against gold sequins! It's beyond lovely!
So why all the excitement? I think the sequined or embellished bridesmaid dress trend will be here to stay for awhile. After all, it works wonderfully with the Gatsby wedding trend, a New Year's Eve or winter wedding,  various sequin dresses look great together  for a mismatched bridesmaid look, and add even more elegance to black tie wedding parties. And, although I'm partial to the gold, silver, bronze and blush range– sequins come in so many other colors!
If a  formal length gown isn't what you want for your bridesmaids, short works, especially for semi-formal weddings. If all-over beading is too much, maybe a dress with a little metallic lace, and just a little sparkle is right for you! ( I happen to love Harlow by Jenny Yoo) Check out this short golden bridesmaid look I created, and see some of my current picks for short and long sequined and embellished bridesmaid dresses.