Summer Wedding Guest Dresses for Rent!
It's summer wedding season, and since no one wants to be caught wear the same dress twice to an event check out these ideas for dresses for summer weddings! The best part - they're all for rent!  If you want dresses to buy, see my latest picks for Summer Wedding Guest Dresses !
Shopping sources noted with links in italics are affiliate links from our sponsors and retail partners.
Our Favorite Looks for Rental Wedding Guest Dresses from Rent the Runway

Past Seasons of Dress Rentals We Loved!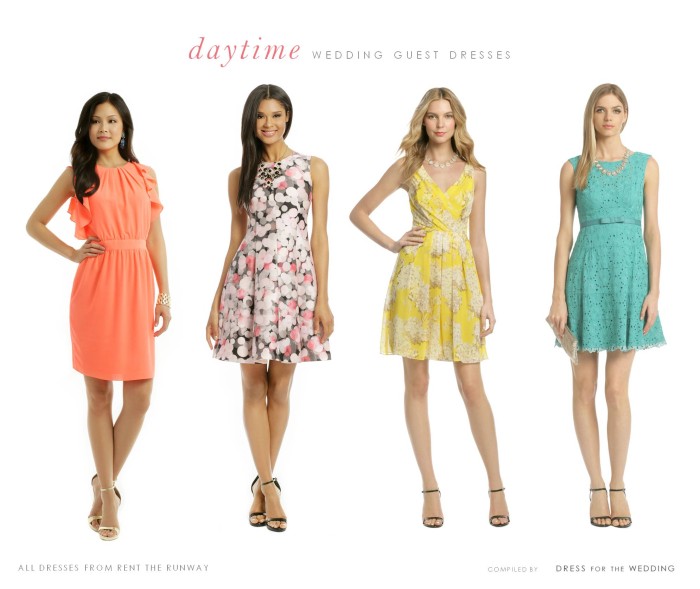 *Affiliate links are used in this post. 1.  Shoshanna Katrina Bouson Dress 2. kate spade new york "Bubbles Upon Bubbles" Dress    3. Trina Turk Yellow Hydrangea Dress 4. Nanette Lepore Daisy LaceDress
Summer wedding season is fully upon us, and not only am I looking at wedding guest dresses almost every day because it's a fun part of  my job, but also because I need some new dresses to wear to weddings myself. Besides checking out some of my favorite shops, I'm actually thinking of a rental for my next dress.
Rent a Dress for a Summer Wedding
By now you might have noticed that I'm a huge fan of Rent The Runway for sourcing some of my wedding guest picks. I've actually never rented with them yet, so why do I love them so much? So many reasons. First of all, they have an amazing selection. Have you noticed how pretty the dresses are? (They also happen to photograph each dress very clearly, which I always appreciate for seeing important detail and for creating my layouts.) They have so many dresses that I've had my eye on over the two years I've had this blog, and many of them are exclusive dresses that you often you just can't get any more because they sold out, or were last season ( but still awesome!) or were a highly limited edition. It can be so hard to find a dress you love, and so often the designer dresses  I would really love to wear are cost-prohibitive for my budget, so I settle for something  I don't love in my price range. The rental fee is a fraction of the cost that it would cost to buy, so it just makes sense to me!    I also love being able to read the reviews of people who have worn them and seeing what they look like on real people.
Great Guest Dresses from Rent the Runway

1. Rachel Roy Good Karma Sheath Dress 2. Lilly Pulitzer Dress 3. Rachel Roy Fuschia Dress  4. Reem Acra Yellow Dress 
Why To Rent a Dress to Wear to A Wedding 
Rental also solves the "you've seen me in this before" issue. I find that it's my friends in my same circles who are frequently getting married and having events, so my dress collection can quickly become full of dresses that my friends have already seen me in 2-3 times. and with the advent of Facebook and Instagram, everyone else can also see where you wore the dress. It's not a huge concern, I mean really - of course you're going to re-wear things, but it's always fun to be able to dress up and feel like you're wearing something new and special that was picked just for each event you're attending.
Cocktail Dresses to Rent
1. Lela Rose That Feminine Touch Dress  2. Halston Heritage Dress   3. Moschino Cheap and Chic Plum Rose Bodice Sheath 4. Lela Rose Teal Dress
Just think of the math, if you have 4 weddings in a summer, and you wanted/needed a new dress for each one, it could easily be $800 or more.  But since many rentals fall at the $30 - $50 mark  at Rent The Runway, you could be under $200 for all 4!  So this summer I have a few weddings coming up, and I think I'm going to try Rent the Runway and tell you first hand what it's like. They aren't directly sponsoring this endeavor, and haven't requested post or anything, but they are a retail affiliate which means that if you rent one of their dresses through my site, they give me a small percentage for the referral.  If you're thinking of it for your weddings, throughout this post  are the styles I currently have my eye on sorted by level of formality.
Formal Dresses to Rent
Halston Heritage Attitude Adjustment Gown | Halston Heritage Forever Mine Gown |  Carlos Miele Magenta Orchid Gown
 I hope this helps you find some fab dresses for your  own summer weddings and events! I noticed that I need to reserve rentals now, because some of the ones I love are already booked for a few weeks. Let me know in the comments;  have you ever wanted to try renting a dress for a special event? I'll let you know later this summer how my own rental goes!



More style ideas you might enjoy :