A Teal Evening Gown for the Mother of the Bride or Groom
When I did a feature on Teri Jon gowns a few months ago, there was a standout dress that I have been meaning to style ever since. Since teal is a hot color for fall and winter weddings, I think the mothers of the wedding should have the chance to wear it. And so, this teal evening gown has been on my list for a must-do style collage ever since!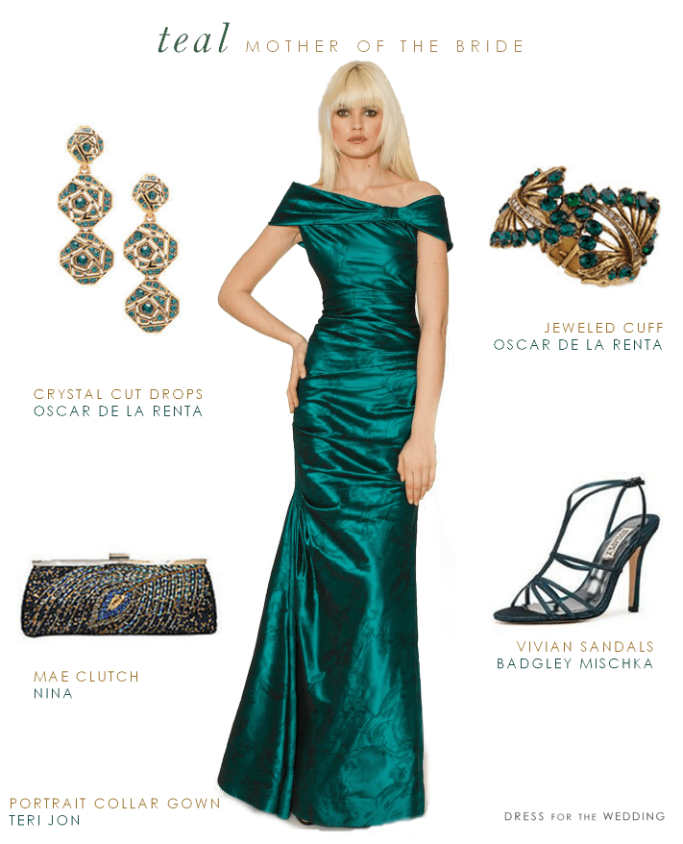 The shopping sources in this post use affiliate links, which means this site may earn a commission if you make a purchase from our links.
Gown: Portrait Collar Teal Taffeta Gown by Teri Jon // Earrings: Oscar de la Renta Gold Tone Drop Crystal Earrings at Lord + Taylor // Bracelet: Oscar de la Renta Cut Out Jeweled Clutch in Emerald // Clutch: Mae Beaded Peacock Clutch from Nina Shoes // Shoes: Badgley Mischka Vivian Sandal in Teal at DSW
Teal Dress for the Mother of the Bride or Mother of the Groom
A gown like this with a beautiful face-framing neckline and a rich jewel tone is a show-stopper in all the right ways. It's definitely not going to take away from the bride's day, but the woman who wears this gown will certainly have a slew of compliments coming her way.
One of the details I love most is the faint pattern to the taffeta fabric; it's such a rich look. I know many mothers prefer to have a matched look to the accessories, so I kept the accessories in the same realm of color. That peacock patterned clutch is a perfect match for this gown, as are the teal sandals, and emerald, teal, and gold statement accessories. The long earrings will call attention to the beautiful neckline. This is a glamorous look for sure, but a mother of the bride or mother of the groom should have a beautiful gown like this on their son or daughter's big day! Check out more Teri Jon dresses.
More looks you might like:
Jade Green Mother of the Bride Dress
Emerald Green Mother of the Bride Dress
Mother of the Bride Dress Ideas
Shop Blue Mother of the Bride Dresses
Shop Green Mother of the Bride Dresses



Affiliate links are used in this post. Teri Jon is an affiliated retail partner of Dress for the Wedding, but did not directly sponsor this post beyond that affiliate relationship.