Shoppable picks for ties for a fall wedding.
Ties for a Fall Wedding
Affiliate links are used on this page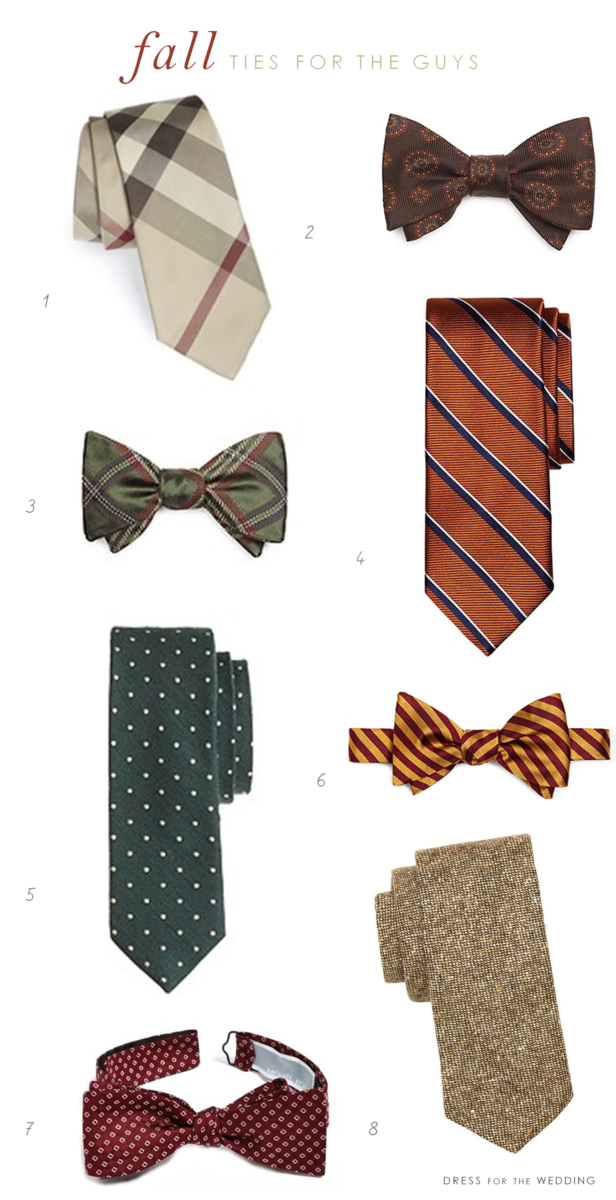 1. Burberry London "Rohan" Silk Tie at Nordstrom 2. Brown bow tie "Ancient Madder" in Space Medallion at Brooks Brothers 3. Signature Tartan Bow Tie in Green at Brooks Brothers 4. Brooks Brothers Sidewheeler Stripe Satin Tie 5. English silk dot tie in Forest at J.Crew 6. BB#5 Repp Bow Tie in Gold and Burgundy from Brooks Brothers 7. Michael Kors Silk Bow Tie in Burgundy at Nordstrom 8. Light Green Donegal Blend Tie at Brooks Brothers
Affiliate links are used on this page
Fall Ties
Fall fashion comes with its own set of colors and textures. The crisp chill in the air (which is yet to arrive here, since it's 90 degrees as I type this!) but, usually, September and beyond makes us all reach for knits and warm autumn colors in hues like forest green and pumpkin orange. Today's "Ties for the Guys" features ties in all these delicious tones of fall with smooth silks, and rustic, woven tweedy textures.
These ties are wonderful for grooms, groomsmen, and guests alike for rustic autumn weddings or fall formal events. I can just picture some of these with suspenders and a gingham shirt, while others can peek through the collar of a suit. Which fall tie is your favorite for your group of groomsmen?
Affiliate links are used on this page
Shop Current Fall Ties

More posts you might enjoy:
Wedding Looks for Grooms and Groomsmen