The best colors for bridesmaid dresses for a fall wedding!
Top Colors for Fall Bridesmaid Dresses
Our picks for beautiful colors for fall bridesmaid dresses for your fall wedding!
We've been showing lots of ideas for fall bridesmaid dresses this season and just did a summary of some of the fall bridesmaid outfit ideas I love. Now here are some of the colors we love in shoppable form!
Shop The Look

Favorite Fall Colors
Bridesmaid dresses are one of the most prominent ways your wedding colors and themes are expressed. So, it only makes sense that they reflect the season and style of your wedding. These picks for top colors are our personal favorite fall palettes informed by top fall fashion colors, top fall wedding colors.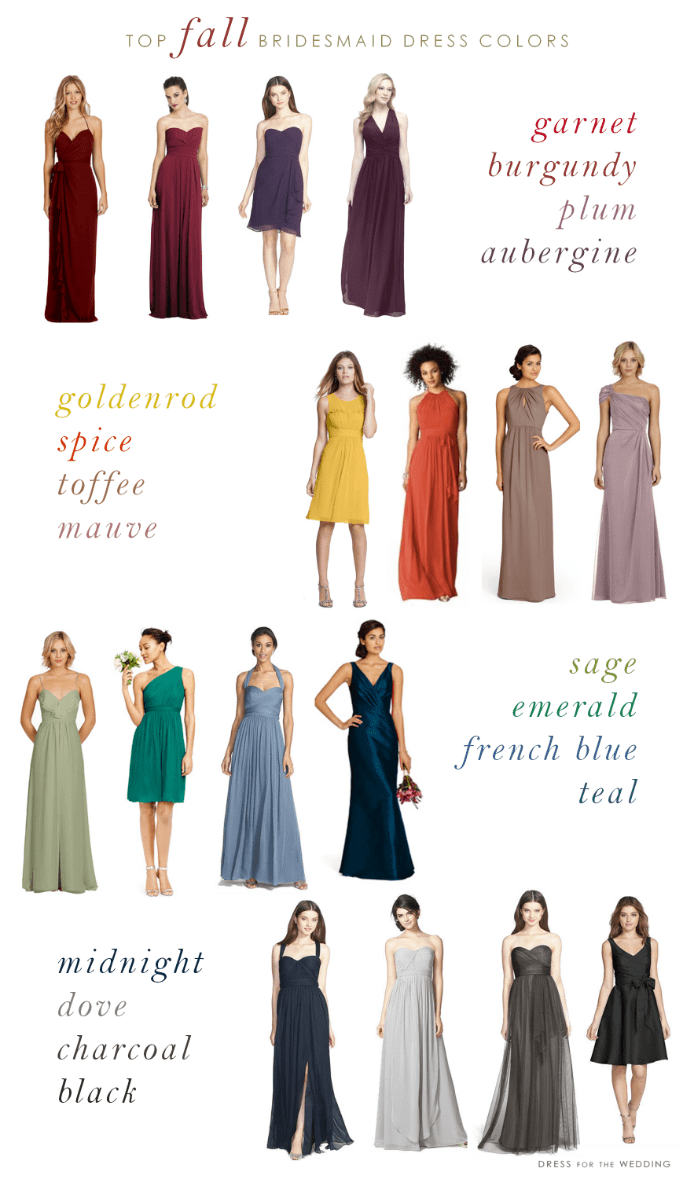 Search more Garnet Bridesmaid Dresses. | Burgundy: After Six Style 6669 in Burgundy. See other burgundy bridesmaid dresses | Plum: Jenny Yoo 'Brooklyn' Dress see other dresses in this color | Aubergine: Wtoo 702 in Aubergine (no longer available) See other bridesmaid dresses in purple
Goldenrod: Watters 'Julep" Dress in Goldenrod(No longer available) See more dresses in Yellow | Spice: After Six style 6613. See Coral Bridesmaid Dresses | Toffee: Jim Hjelm Crinkle Chiffon style 5350 (No longer available). Try these bridesmaid dresses in toffee or see more neutral bridesmaid dresses | Mauve: Jim Hjelm 5414 in Luminescent Chiffon.
Sage: Jim Hjelm Style 5400 in Sage. See other green bridesmaid dresses | Emerald: J.Crew Kylie Dress in Warm Jade. See more dresses in Emerald. | French Blue: Monique Lhuillier crinkled silk gown. More dresses in this shade. | Teal: Jim Hjelm Gown 5362 in Teal. See more blue bridesmaid dresses Midnight: ML Monique Lhuillier Jersey Bridesmaid Gown in Navy , see more dresses from Nordstrom in blue | Dove gray:'Aiden' by Jenny Yoo, see more gray bridesmaid dresses | Charcoal: Amsale Draped Tulle Gown in Charcoal. See more charcoal gray dresses. | Black: Alfred Sung Silk Dress More black bridesmaid dresses (affiliate links are denoted with italics)
Here, we've identified shade by the fabric name of the dress designer, but in some, we used just a general (and usually flavorful!) color term meant to encompass more of a range. We've also included links by the color scheme to retail partners so that you can find the style of dress you like most in that shade.
Fall Wedding Decor + Color Schemes
Now please, don't worry for a minute if you're planning a fall wedding and your color isn't on this list. These picks aren't to classify your colors in terms of 'in' or 'out' wedding trends. This guide is just to inspire anyone trying to pick dress colors who needs some color visualization.
Truly, any color works for your wedding so long as you love it! We've picked these colors because they are classic, timeless colors that will work for fall weddings for years to come, and many of these will work for other seasons as well!
If you're planning a fall wedding, we hope you love these color picks! You also might love these Fall Wedding Ideas and Decor and Maxi Dresses for Fall Weddings
Commission links are used in this post