Wedding Dresses That Inspire: Name this Celia Grace Bridal Gown
Can you think of notable woman from history or present day who inspires you? Wouldn't it be a fun tribute to name a wedding dress after her? Well, today we're going to do just that! Celia Grace Eco + Fair Trade Wedding Dresses recently debuted their 2015 collection and they have asked Dress for the Wedding readers for some help with naming one of their stunning new dress styles.
Help name this beautiful wedding dress!
I first became acquainted with Celia Grace wedding gowns as a part of a post I did about WedAltered, a group of independent wedding dress and accessory designers who create their pieces using eco-friendly and sustainable labor practices. The Celia Grace company story made a lasting impression. Celia Grace was founded by Marcie Muehlke, who for her own wedding, sought -- but could not find-- a beautiful, ecologically-sustainable wedding gown that was created made under fair working conditions. Following her passion for beautiful wedding gowns and enriching the lives of others, she created Celia Grace. These wedding dresses are made in empowering Fair Trade conditions, employing seamstresses from India and Cambodia who earn fair wages and are able to help support their families with this work. The gowns are created using silks that are naturally developed in ecologically-sustainable ways.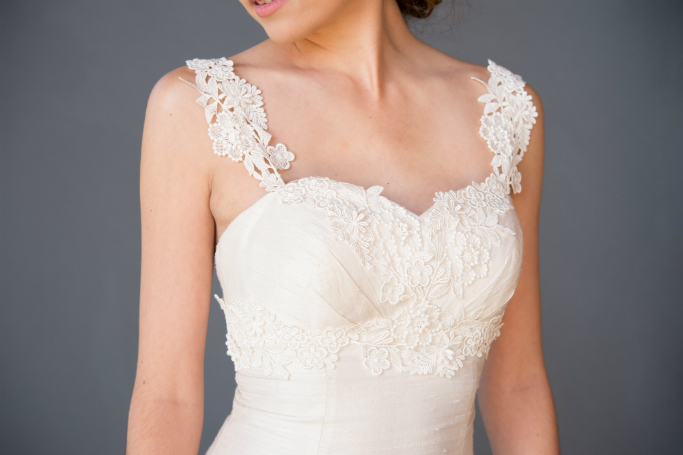 Bodice detail
Not only does Celia Grace have a legacy of great deeds, but they also like to have fun with naming dresses! Next to designing a gown, I've always thought the dress naming process seemed like such fun!  Recently, a gown was named 'Maya' for Maya Angelou on my friend Stephanie's blog Fab You Bliss, and she encouraged me to have a dress naming party, too! Today I want each of my readers to think of a notable woman who has inspired positive change for others, and suggest that name for this beautiful dress!
To help you get inspired, think about this: by naming each dress after an inspiring woman, Celia Grace continues a cycle of building positive connections between women around the world.  Last year's dress names included Amelia (Earhart, a pilot), Rachel (Carson, an environmentalist), Susan (B. Anthony, an abolitionist), Eleanor (Roosevelt, a humanitarian), Rosa (Parks, a civil rights activist), Eileen (Collins, an astronaut), and Marie (Curie, a scientist).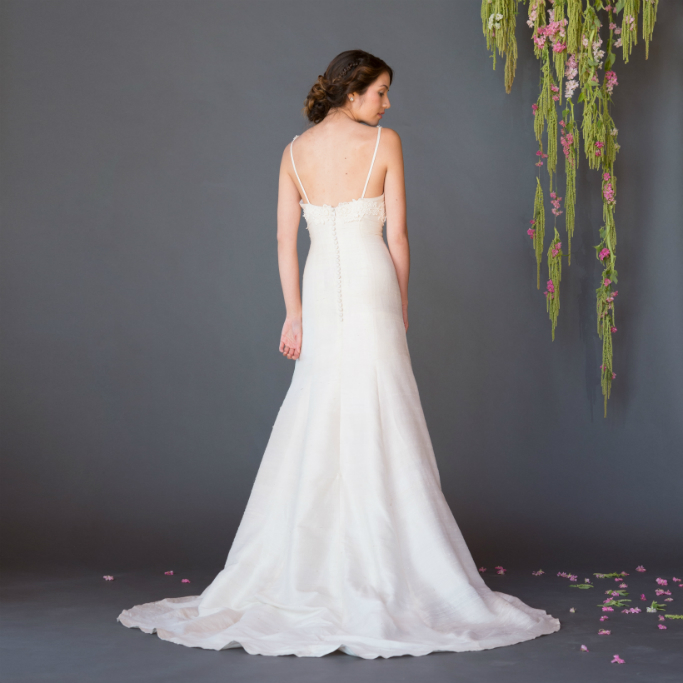 Back detail
The dress we are naming is today is currently called style number 1504--I know we can come up with a more meaningful name than a 4 digit- number! Let me tell you a bit about her: this naturally gorgeous gown features heirloom raw silk dupioni fabric and textured floral lace gown.  This exquisite floral lace fabric covers a pleated sweetheart neckline and thin straps. The empire waist bodice tops an flattering fitted body and mermaid skirt.  Delicate straps and a low dipping back with covered buttons beautifully showcase a feminine back.  Which woman of note does this gown remind you of? I can't wait to hear your suggestions! Again, please comment below, or -- if for some reason you can't leave a comment-- tweet me or leave a note Facebook under this post. Women who have been public figures either in the past or present are best for this, but all suggestions are welcome.
I'll start things off: if I were to name this dress, I'd call it Beatrix, after Beatrix Potter, who in addition to being a noted author and illustrator, was a conservationist.  This gown with pretty floral detail seems like it would be beautiful for a garden wedding, and as we know, Beatrix Potter and her characters spent many hours in the garden.  That's my idea to get things rolling, but I can't wait to hear yours!
Please also check out the entire Celia Grace 2015 Collection which features fine silks and vintage-inspired laces, illusion necklines, keyhole backs and a few dresses that convert from long to short and two organically-dyed pink wedding dresses. Such fun!
P.S. I'll be back soon to tell you what we named the dress! For now, please follow Celia Grace on Twitter and give their Facebook page a like! Let the naming begin!