Red Holiday Party Dress
This classic red dress combined with black accessories will take you to all the season's parties and weddings!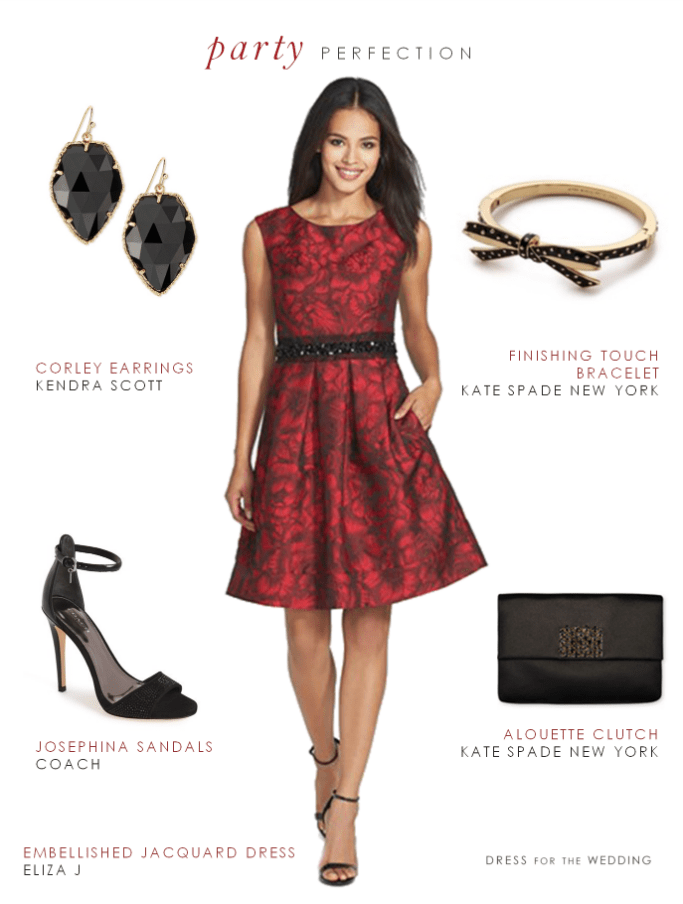 Shopping links are from our sponsors: Dress: (Now sold out, see more picks below, especially theses two similar styles: Floral Jacquard High/Low Gown from Nordstrom and this Red and black Red and Black Jacquard High/Low Dress from Nordstrom) Featured Dress: Embellished Waist Jacquard Dress from Eliza J at Nordstrom // Earrings: Black Glass Corley Earrings by Kendra Scott at Neiman Marcus // Bracelet: 'Finishing Touch' Polka Dot Bracelet by kate spade new york at Shopbop // Clutch: kate spade new york 'alouette' clutch at Rent the Runway // Sandals: 'Josephina' Sandals by Coach at Nordstrom 
Red Dresses for the Holidays
I'm embracing the holiday spirit a little early this year, and getting back to my roots in retail when November is the season to get the shop decorated and full of holiday looks. Since the home page of Dress for the Wedding is my virtual shop window, I've decided to put a pretty red dress in the front display. Nothing says 'holiday party' quite like a red dress, and there are several this season I have my eye on. This red and black embellished dress has been one on my holiday party dress list from the start, because it can be appropriate for a winter wedding guest, but fun enough to wear to holiday cocktail parties.  It perfectly walks that fine line between cute, festive, and completely appropriate for more conservative events.
Cute Red Party Dresses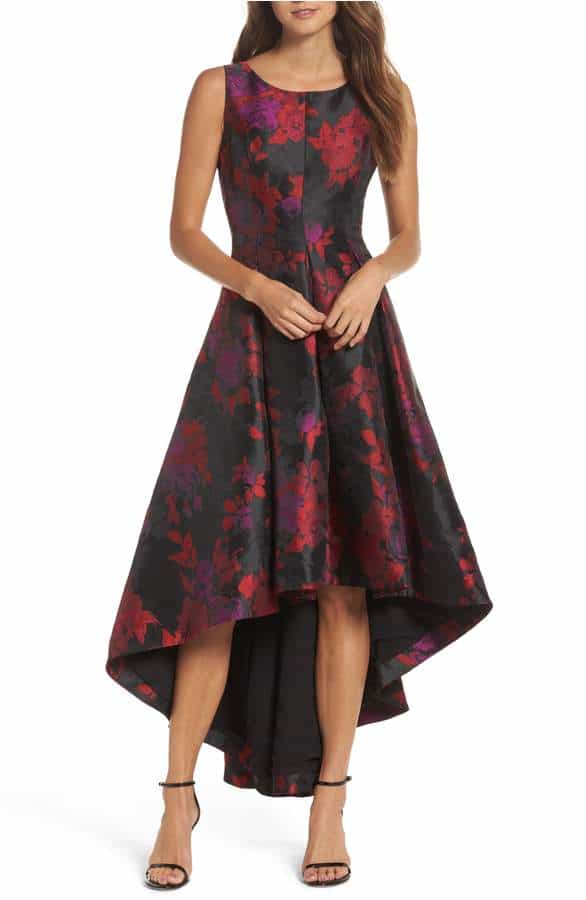 High low gowns are great for those events that fall between semi formal and formal dress codes! Floral Jacquard High/Low Gown from Nordstrom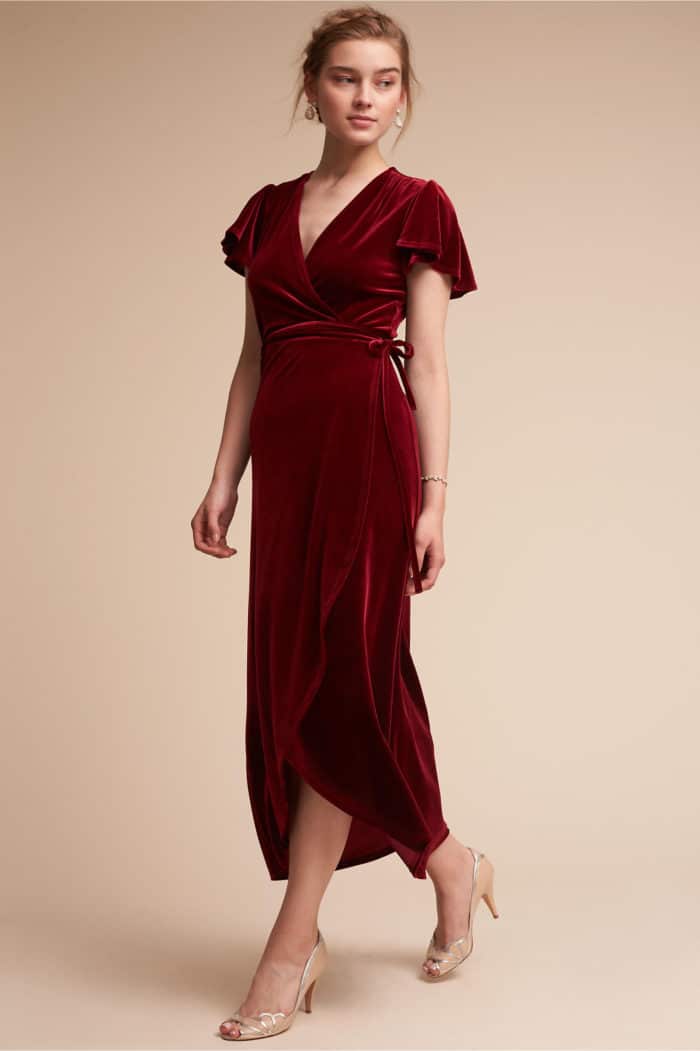 Nothing says holiday party-ready like a red velvet dress!  The Thrive Dress from BHLDN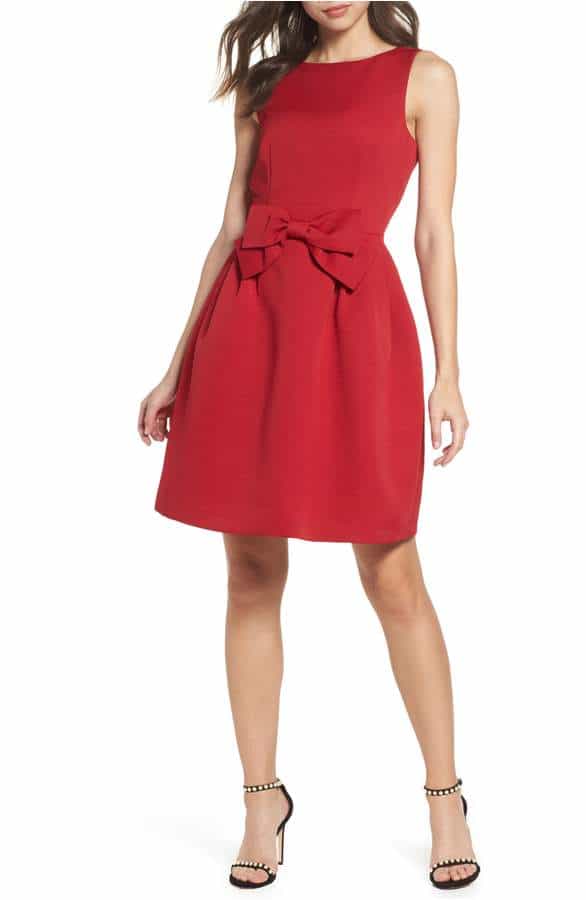 Put a bow on it! Always a good rule to follow during the holidays!  Bow Front A-Line Dress from Nordstrom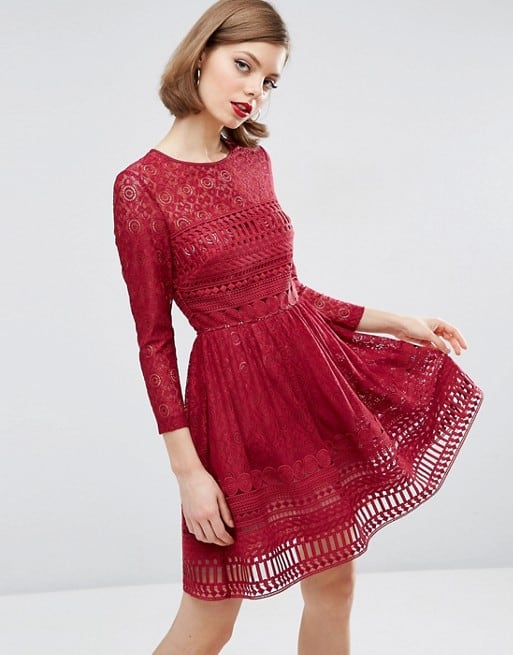 Red Lace Dress with Long Sleeves from ASOS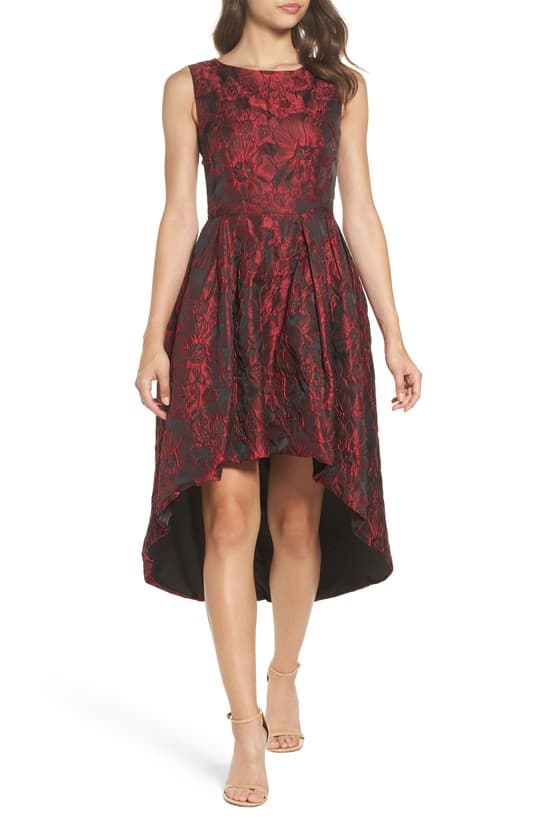 Similar to the style featured in the collage above, this Jacquard High/Low Dress from Nordstrom is a nicely updated look for 2017-2018 Holidays!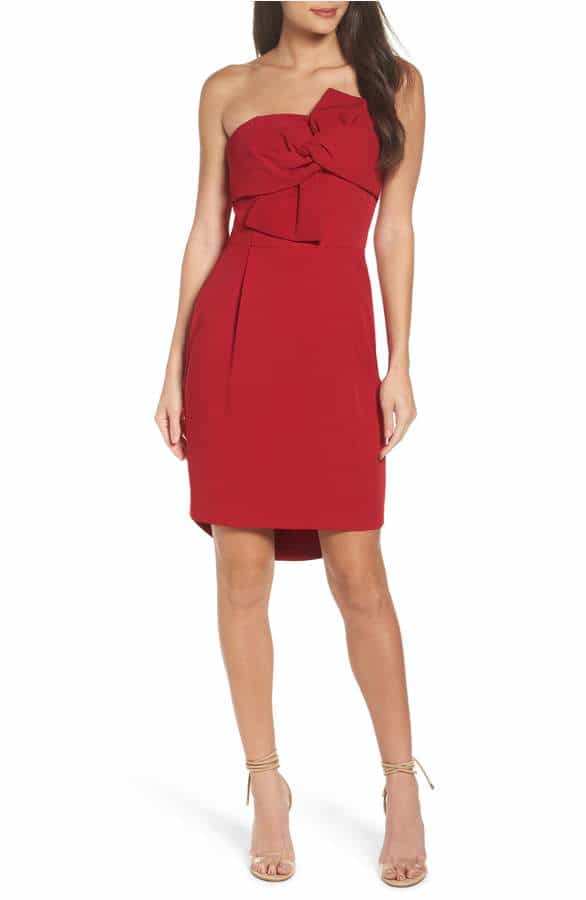 All tied up like a gift ! This strapless dress is too-cute and read for a party. Love the twisted bow detail and subtle high-low hemline.  Harper Knotted Mini Dress by Adelyn Rae from Nordstrom.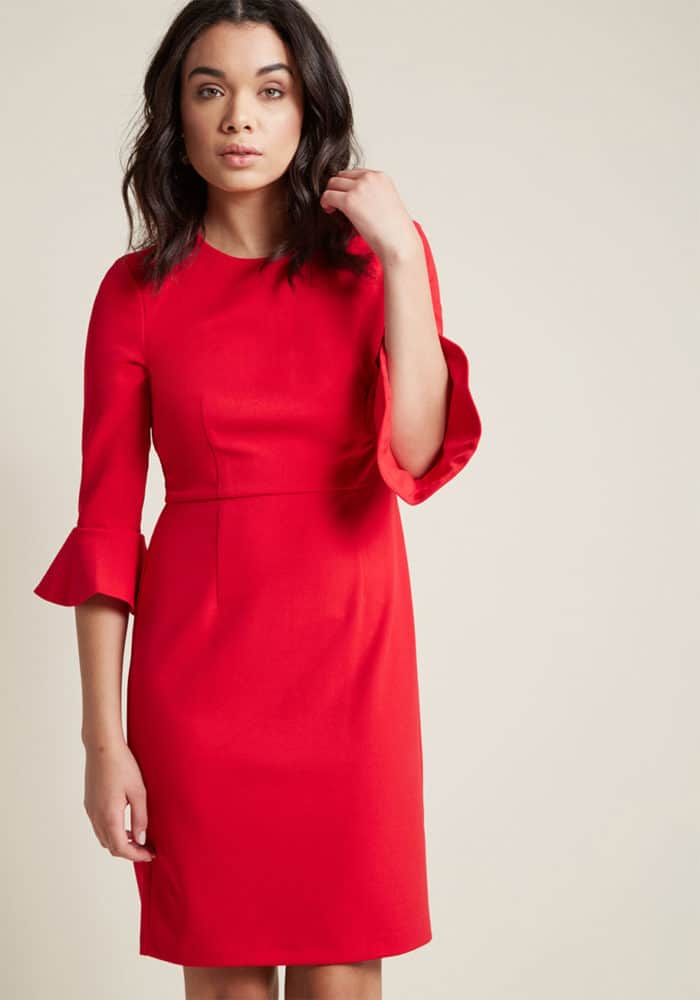 The ruffled long sleeves on this scarlet red dress, make this a festive dress for all of your holiday adventures! Royal Palette Sheath Dress in Scarlet from ModCloth
 I've included a few more red party dresses in the post below for you to wear to the fun holiday invitations you may receive! Also check out this full shop section on holiday dresses for everything from Thanksgiving dinner all the way through New Year's Eve.
Shopping links and section use commission/ affiliate links.
SHOP THE LOOK

More posts and pins you might like:
Red Dresses that are Wedding-Appropriate
Winter Wedding Guest Attire Ideas
Shop section and shop links use links to affiliate retail partners.