A Visit to LulaKate!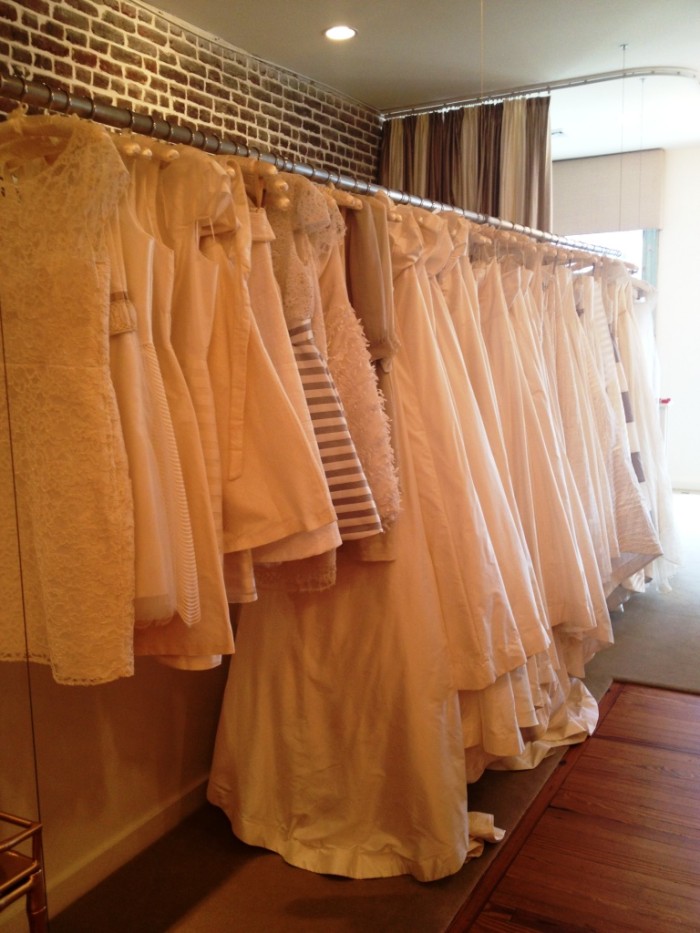 Rows of gorgeous bridal gowns and little white dresses, see the full collections here, and here.
One of the absolute highlights of my Christmas vacation was a trip to Charleston, which is one of my favorite cities, ever. I was already in heaven, so you can imagine how delighted I was to be able to also work in a to visit one of my favorite bridesmaid dress designer's flagship boutique - LulaKate (www.lulakate.com) on the lovely King Street in Charleston.
You've probably seen many LulaKate dresses on this blog, including this feature on their 2014 Collection, and this Navy and Coral Wedding Look, My picks for some of my favorite LulaKate Bridesmaid Dresses, and this Nautical Wedding Look featuring their signature Sassy Stripes style.
Here's a glimpse inside the beautiful boutique, where I was able to not only meet all of these dresses in person, but also had the chance to chat with LulaKate's Llewellyn Schiffman, who gave me a great introduction to some of the fantastic dresses,  new styles, and fabrics. I'm also thrilled to announce that LulaKate has signed on for 2014 as a sponsor and a partner in The Collection on Dress for the Wedding, where I list my favorite lines for bridal and bridesmaid attire. Visit their listing to keep in touch with their latest offerings, fabrics, trunk shows and to find LulaKate retailers nearest you.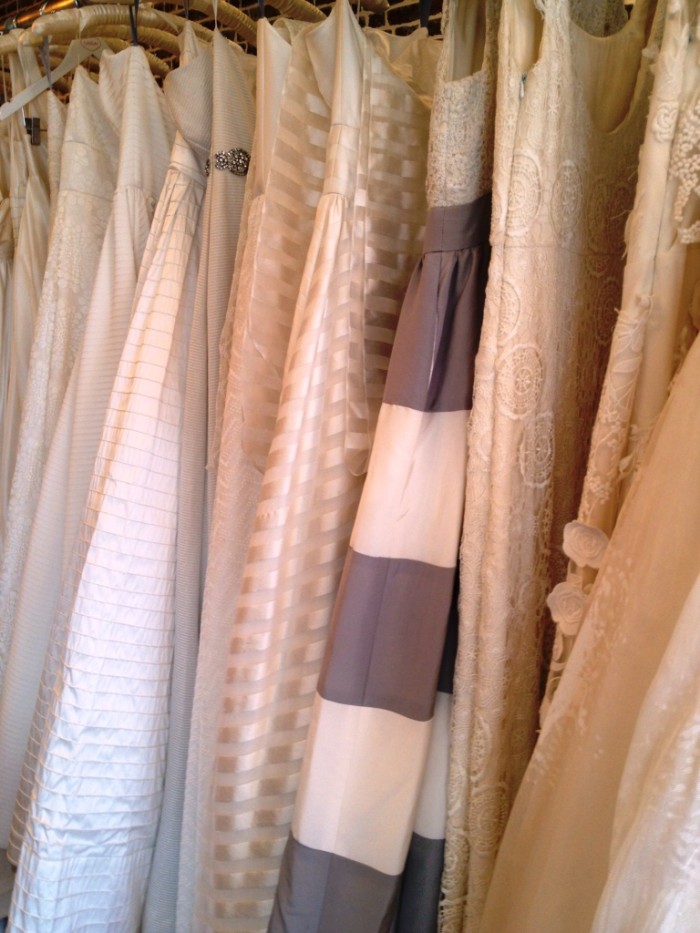 Gorgeous textures and patterns in the bridal gowns. Please, brides-to-be, I can't wait to see you wear these stripes!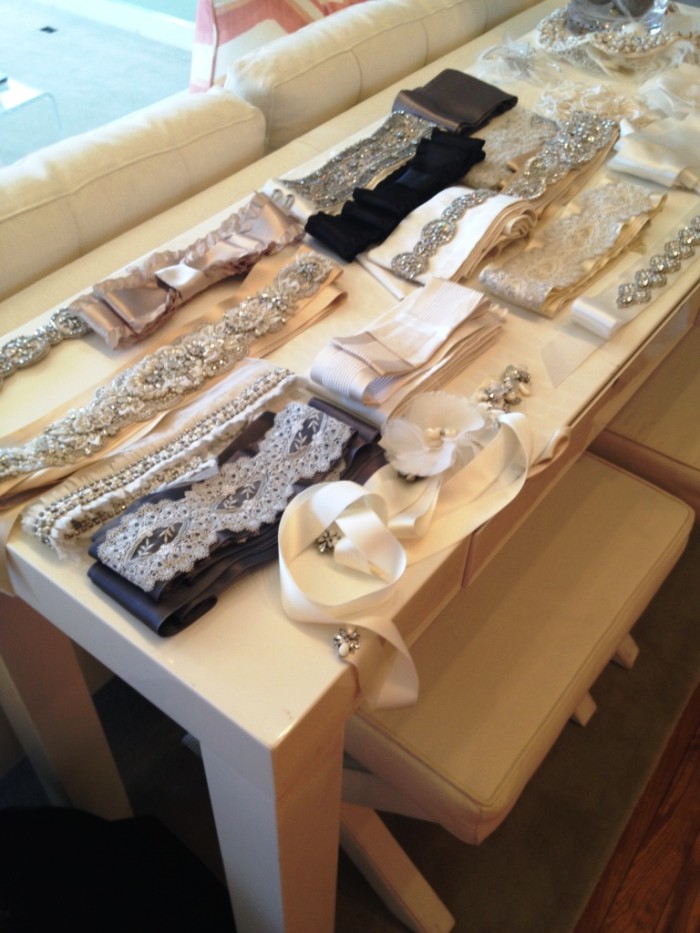 Belts, sashes, and all sorts of bejeweled touches to personalize your gown.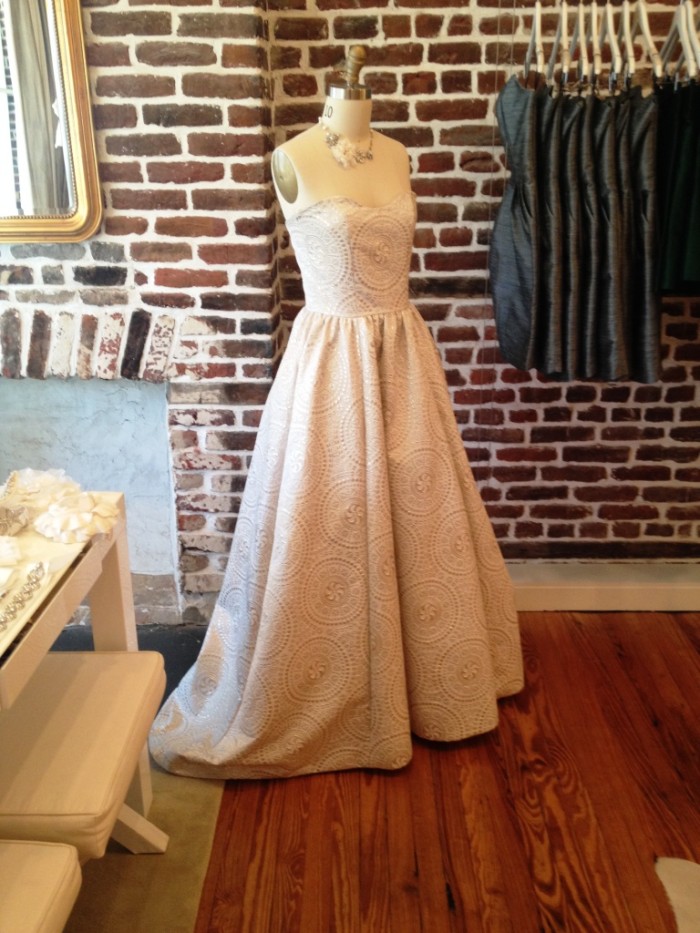 LulaKate's brocade bridal gown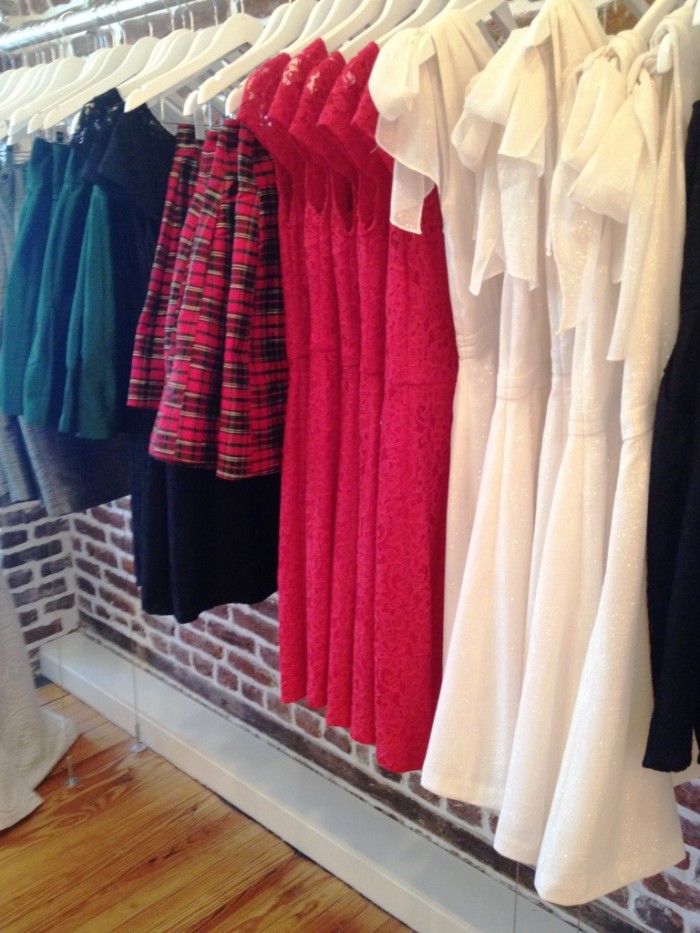 Holiday and ready-to -wear styles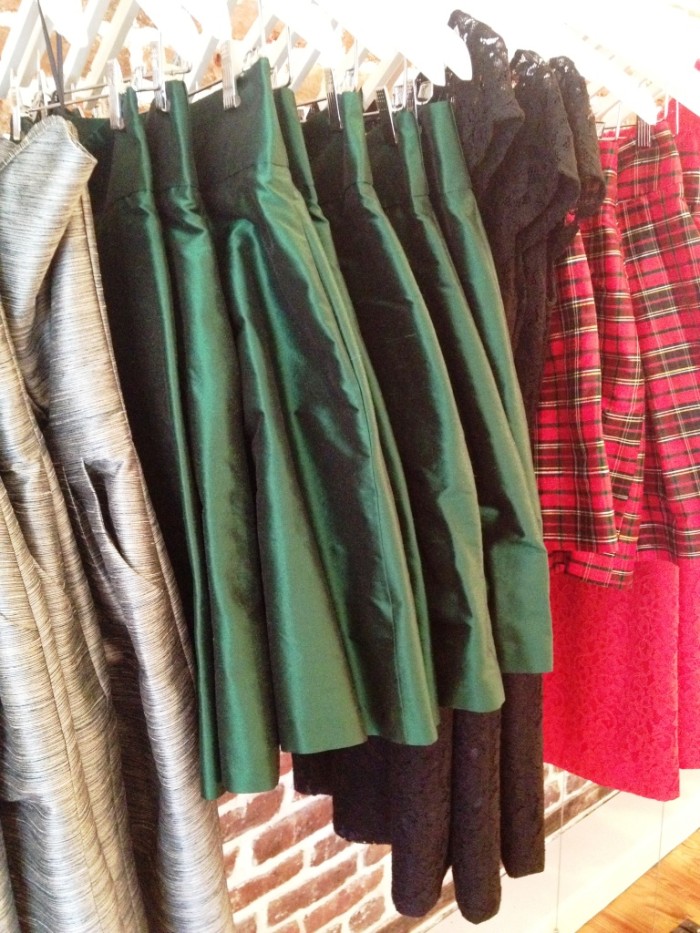 I was there during the holidays, where this ready-to-wear holiday collection was a complete bundle of gorgeousness. Sparkly white dresses, striking red lace, sleek silver, and the prettiest plaids and emerald greens. Even if you aren't in a wedding party, you can still wear LulaKate!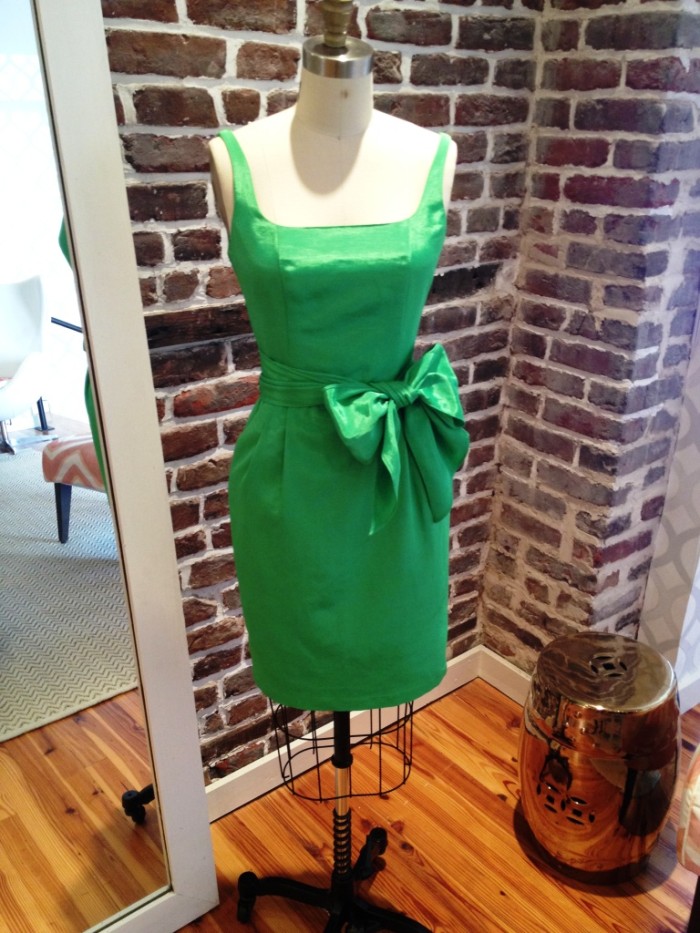 Kelly green, grosgrain, and a beautiful big bow - what is not to love?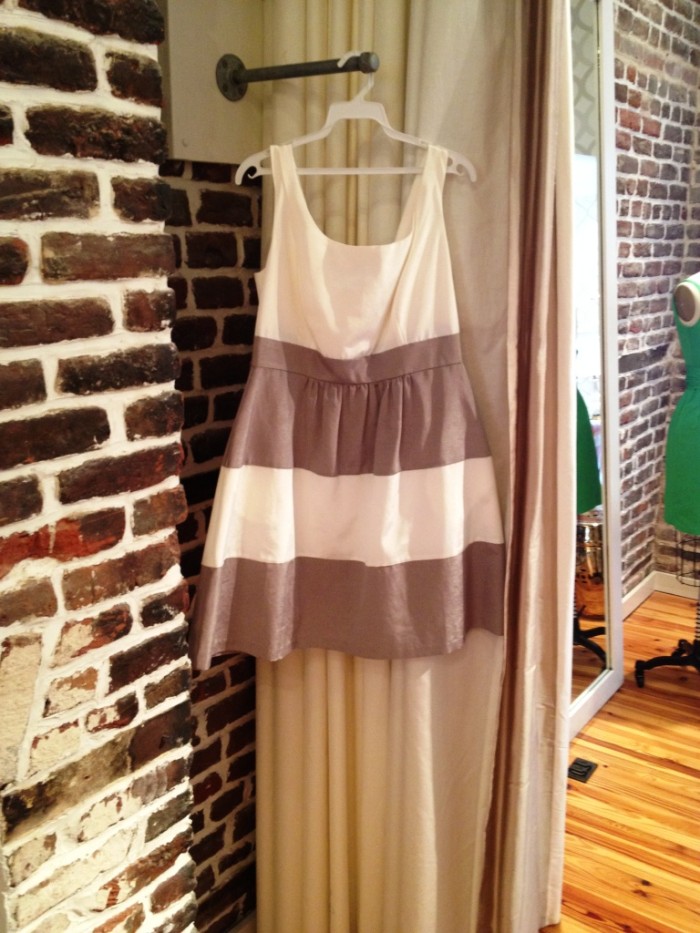 More stripes! As Llewellyn pointed out to me, this is such a great way to add a little spark to a neutral palette; and this dress would look fantastic with a bouquet of pale pink or yellow flowers.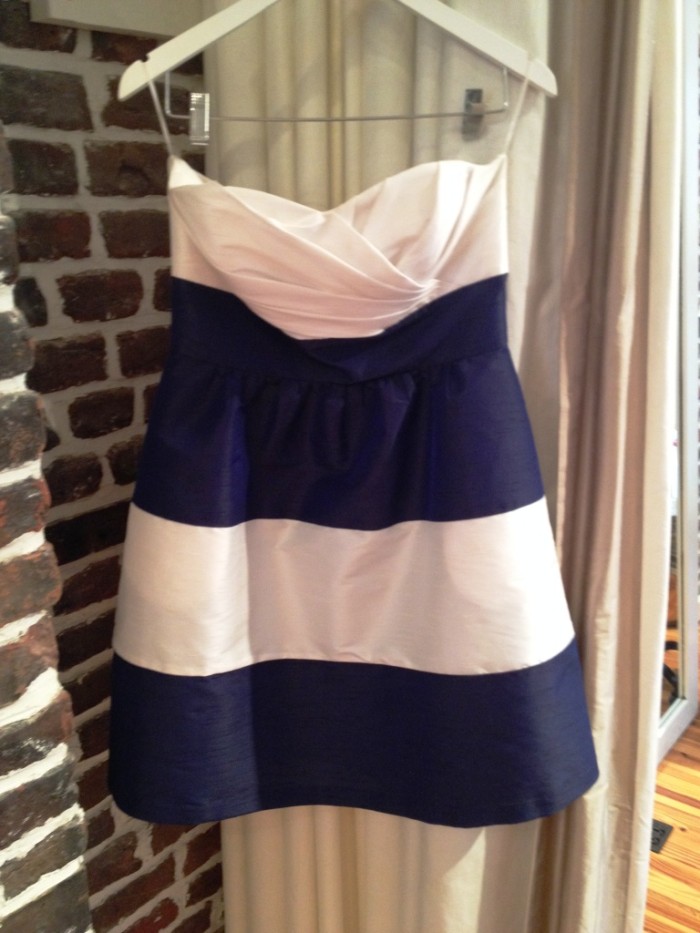 Have I mentioned I'm obsessed with the Sassy Stripes line? I love this classic white and blue, but LulaKate offers the stripe in all of the fabric colors they offer - you can have any pairing you'd like!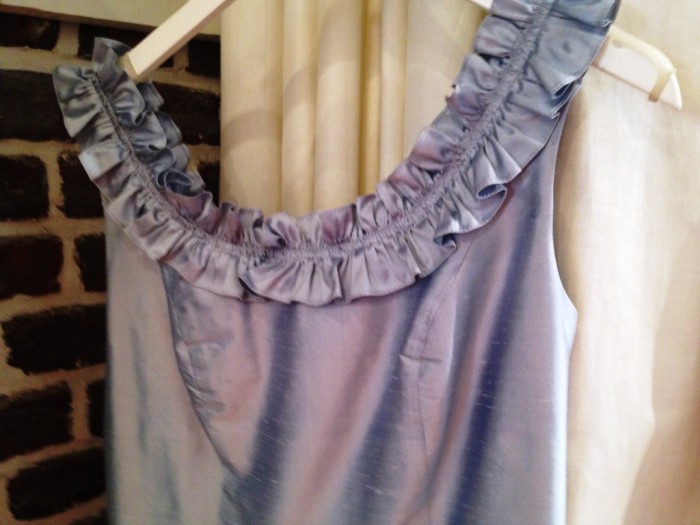 I also have yet to meet a ruffle that I don't love. My camera got a little wiggly here - must be my giddiness over ruffles, pale blue and silk dupioni.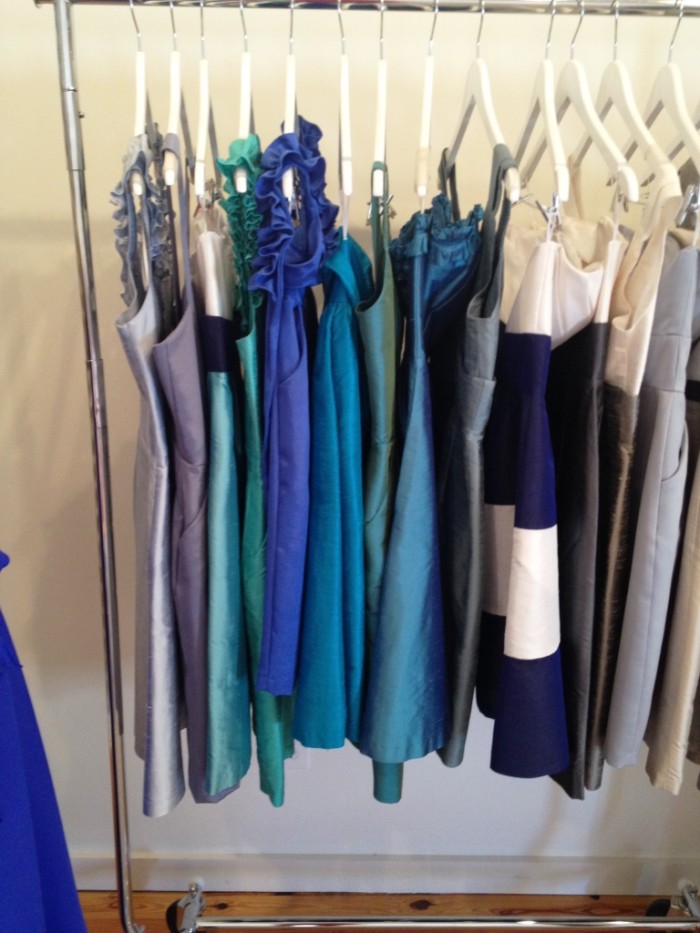 A rack of cool blues - can't you just picture a mismatched look in these colors? Check out all the fabric selections here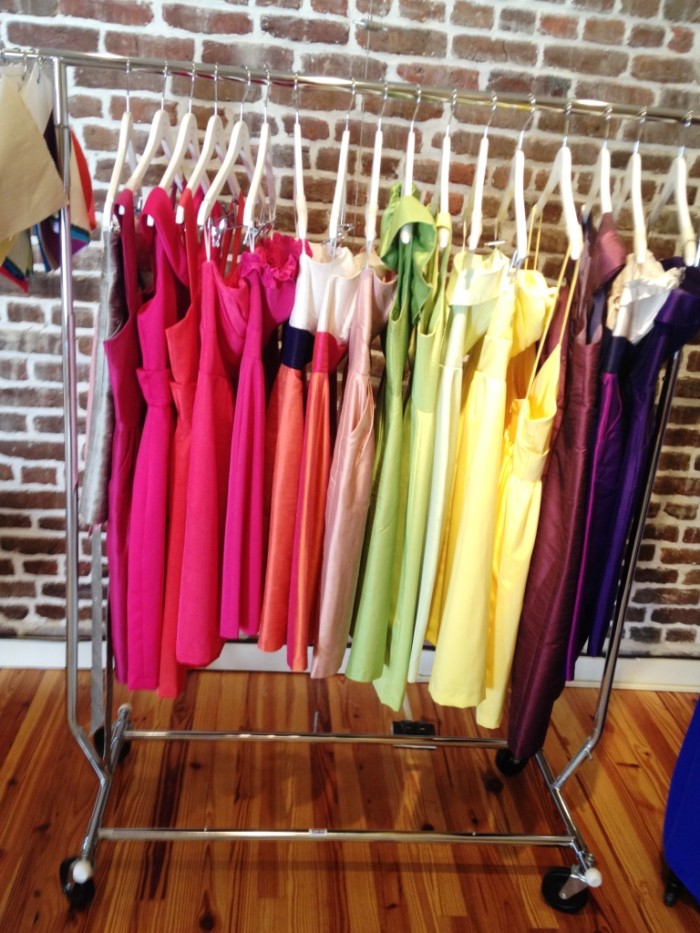 A rack of lovely bright LulaKate Classic bridesmaid dresses. Check out the option of the poly shantung - it looks and wears just like silk dupioni, but with a smoother texture and far fewer slubs (slubs are the natural  texture variants in silk dupioni, that are part of the raw silk look, which I personally many love, but some people can be thrown the uneven appearance.) Poly shantung also comes at a lower price point - well under the $250 mark for cocktail length.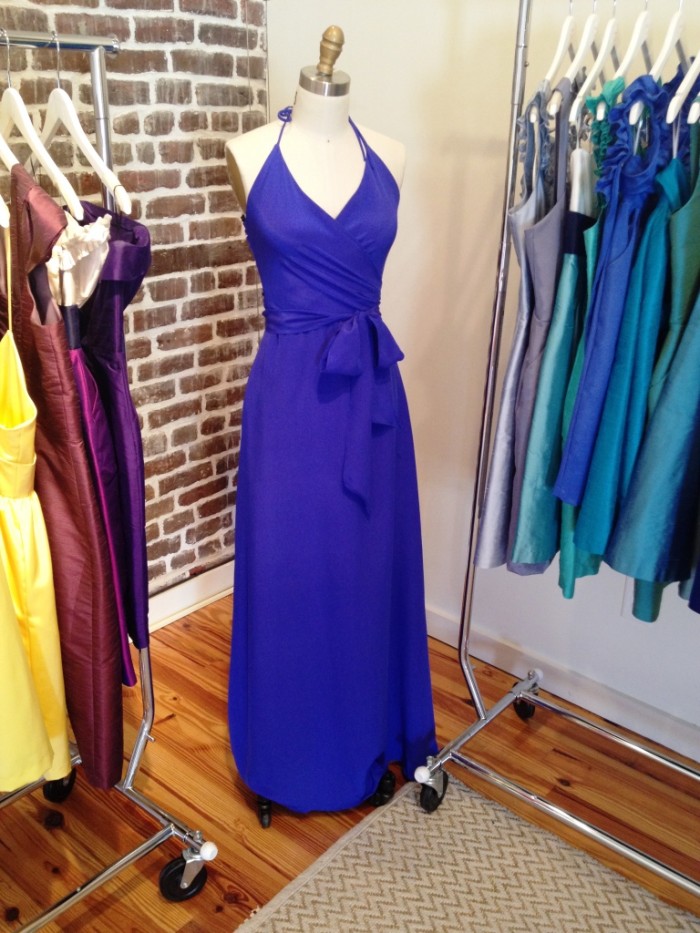 Stunning maxi dress in LulaKate's Matte Silk fabric. This has destination wedding (and wear it again) written all over it.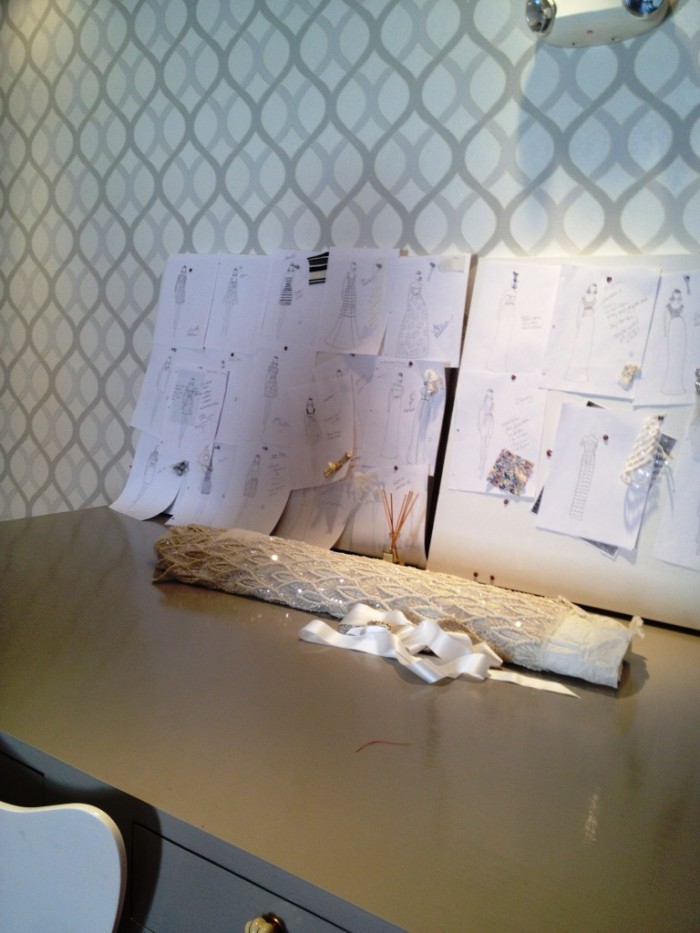 How cool is this? LulaKate's Designer and Founder Katherine McDonald's sketches and fabric swatches grace the beautiful design area of the atelier.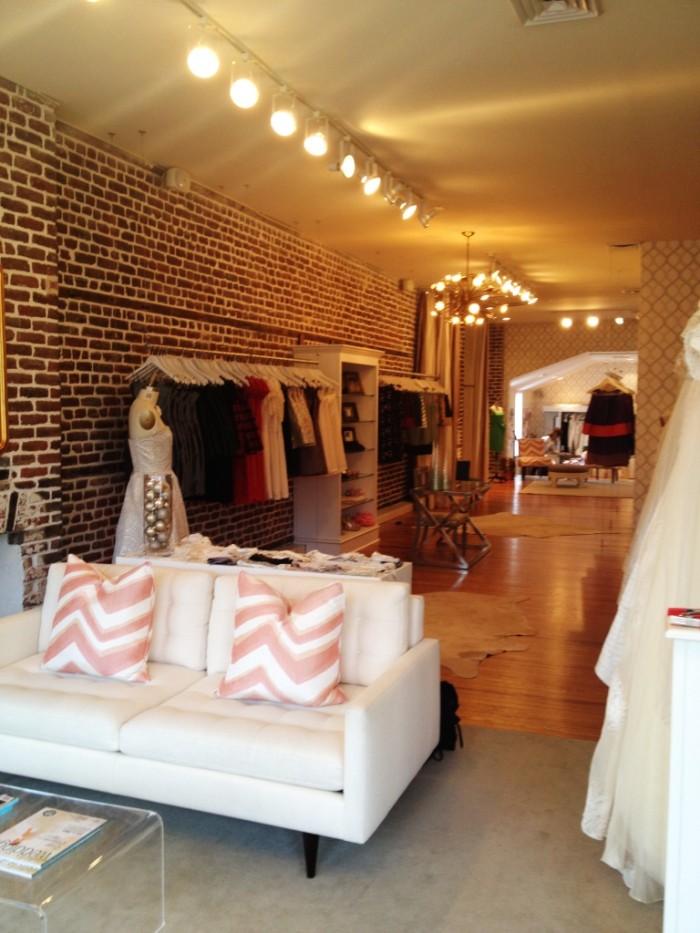 A view of the lovely boutique/showroom where I wanted everything, including these pillows!
Don't you want to just live there and try on these dresses all day? Truly, visiting the LulaKate flagship store does not disappoint.  Visit their listing to keep in touch with their latest offerings, fabrics, trunk shows and to find LulaKate retailers nearest you. LulaKate is also a woman-owned business with all dresses proudly made right in the USA, so you can feel wonderful in every way about supporting this designer. If you want your bridal party to look perfectly classic and maybe a little bit preppy with bright colors and the sweetest of details, LulaKate dresses are the way to go!
Visit LulaKate in The Collection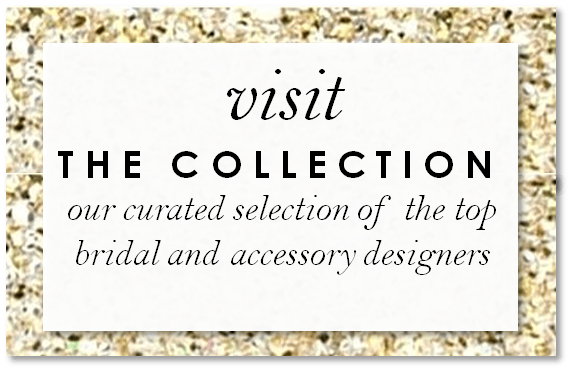 LulaKate is a sponsor of Dress for the Wedding,  but all of the opinions and enthusiasm belong to the Editor!
More style ideas you might enjoy :