Instead of just one wedding dress of the day today, I have 10 wedding dresses for you -- all under $500.
10 Wedding Dresses Under $500

A gorgeous wedding dress doesn't have to break the bank. There are plenty of top places to buy a wedding dress online and many of them have wedding dresses under $500! During this pandemic time many brides and couples are choosing to buy affordable and casual wedding attire, Here are the latest picks for bridal gowns under $500! You might also like seeing dresses of every budget style in our shop for wedding dresses, or browsing our collections of designer wedding dresses.
Shop The Look

This post was originally written in 2013, but has been updated in 2020. Here is the original post!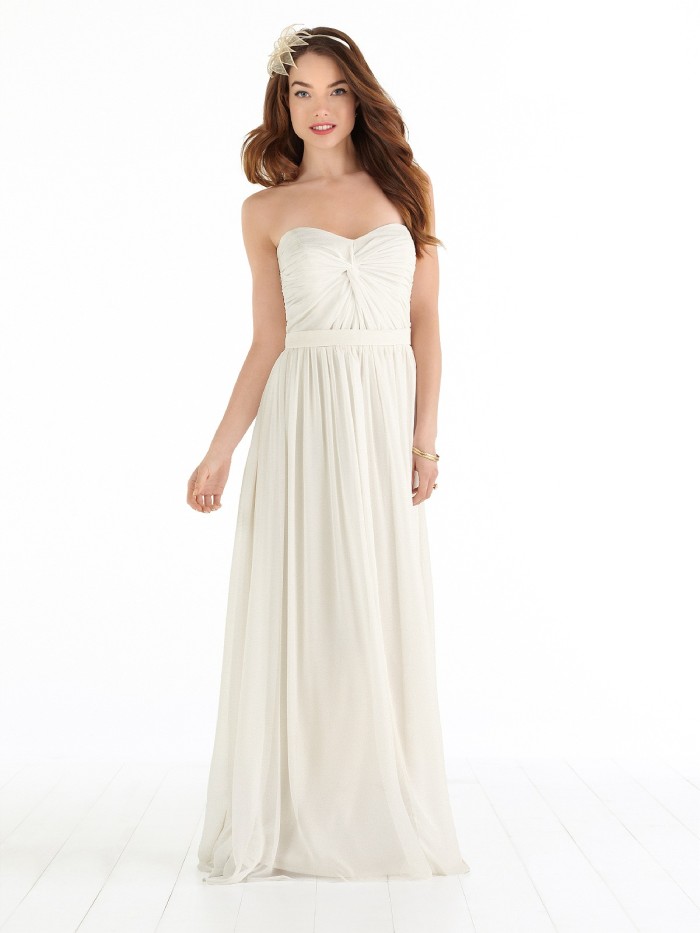 This After Six Bridal Style 1027 retails for just $425 - a beautifully draped strapless option if you ask me!
I'm a bit of a bargain hunter as it is, and I tried to be as frugal as possible with my wedding, although I failed a bit at that. However, most brides I know started their wedding dress search aiming to spend between $500 and $2,000 on their wedding gowns, and with these great choices, I'm excited to say that you can certainly do it for at or below that $500 price! Some of these appear to be on sale, so they may gone soon!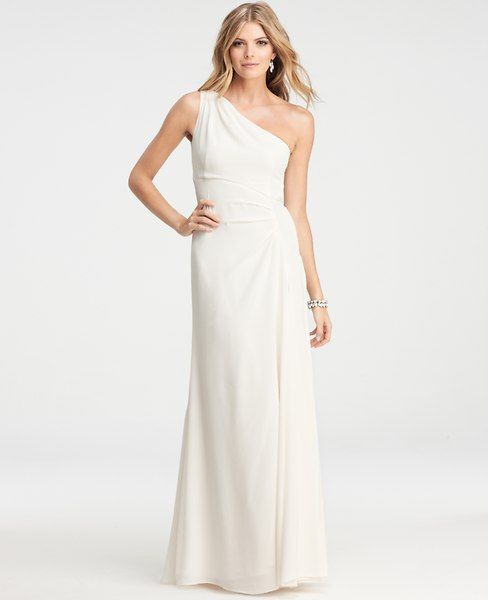 This gown from Ann Taylor is on sale for $429.99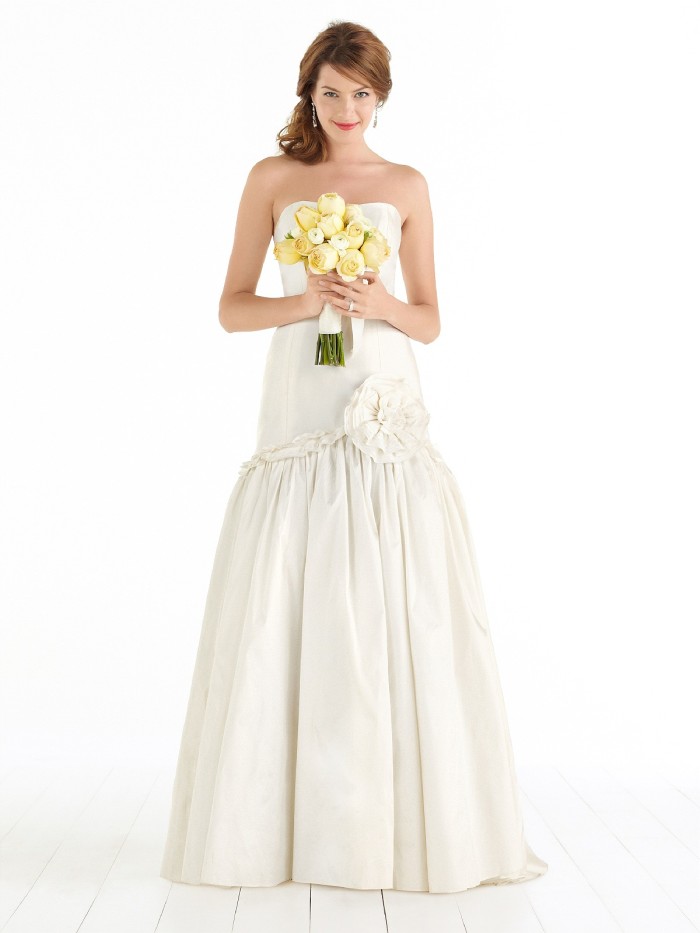 This After Six Bridal Style 1035 is $450.00, and they have many more in their Destination Collection - ready to go at a moment's notice!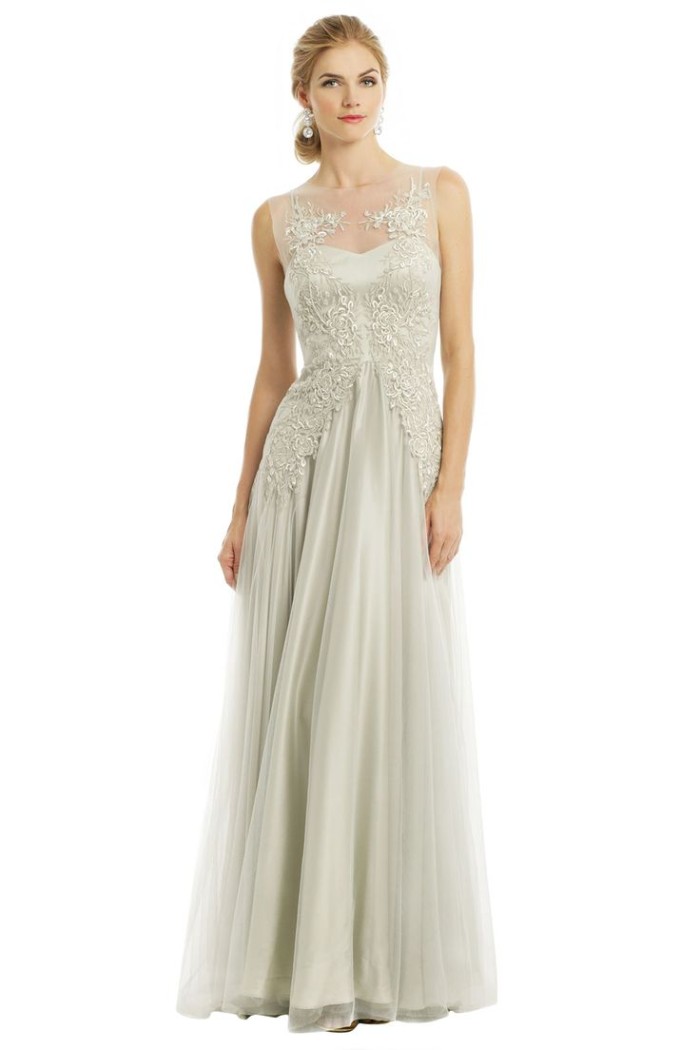 Ok, this Catherine Deane gown doesn't retail for under $500, but you can rent it for $350. If you don't want to keep your dress, it's a great way to have a designer gown for less!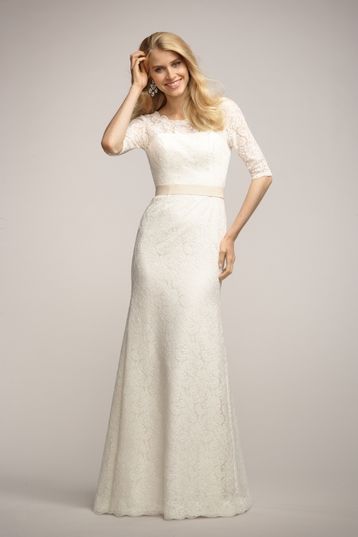 Another option is to get a a bridesmaid style dress in white - often it's a wedding-appropriate and formal style for half the price. This Coriander Gown by Watters, is one of my favorite all around gowns - it comes in so many colors and is great for mothers of the bride, bridesmaids -- and -- when done in all white or ivory-- it's great for a bride who wants a simple lace long sleeve gown. $390 at WeddingtonWay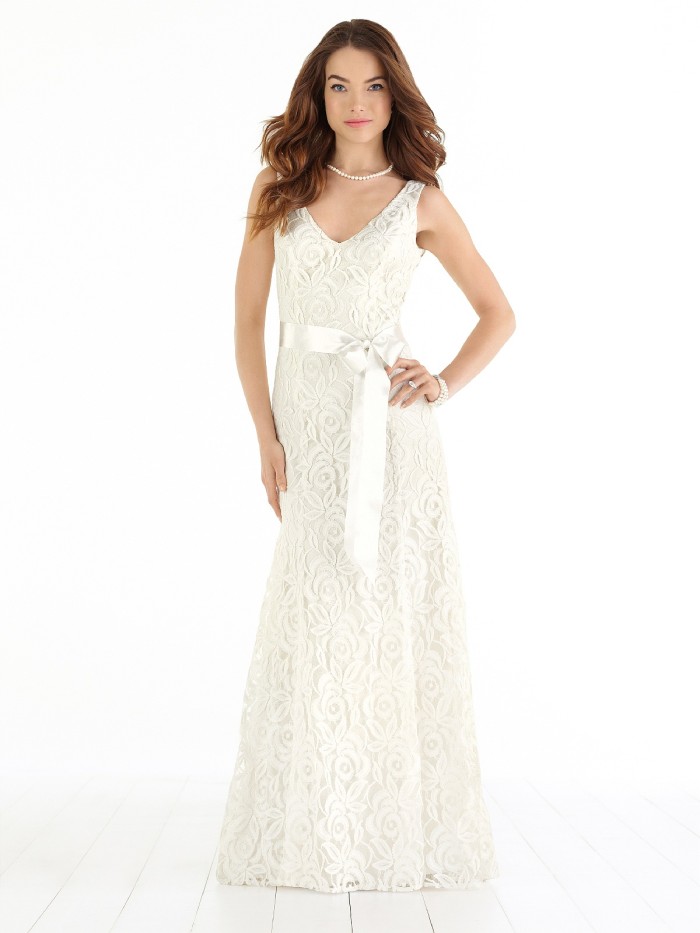 This pretty lace style 1018 from Dessy's Destination Collection and retails for $495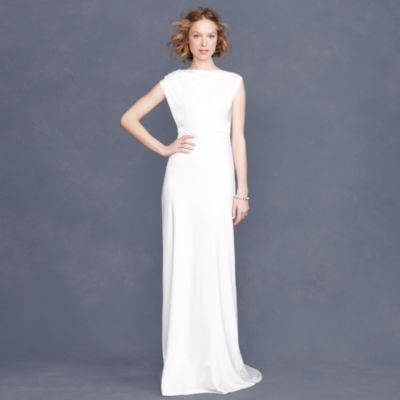 Corrina by J.Crew retails for $495 ! I love this sleek vintage style.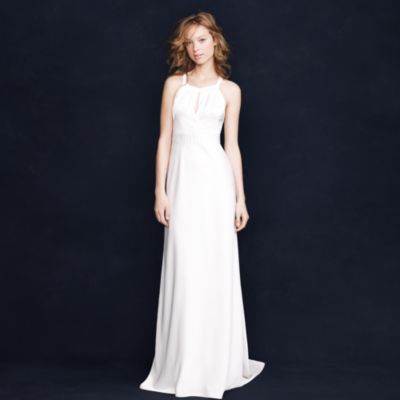 Bettina at J.Crew is also slightly 1930s screen siren feel . This dress goes $495 as well.
I saved the biggest bargain for last - Ruche seems to be having a final sale on all sorts of wedding styles.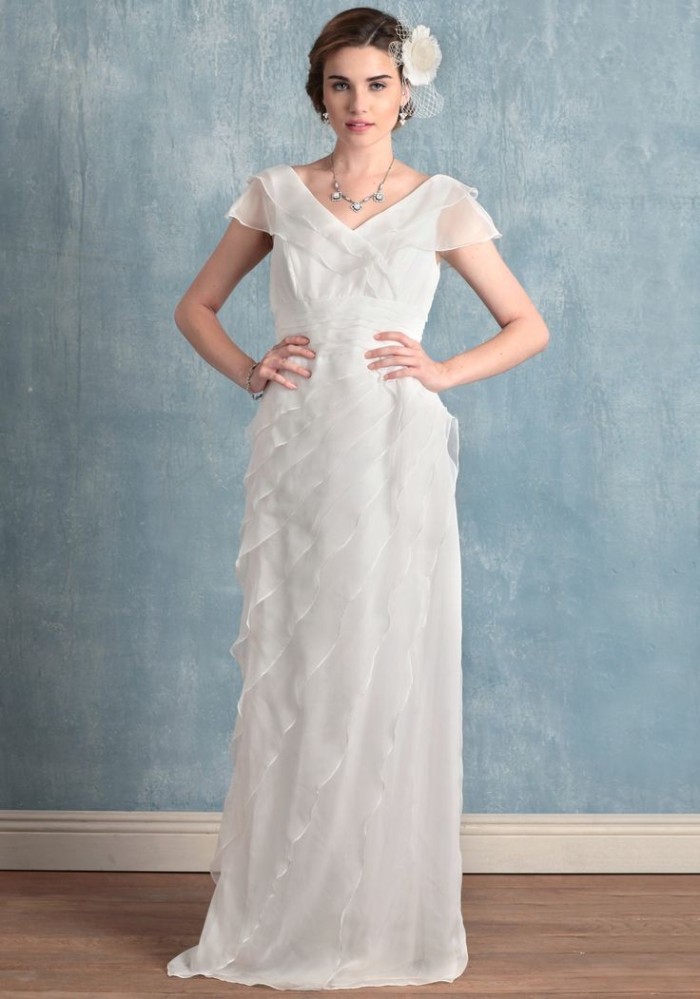 This one, Margarete is only $229.50 but is final sale.
It's hard to go wrong with a classic strapless, and this one called Ava is on sale for $199.50!
While we're the topic of wedding dress bargains, I'd like to say few words about purchasing wedding dresses online and deals you may see. All of the dresses I've shown here are from very reputable online retailers that I have affiliations with (like Ann Taylor, Ruche, Dessy, Weddington Way, Rent the Runway, J.Crew, Shopbop, Nordstrom) and there are others also who carry wonderful wedding dresses available online.
Being able to get a wedding dress online is a great innovation in the wedding world, and an ideal option if you don't have a long engagement, or are having an informal or destination wedding. You can buy these wedding dresses without a long ordering lead time, you can try them at home, and often return them if need be. All of the retailers I've shown dresses from have excellent reputations and can be trusted completely!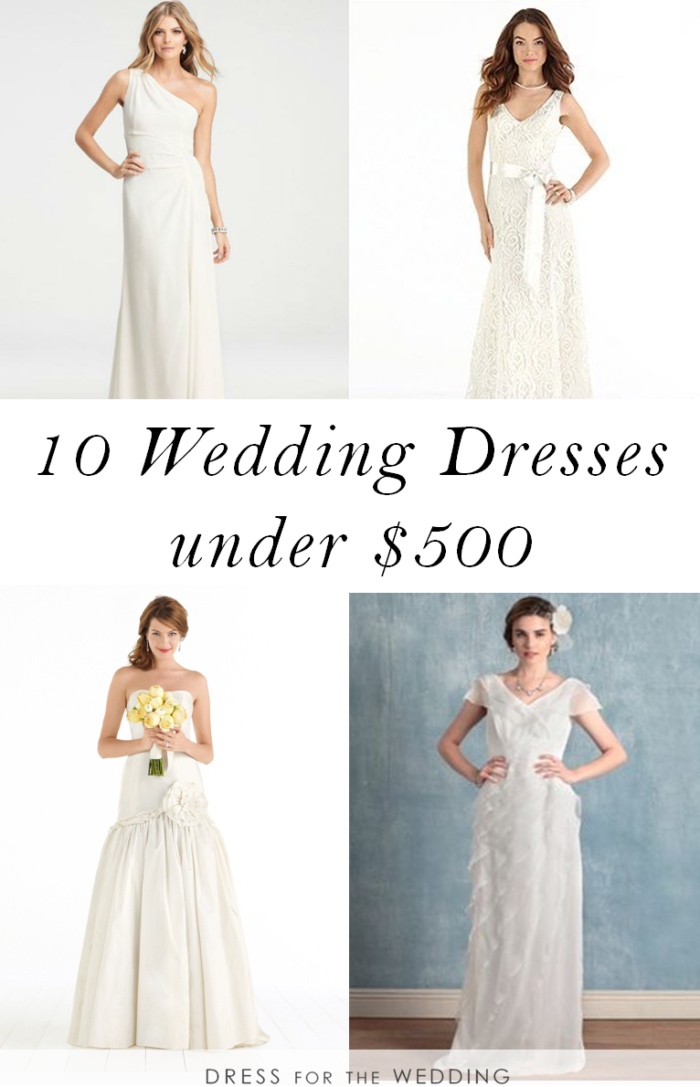 However, if you see a high-end couture or designer wedding gown being sold online for a price that sounds too good to be true -- it probably is! ( For instance, a new Monique Lhuillier couture wedding gown will not be under $500). Usually designer wedding dresses can only be purchased only through an atelier or bridal boutique that has been certified by the designer and found on that designer's website. You'll also sometimes see designer dresses online from qualified online retailers like TJ Formal, which is an approved retailer for many bridal lines,
and Nearly Newlywed, which specializes in previously worn designer gowns.
Aside from these good guys, there are some less-than-reputable companies simply steal images of designer gowns put them on their sites and then say they'll create the same one for you at crazy prices. I have no idea what dress you'll actually get, but I can assure you it's not the quality you are hoping for if you even get a dress at all! Some of the telltale signs are sites that seem a little off. For instance, the description of the dress might be strangely worded, there's no contact information, the "reviews" sound a little phony, and the site itself doesn't seem secure. Unless it's a store or brand you know - stay cautious.
So that's my little wedding dress bargain hunting lesson for today, and--again-- all of these dress picks are all from upstanding online retailers, and I always will include a link to trusted boutique sources in my designer wedding dress features. With these guidelines, I wish you happy dress hunting and I hope you like these 10 less-than $500 wedding dress picks!
Shoppable posts contain partnered links.