Bachelorette Party Look Inspired by Lancaster By Design

Every once in a while, my obsessive checking of social media turns in to a genuine connection! I'm based out of Southeastern Pennsylvania, but I "just" moved here 4 years ago from New England, and I still don't feel like I know many people in the area. Well, one day, Lancaster By Design, a bridal styling and event coordination team in my new hometown left me a nice message on Facebook, and we made plans to meet up someday for coffee.
In the meantime, they sent me these fun photos (above) of their recent work. It was actually a tea styled for a Sweet Sixteen party, but the colors to me looked like they'd be fun for a bachelorette party or a really spirited bridal brunch ( you know, the kind with a fun mix your own mimosa bar?)  I love the Ring Pop, which is my own personal go-to for a bachelorette party favor.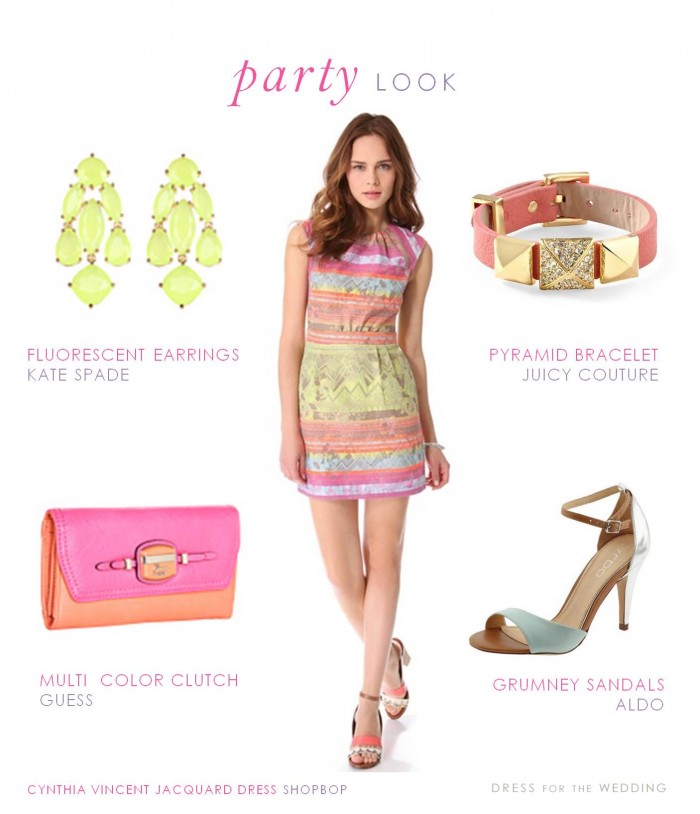 Cynthia Vincent Backless Jacquard Dress /  Kate Spade Earrings in Flo Yellow /Pyramid Bracelet by Juicy Couture /Grumney Sandals by Aldo / Multi Colored Clutch by Guess
Dress to wear to a Bachelorette Party
Using this color inspiration I put together this outfit for a bachelorette party, or a shower, if your shower is more on the fun night out end of the shower spectrum. I love that those kind of events allow me to style bright, and slightly daring (at least to my conservative taste) outfits that are a departure from my normal wedding-appropriate wear.  This dress has an open keyhole back, and is in a fluorescent jacquard; so it's a little spicy already – made more so with big fluorescent earrings and bright accessories.
Have fun if you're attending a bachelorette party soon; and if you're from the Lancaster, PA– "Hello,  neighbor! " and please also meet my new friends at Lancaster By Design.


More style ideas you might enjoy :