Blush Dress and Rose Gold Accessories
One of my favorite wedding color pairings has always been blush and gold, but today I've decided to style it with with what is one of the hottest metallics right now - rose gold. I love rose gold because it blends with both gold, copper, and bronze, and adds a pinky warmth to everything!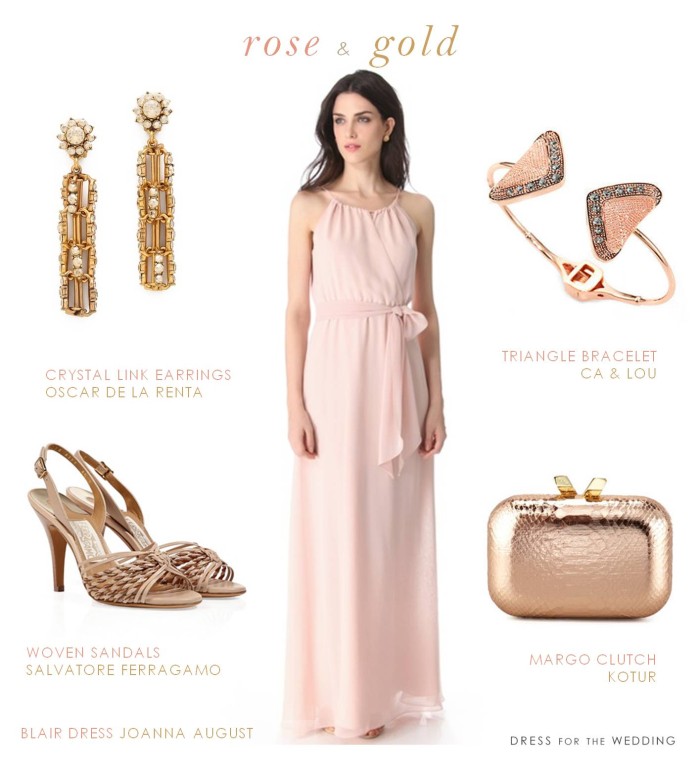 Blair Drawstring Dress by Joanna August at Shopbop /Crystal Link Earrings by Oscar de la Renta /Ca & Lou Crystal Embellished Triangle Bracelet /Margo Rose Gold Clutch by Kotur /  Tan Woven Sandals by Salvatore Ferragamo
This romantic blush dress by Joanna August is just so stunning for a spring or summer bridal party. The elegant draped style is perfect for everything from beach weddings, spring garden weddings, and elegant black tie events as well. The rose gold touches, with a bit of antiqued gold, pink and other warm neutrals make this whole style really modern and feminine. Add a floral crown, or bouquet of some cabbage roses in a pretty bouquet like this, and the look will be complete. If you be embracing the rose gold or copper trend for your wedding party, see my copper and rose gold Pinterest board for more ideas on how to style your event. I also have done some rose gold looks in the past  (see them here, and here)  and I'll certainly be doing more!