Alright, after a little break to discuss shoes and hosiery, I'm back to dresses. Just in case the other dresses I chose didn't thrill her, I have 3 more dresses for our November Wedding Guest.
Golden Dress for a Wedding Guest
First up is this bit of gold loveliness. I love, love, love the  yellowy gold color and this dress. I think it's a fantastic color for fall, and totally appropriate to go into the holidays with as well. Things got a little wonky with my photo editing, so I've also featured the dress from the Boden.com site below, so you can see the real gorgeousness.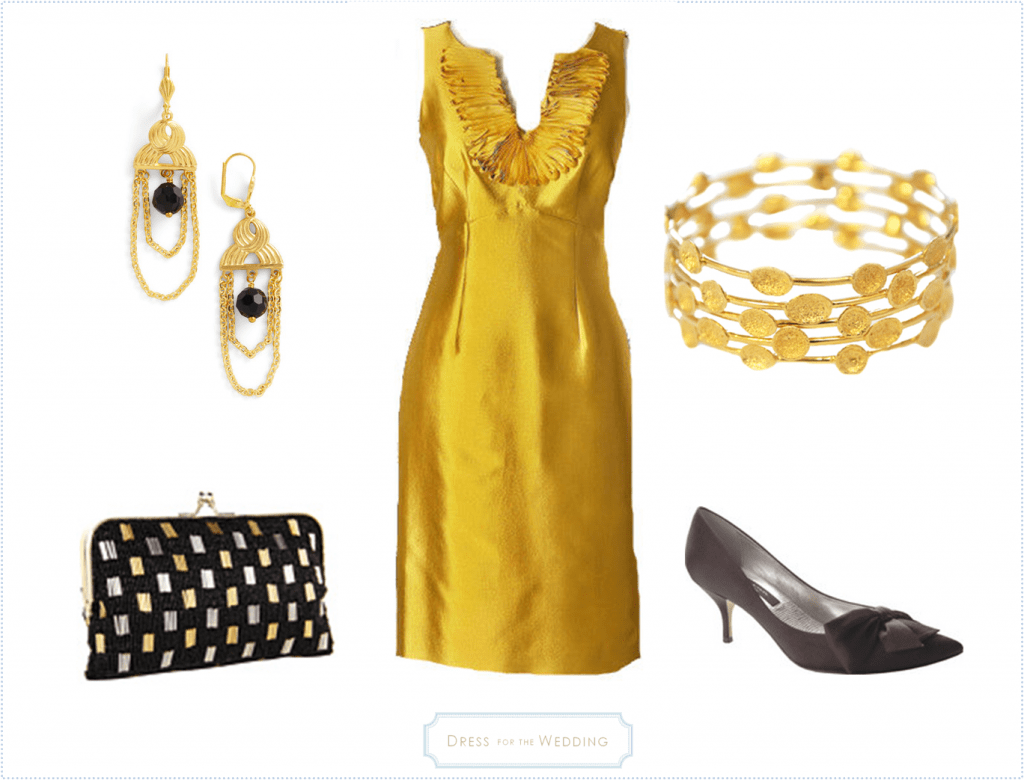 Dress:
Boden Silk Notch Dress
 ||Bracelet: 
Melinda Maria Mini Pod Bangle in Gold
 ||Earrings: 
Hall of Gems Earrings
 ||Shoes: 
Nina Paladin Black Royal Satin
 || Clutch:
Nina Moline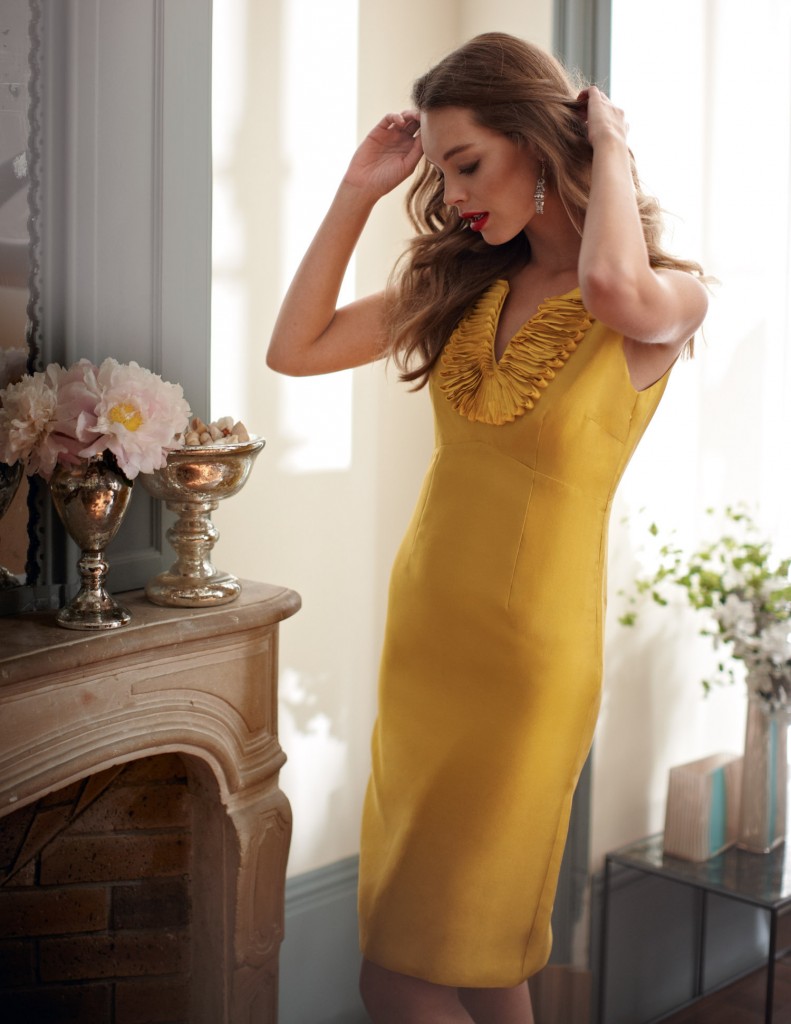 Royal Blue Dress For a Wedding Guest
If the regal gold dress doesn't suit our guest, then perhaps a royal blue would be nice? I liked that this dress had an embellished neckline like the Shoshanna dress our guest liked, with a little more bling. It seemingly channels The Duchess of Cambridge in the royal blue hue, and ladylike cut. Adding some ornate gold accessories keeps it even more regal, and I've found a pair of neutral low heeled shoes, too.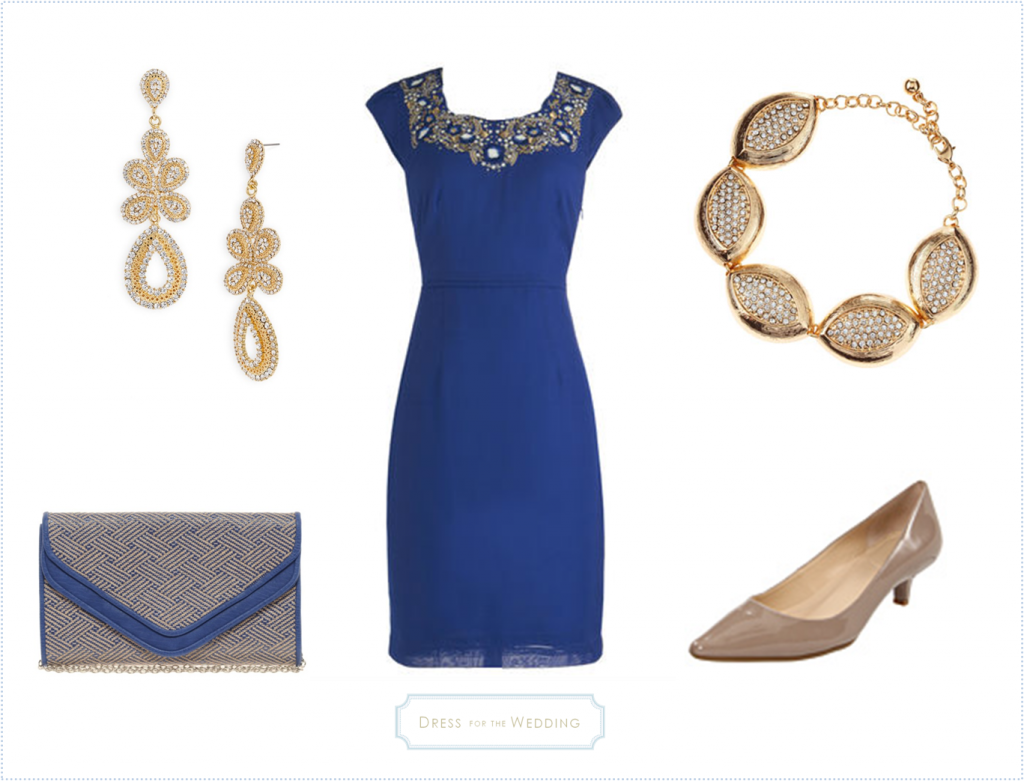 Dress:
Heirloom To The Throne from Modcloth.com
 ||Bracelet:
Panacea Pave Marquise-Link Bracelet
 || Shoes:
Calvin Klein - Diema (Light Taupe Patent) - Footwear
 || Clutch: 
Johnny Loves Rosie Envelope Clutch Bag
 from ASOS.com || Earrings: 
Tasha 'Ornate' Linear Statement Earrings from Nordstrom.com
Burgundy Dress
Call it wine, maroon, burgundy, or oxblood (Ugh, do I hate the word oxblood!) this deep red color is very hot this season, and I think it would be very flattering on our guest to be. I put this with gold accessories, too (Hmm, I seem to have done a lot of that, so I'll put some other colors in the accessories line up) and some low gold strappy heels ( I put some closed toe one, if needed) and just some nice understated earrings and necklace with pretty colors.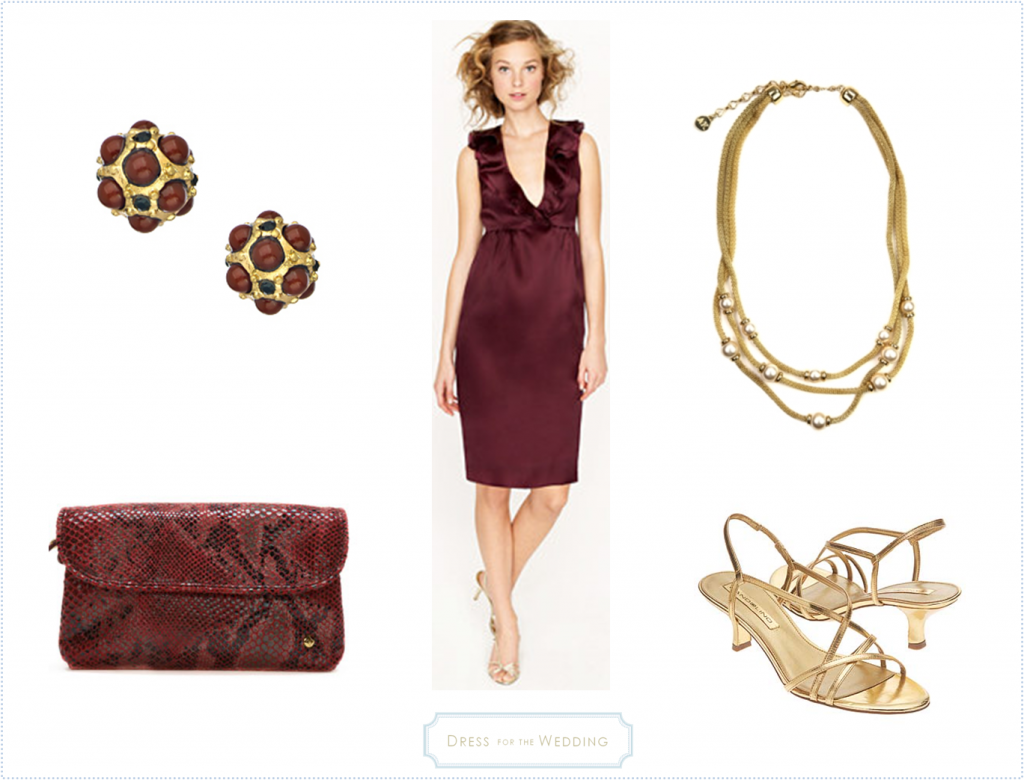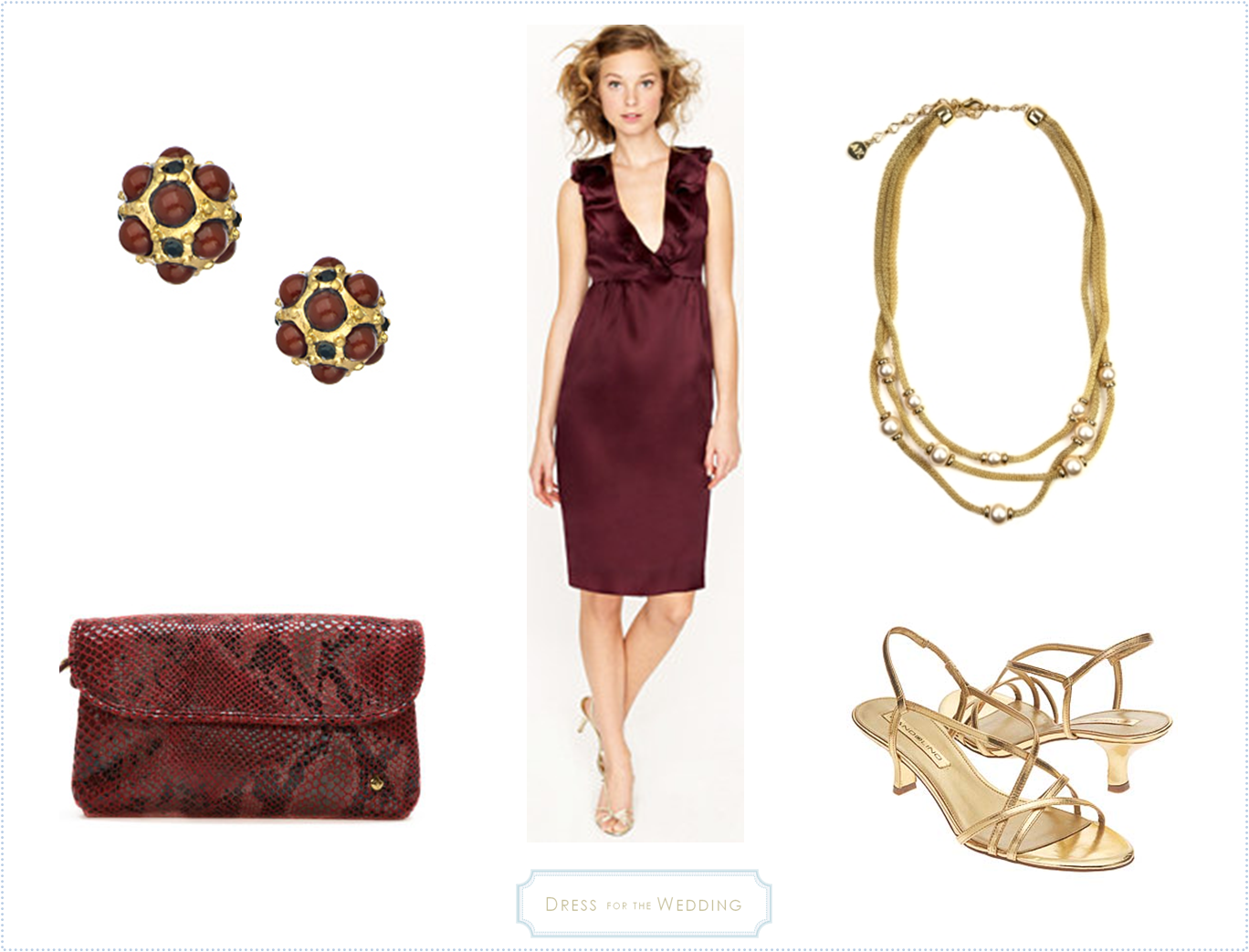 Dress:
Kira in Silk Organza by J.Crew
||Necklace:
Anne Klein Necklace, Gold Tone Triple Strand Long Chain Necklace
  || Heels:
 Bandolino Eira3 Shoes
 || Clutch: S
tephanie Johnson Exclusive Katie Folding Clutch
|| Earrings : 
Burgundy and Black Crystal Studded Earrings
 Well, my hope is that there's one winner in this bunch for our esteemed wedding guest. If not, I'm happy to continue to search. For now, we're on to the rehearsal dinner and some accessories.