Carly at Chicago Prepster Goes to a Wedding
Carly, the author of the blog Chicago Prepster has been a great new friend to me and to Dress For The Wedding. I love her spot-on preppy taste, her cheerful posts, and her wonderful knack for introducing people and making new friends! Please check out her blog at www.chicagoprepster.com for great style and preppy lifestyle picks.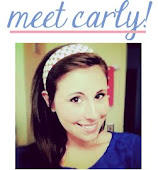 When Carly told me she was headed to a wedding this fall, and asked me to find some dresses, I was so excited to get to work!
Here are the details she gave me:
Date of wedding: September 28
City where it will be held: Grand Rapids, MI
Time of wedding and reception: 2pm
Color scheme of wedding: Black and red
Venue details: Catholic church
Colors she likes to wear: Shades of blue, orange, yellow, pastels
Colors she dislikes wearing: Black, brown, tan, etc.
Style or fit of clothing she feels suits her: Preppy, clean cut style. Peplums or short A-line dresses. Modest.
Budget: Under $100
Styles she does not care for: Nothing showing too much cleavage or too short.
I checked on Grand Rapids weather, and it should be in the mid-60s around that time, but could be warmer or a tad on the cool side. Who really knows?
To cover some of the A-line dresses, and her color choices, I found these. Not sure how short or casual those orange dresses might be, but they could be cute!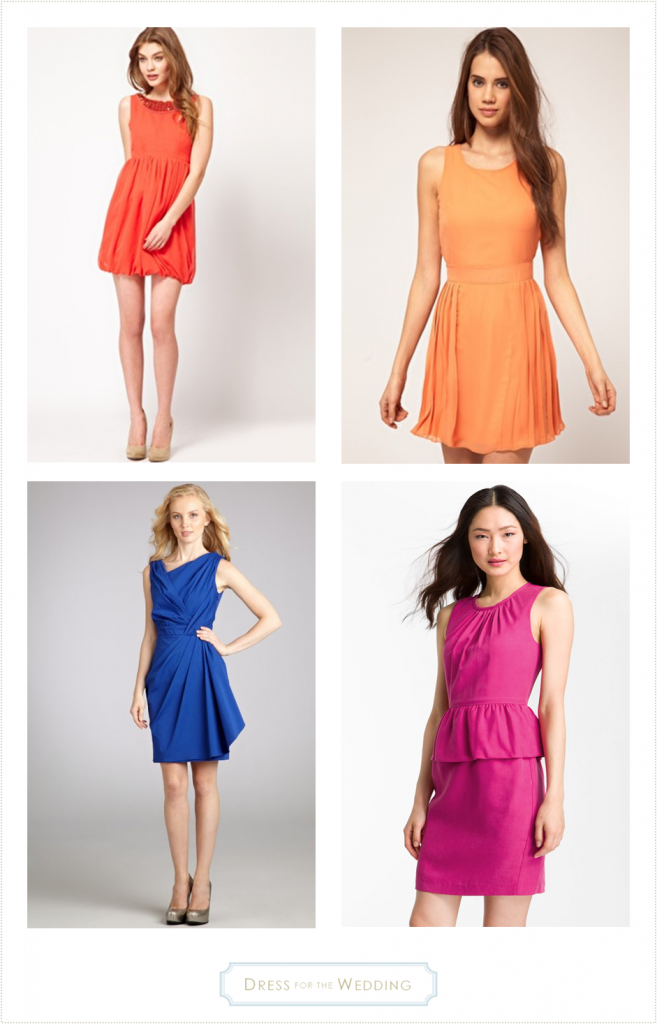 Asos Prophecy Orange Dress
|
Rare Chiffon Orange Skater Dress
Suzi Chin Blue Dress
|
Trina Turk Peplum Dress
Then, because I found a few more that seemed like they could be even more Carly-ish, I tried to put together some looks she might like. I know she likes bubble necklaces, like I do, so she probably already has just the thing to accessorize, but here are some ideas for what to put with some of these styles. If she goes with the strapless, she might want to cover her shoulders for the Catholic ceremony, but the cut and style is certainly classic.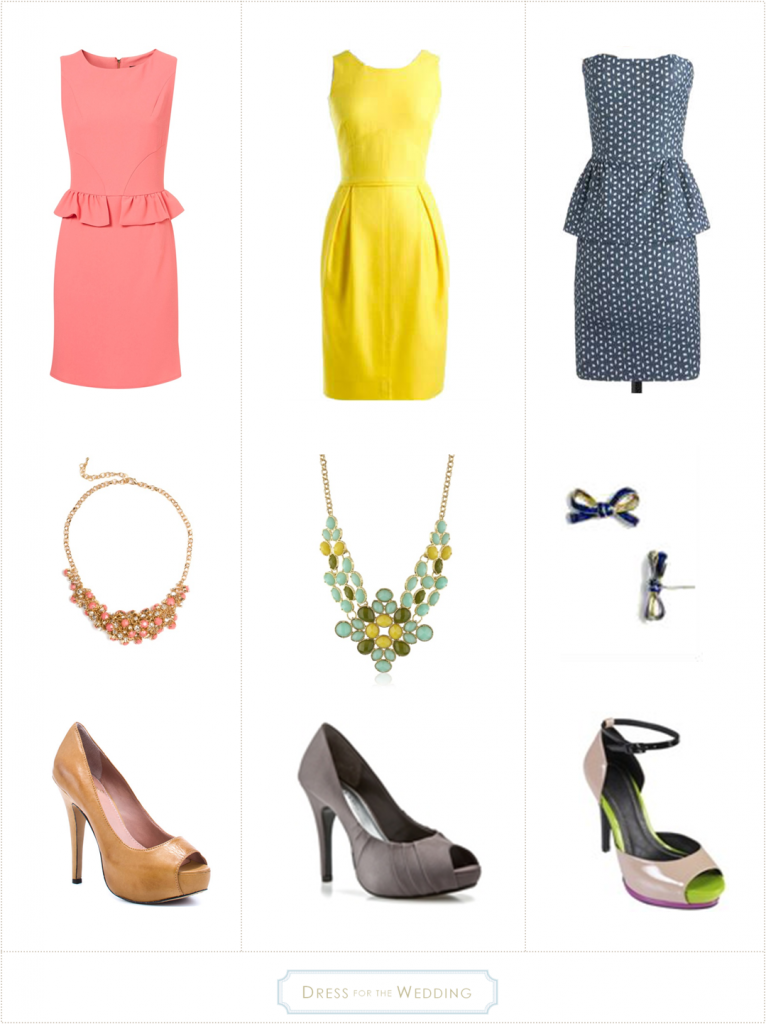 Column 1:
Topshop Pink Peplum Dress
|
Bauble Bar Pink Cluster Bib Necklace
|
Vince Camuto Caramel Heel
Column 2:
J.Crew Basket Weave Shift Dress
|
Leslie Danzis Necklace
|
Katie & Kelly Daffodil Pump
Column 3:
Waterscape Peplum Dres
s |
Kate Spade Bow Earrings
|
Hailey Jeans Co. Multi- Color Heel
And then, just because I had so many picks for her and wanted to share them somehow, here are some other dresses and accessories that seemed like they could fit Carly's style and the event and have a little more of a mid-fall color palette. Perhaps one in this list might be just the thing! While these are picked for Carly, if you see something you like, you can click through on these to find the original source and shop these looks.
Carly, no matter which look you pick, I hope you have a great time at the wedding. And please give my congratulations to the happy couple!