Printed Maxi Dress
Whether you're a bride, bridesmaid, or wedding guest, this printed maxi dress is a wedding perfect pick!
This post uses affiliate links. This site may earn a commission if you make a purchase from our links.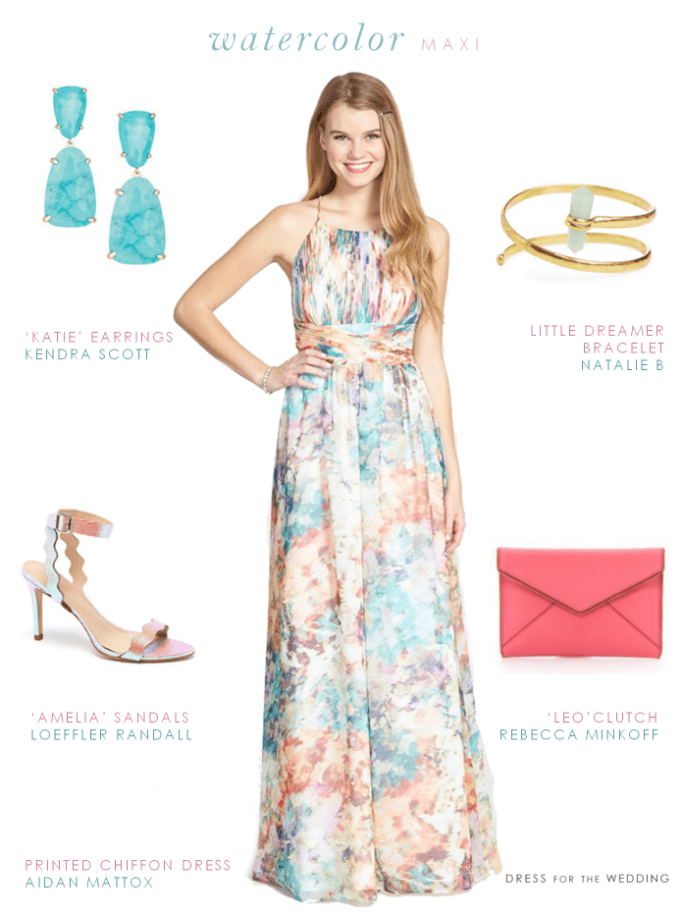 Shopping links in italics are from my affiliated sponsors: The Dress: Printed Chiffon Gown by Aidan Mattox also see more maxi dresses in the shop, and in our beach wedding guest picks| The Earrings: 'Katie' Earrings by Kendra Scott | The Cuff: Natalie B Little Dreamer Cuff in Jade | The Clutch:'Leo' Clutch by Rebecca Minkoff | The Sandals: 'Amelia' Sandals by Loeffler Randall
Print Maxi Dress to Wear to a Wedding
In my line of work, I frequently find a new favorite dress to fall in love with. And this week, this one is it! This is the the dress I'd be buying if I had a wedding (or a whole slew of them!) to attend this season.
If you've read this blog for any length of time, you'll know that a few years ago I was on the fence about some maxi dresses as wedding attire. There were a few seasons where maxi dresses used to be too shapeless and informal - they all seemed to be more of a beach cover-up than a dress, but not so now! This chiffon gown is so versatile, so lovely, and so wedding appropriate that I'm recommending it for nearly everything!
Watercolor Print Maxi Dress for a Wedding Guest
Firstly, I can see it as the perfect choice for a late spring or summer wedding guest - and with this print, and fabric at this length, it can go from daytime dressy to formal afternoon and evening with just a little change of accessories. This gown also has destination wedding or beach formal wedding guest written all over it. It's also a gorgeous 'plays-well-with-others' choice if you're hoping to add a print to a row of mix-and-match bridesmaids - just simply pick up on any one or two of the many colors in this. It would make a fantastic stand-out gown for a maid of honor.
Pastel Print Maxi Dress
And lastly, if you're the bride looking for a dreamy dress to wear to your engagement party or the rehearsal dinner, I think this would be a gorgeous choice that is sure to get compliments, and a nice change-up from wearing white. The only issue I can see with this gown is that since I've now I've said nearly female attending a wedding can wear this, I hope we don't get 3 guests, 4 bridesmaids, and the bride the night before all in this dress at the same wedding. The gown itself is also a perfect wardrobe staple - with all the colors in it, you can pick from any one of them to accessorize with, or make it even more glamorous with metallics or crystal statement pieces. I choose some turquoise and coral pieces for contrast, along with a fabulous pair of iridescent sandals that capture all the facets of this beautiful mix of colors, but this is a dress that is undoubtedly full of choices for accessories! Now if only spring would hurry up and get here!
Links in italics and in the shop section are from affiliates and sponsors, meaning that this blog may earn a small referral commission from the retailer, at no cost to the purchaser, if a qualified sale is made.



See more shopping pages and posts:
Female Wedding Guest Attire Ideas
More style ideas you might enjoy :