It's clear by now that 2020 weddings are turning out much differently than anyone expected. During the ups and downs of this time, there's really only one wedding trend we feel comfortable predicting: face masks for weddings are the "must-have" item for any wedding party or guest.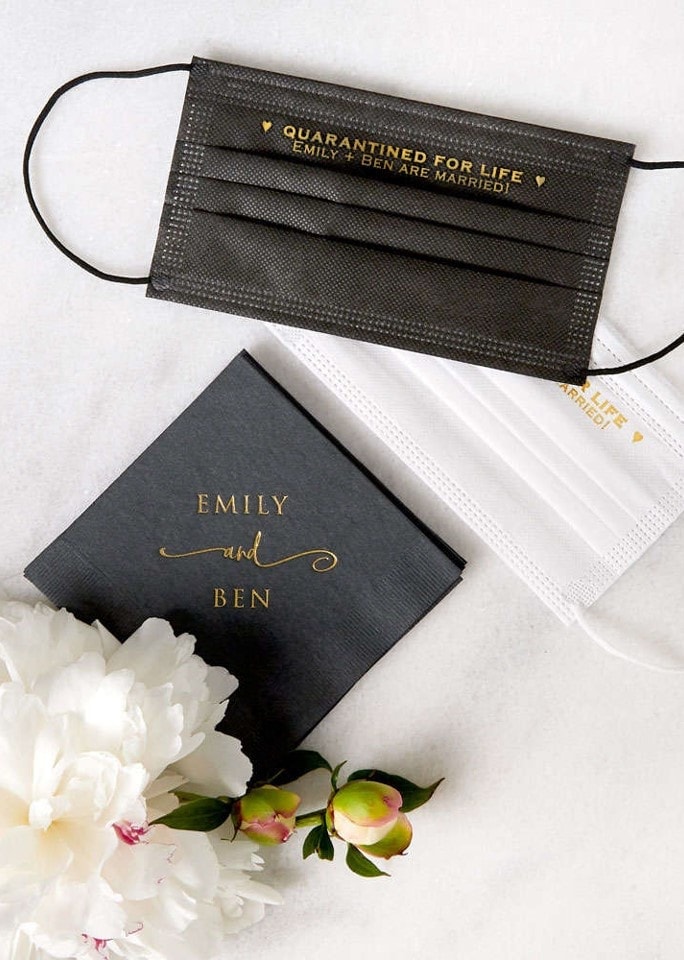 Featured product and image: Disposable and customizable face masks from For Your Party for wedding guests
Wedding Face Masks
It goes without saying that the global Coronavirus pandemic is changing weddings drastically. Understandably, many couples are navigating the processes of postponing or making changes to their wedding plans. Many couples are making arrangements for smaller wedding celebrations, elopements, or wedding dates well into the future. However, if you have decided to move ahead with your wedding in 2020, or are changing your larger wedding plans into a smaller celebration, you most likely will need face masks as a part of your wedding attire to comply with your state's guidelines for gatherings. After all, you want to keep your wedding party, family and friends safe!
While we can't pretend that the masked look brings us joy to see, there are at least some options to make this pandemic must-have a little more appealing to wear. Here are some of the ideas we've seen for face masks for weddings we like, presented in shoppable form.
More Tips for Masks
We love the idea of making these disposable masks the new invitation or save the date (especially practical if your first date was changed!) These also work as mini welcome gifts for all guests or at the tables when paired with sanitizer for favors. Just like you would with other wedding items for guests, you might want to have a basket or table dedicated to these supplies including hand wipes and towels. We hope this guide helps you celebrate safely!
Masks for Brides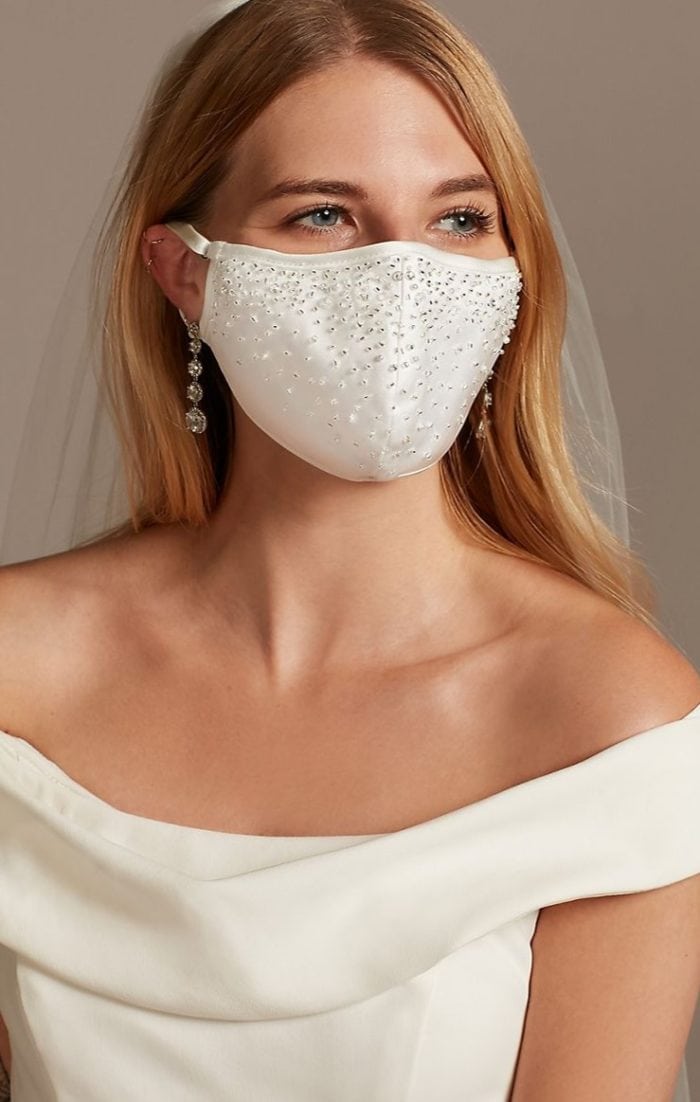 Crystal Face Mask from David's Bridal
David's Bridal has some beautiful bridal face masks in pretty wedding dress -like laces and satin. As always, Etsy also comes through for customized face masks of every sort. Pick a pattern that fits your theme, or have them personalized for your wedding party. There are also ornate formal masks for brides and pretty custom mask for brides and grooms.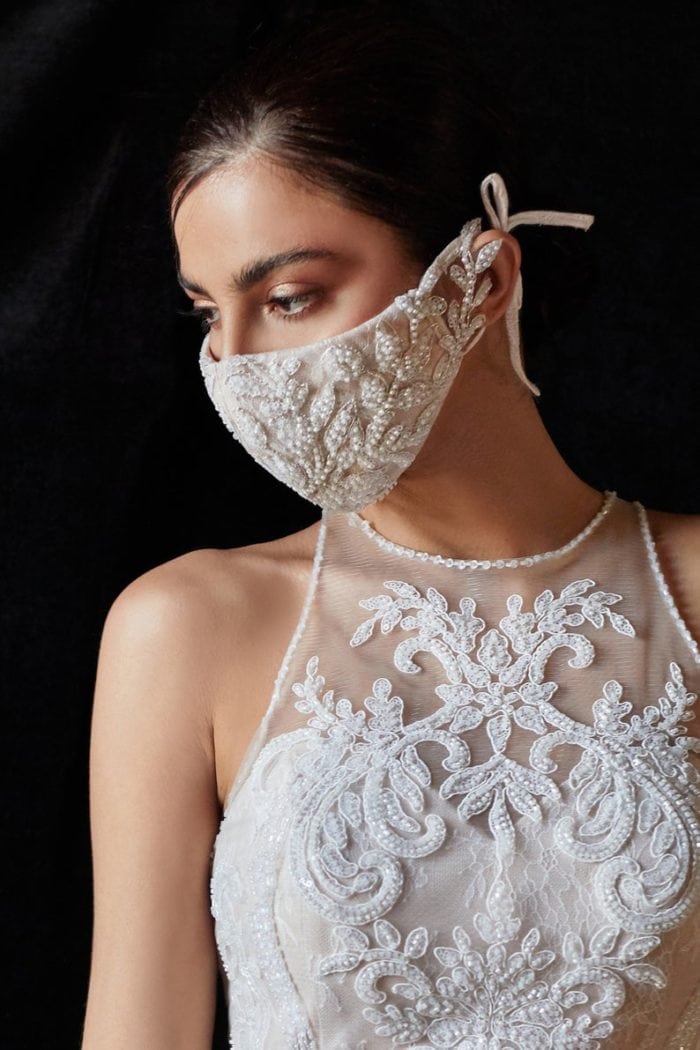 Bridal Beaded Embellished Bernadette Face Covering From Evening Room on Etsy
Masks for Bridesmaids
For the bridesmaids and wedding party, Azazie is offering masks in a variety of colors to coordinate with your wedding colors.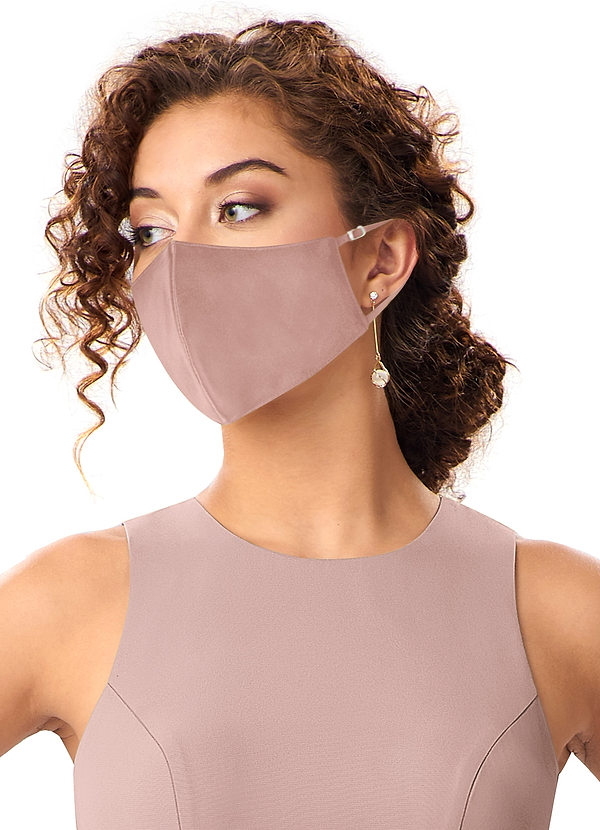 Azazie Non-Medical Matte Satin Reusable Face Mask with Adjustable Loop Face Mask | $5 | Azazie
Shop The Look

If you're planning on a smaller wedding celebration and need a little white dress, or a wedding dress last minute, you might like this post about White Dresses Under $100 for Wedding Events and this post about the top places to buy a wedding dress online.