Wedding Dresses, Bridesmaid Dresses and Guest Dresses on sale at Ann Taylor
Ok, so this isn't my typical post, but sometimes I get really excited when dresses I've featured or admired go on sale, so I like to spread the word. Ann Taylor is in the midst of a semi-annual sale that makes lots of my favorite dresses up to 70% off.  Here's a quick look at some of my favorites for brides, bridesmaids and guests.  (The best part - no coupon code is needed, the discount comes right out at checkout.)
Wedding Dresses
See all Wedding dress sale items here.
 ---
Bridesmaid Dresses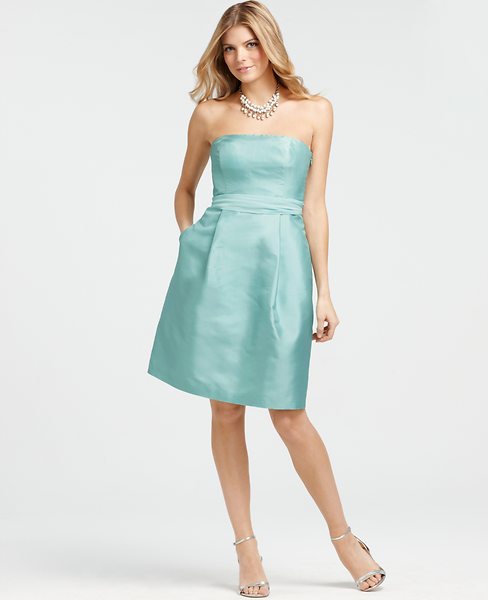 Ann Taylor Silk Duponi Strapless Dress
Silk Duponi V Neck Dress now $89.88
Silk Georgette Bridesmaid Dress now $99.88
Silk Knot Georgette Bridesmaid Dress
See all Bridesmaid sale items here.
---
Dresses for Wedding Guests
Petite All Season Sheath Dress
It's a great deal, especially if these are your wedding colors and you only have a few maids to outfit (some sizing/colors are limited) and it's also a great deal if you still have a month's worth of weddings to attend and need to expand your wardrobe - or - heck - just pick something up for yourself just because! Happy Shopping!