Bow & Drape: Dresses for Bridesmaids, Wedding Guests, and Mothers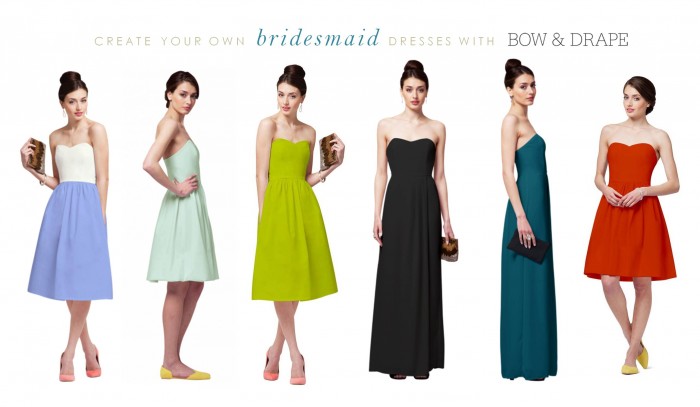 Event Dresses by Bow & Drape: The Grace Teacup below the knee with Color Blocking, The Grace  Teacup in Short Skirt in Ice Frappe, The Grace Teacup in Peapod, The Grace Maxi in Black and Teal, The  Grace Teacup in Poppy.
Customize Your Next Dress
Hi, Everyone! Today, I'm so very excited to introduce you to Bow & Drape, a new online clothier that is changing the process of finding and creating fashion.   Bow & Drape allows you to be the designer by letting you choose a silhouette, fabric, sleeve, and hem details to create the perfect dress.
I learned about Bow & Drape because they are headquartered in my home city of Boston, and I saw them profiled by local media there and wanted to do a feature myself. As it turns out, they are a perfect fit for Dress For The Wedding, because their dresses are ideal for wedding guests and now I'm so excited to announce that they have a new line of event dresses in styles and colors that are perfect for bridesmaids. They even have some of my favorite elements for bridesmaid dresses: 1. Cotton as a fabric choice ( in addition to crepe de chine) 2. Pockets! 3.The clutches to match!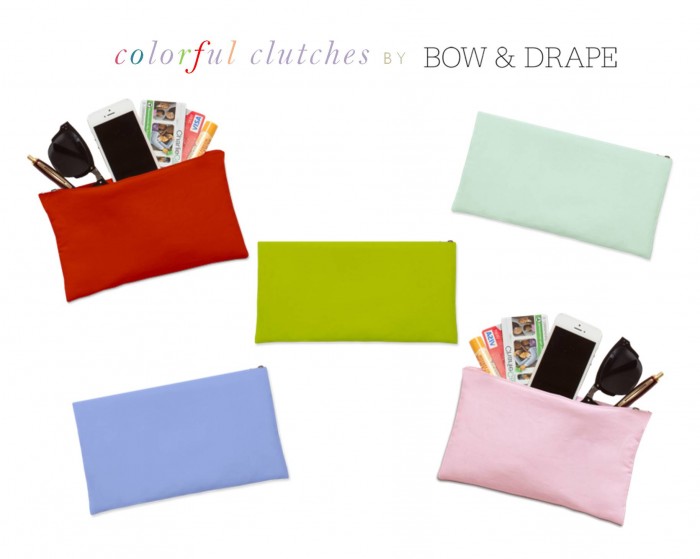 The Petite Clutch by Bow & Drape
There is so much to admire about this innovative company.  For starters: the technology is unlike anything I've ever seen in retail, the manufacturing is done in the US, in New York City, and they are also a woman-owned business, started by CEO Aubrie Pagano.
The process of creating a dress is simple, and, dare I say it? -- more fun than traditional shopping. Through Bow & Drape's  interface, you choose the silhouette, color, neckline, hemline and fit.  The site makes it so easy to change options and immediately see the results; it's so much better than having a seamstress lop off 2 inches, only to find the style  still isn't quite right. One can also add of-the-moment embellishments, too, like: color blocking, peplums, and floral prints.
For those of you who don't necessarily aspire to become fashion designer, you can browse through the creations of others; perhaps your perfect dress has already been made!   To take even more of the guesswork out of the process they offer a "Home Try On", which includes color swatches and muslin mock dresses in 3 sizes, so that you can try on a template of your dress before it is made.  All of this one-of-a-kind dressmaking service is offered for a price that is what one would expect to pay for an off-the-rack dress. Bow & Drape also generously offers free shipping and 60 day returns.
The silhouettes are all classic and evoke the women who have inspired fashion for years both in name and in style. My favorites are The Sabrina,  The Grace, (for Grace Kelly), The Jackie ( Jackie O, of course)  and The Michelle, for our first lady. Each design has skirt options as well as modifications to hemline, sleeves, color, and embellishment.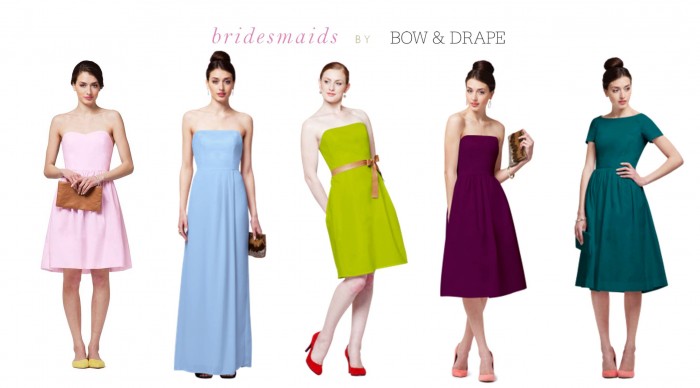 Bridesmaid Dresses from Bow & Drape: The Grace Teacup, The Sabrina Maxi, The Sabrina Bell,  The Sabrina Teacup,  The Jackie.
As one might imagine, this idea of design-your-own style is perfect for everyone this site usually speaks to:  a wedding guest in a panic about what to wear can concoct the perfect dress to wear through a season of wedding invitations.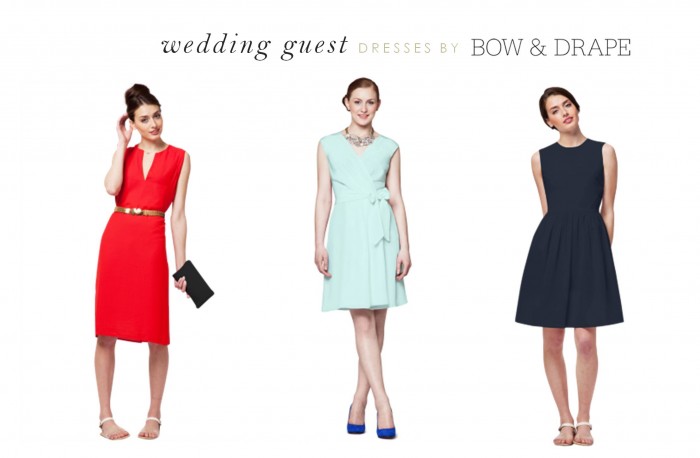 Bow & Drape Dresses for Guests or Bridesmaids: The Kate, The Diane, The Michelle
Bridesmaids can be given color and silhouette options, and then be free to create the dress that best suits them. Mothers-of-the-bride or groom will appreciate the ability to create something that shares the basic silhouette of the bridesmaids' dresses, but in a different color, neckline, hem, or sleeve to make the mother's dress stand apart. ( I particularly like The Diane Maxi, styled with sleeves for moms!)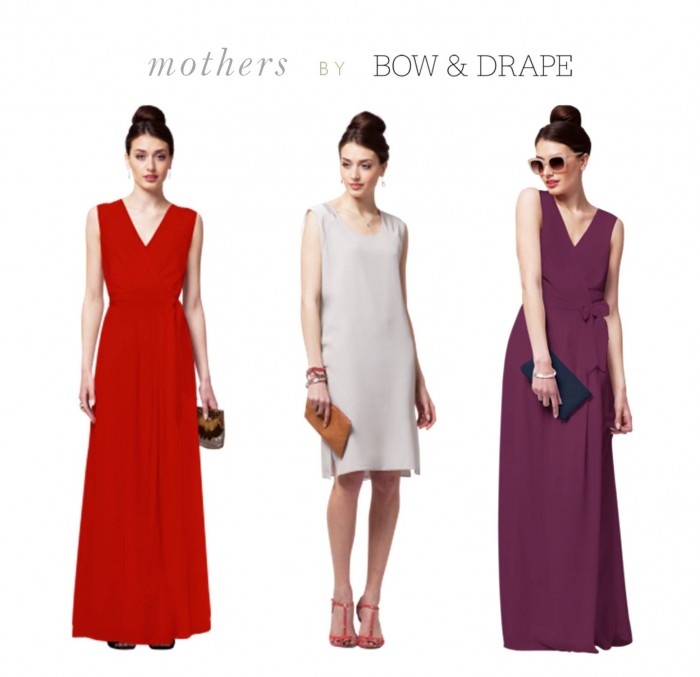 The Diane Maxi / The Kate /   The Diane Maxi in Magenta
Pretty amazing, right? I urge all Dress For The Wedding readers to leave behind any dread of dressing rooms, and set aside the worry of what your bridesmaids will wear and start your designing your own new wardrobe, for weddings, nights out, and wear-it-to work pieces with your new virtual seamstresses at  Bow & Drape.
More style ideas you might enjoy :