Wedding Guest Outfits for Spring
Wedding season is really underway, and I'm starting to work on more wedding guest outfit collages that will have you heading to spring and summer weddings with head-to-toe wedding-appropriate style. However, I've already shown a few wedding guest looks this season and have some from last season that I still love, so I thought it would be fun to share some of those styles all in one place!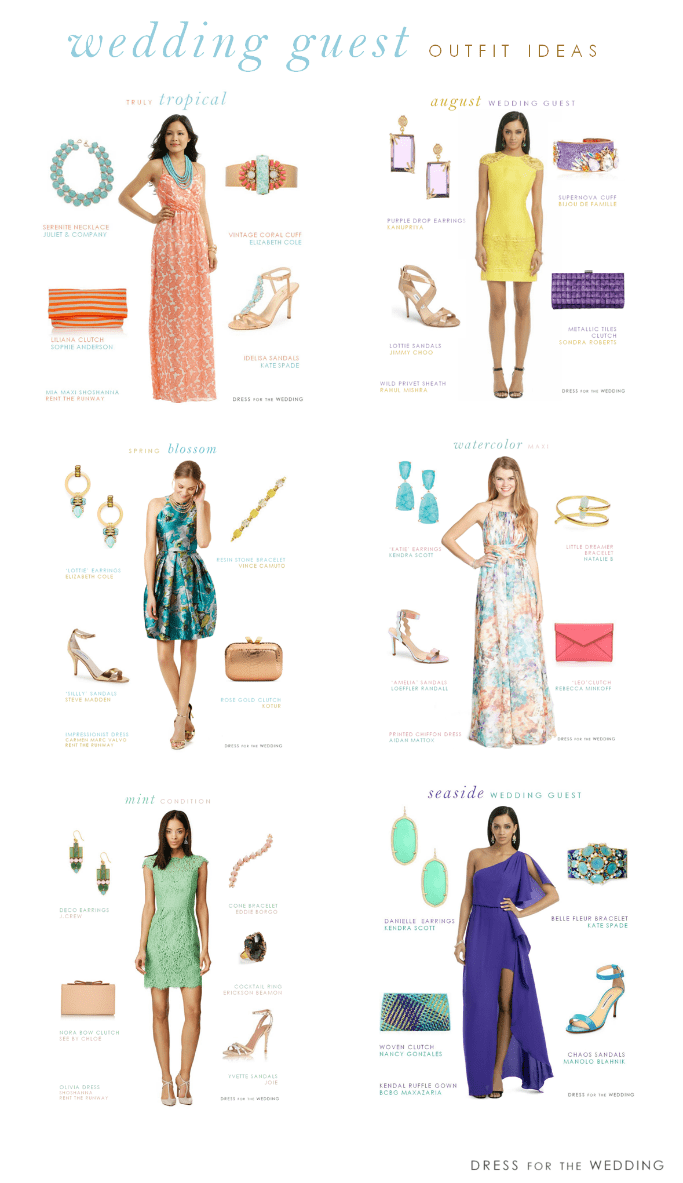 See the outfit details: 1. Coral Printed Maxi Dress 2. Lace Sheath Dress for an August Wedding 3. Floral Party Dress for and Early Spring Wedding 4. Watercolor Floral Maxi Dress 5. Mint Green Lace Dress 6. Blue Dress for a Seaside Destination Wedding.
See more the details on these outfits below! Or, since these outfit ideas are a few years old, try out these wedding guest dress ideas for the current season!
Shop Outfits for Wedding Guests

Mint and Blush Wedding Guest Outfit
Mint green dress combined with blush accessories is a pastel take on the pink and green color combination which has always been a pretty mix of colors that is well-suited for spring. This spring wedding guest outfit post is only from a few weeks ago, and remains one of my favorite looks for daytime or afternoon spring and summer weddings! See all the details in the original post: Mint Lace Dress for Weddings

Sources and shopping links in italics in credits are from our affiliated sponsors. Dress: Olivia Dress | Earrings: Deco Stone Earrings | Bracelet: Eddie Borgo Bracelet | Cocktail Ring: Queen Bee Ring | Sandals: Yvette Sandals from Joie | Clutch: Nora Bow Clutch.
Yellow Dress for a Wedding Guest Outfit
This look was originally created back last August, but this yellow dress ( Wild Privet Sheath Dress Rent the Runway) is still available to rent, and I think yellow is a fantastic color for spring! The contrast with purple is a great color combination for early spring all the way into late summer! See more about where to wear this Yellow Cocktail Dress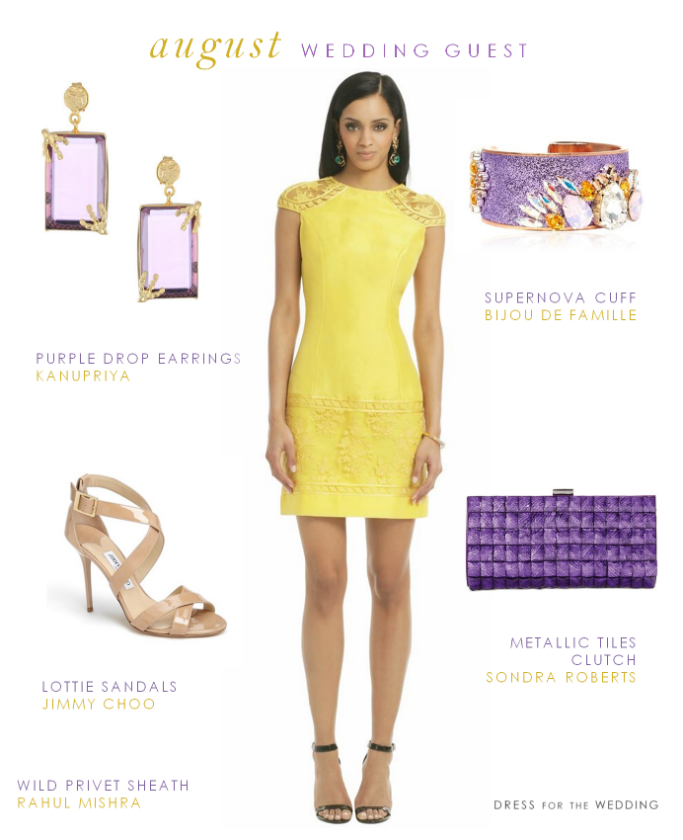 Shopping links in italics are from sponsors: Dress: Wild Privet Sheath Dress Rent the Runway // Earrings: Purple Drop Earrings // Bracelet: Supernova Cuff // Clutch: Metallic Clutch //Shoes: "Lottie" Sandals
Long Floral Dress for a Wedding Guest Outfit
If you're heading to a destination wedding or a garden wedding, I say a floral printed maxi dress like this one is the perfect choice. I *think* this dress is still available but in very limited sizing, so you may also want to take a peek at the maxi dresses for weddings shop page for more ideas! The dress: Midori Maxi Dress See more details for this Floral Maxi Dress for Spring.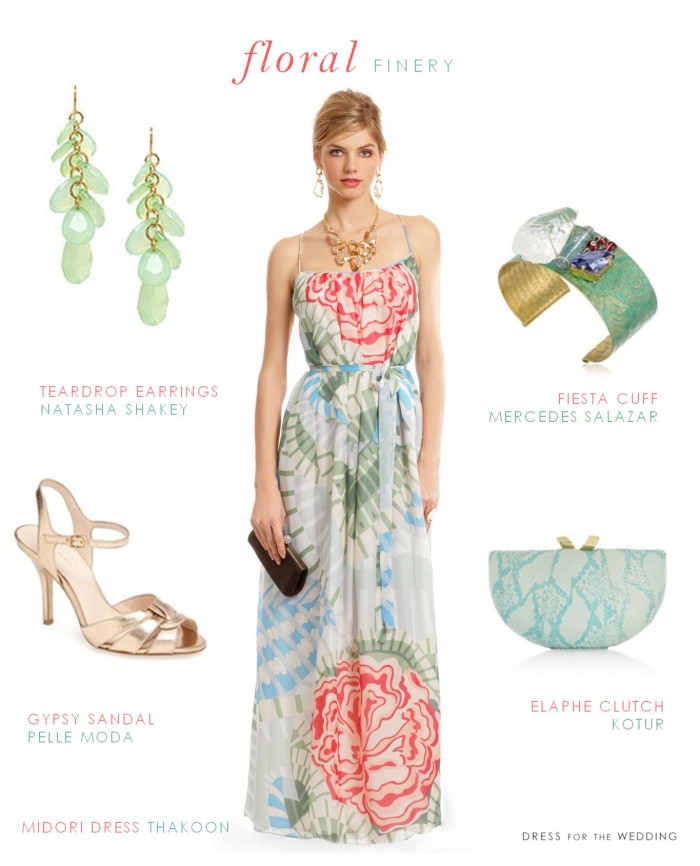 Shopping links from sponsors: Dress: Midori Maxi Dress | Earrings: Teardrop Earrings | Cuff: Fiesta Cuff | Clutch; Kotur Clutch | Sandals: Pelle Moda Sandals
Pink Wedding Guest Outfit
A little pink lace dress like this one (Pink Lace Dress) is a great way to get a supremely spring-like look going! I loved how this color looked with a blue-violet color, but any shade you like will work for accessorizing. See more details on this Pink and blue wedding guest outfit.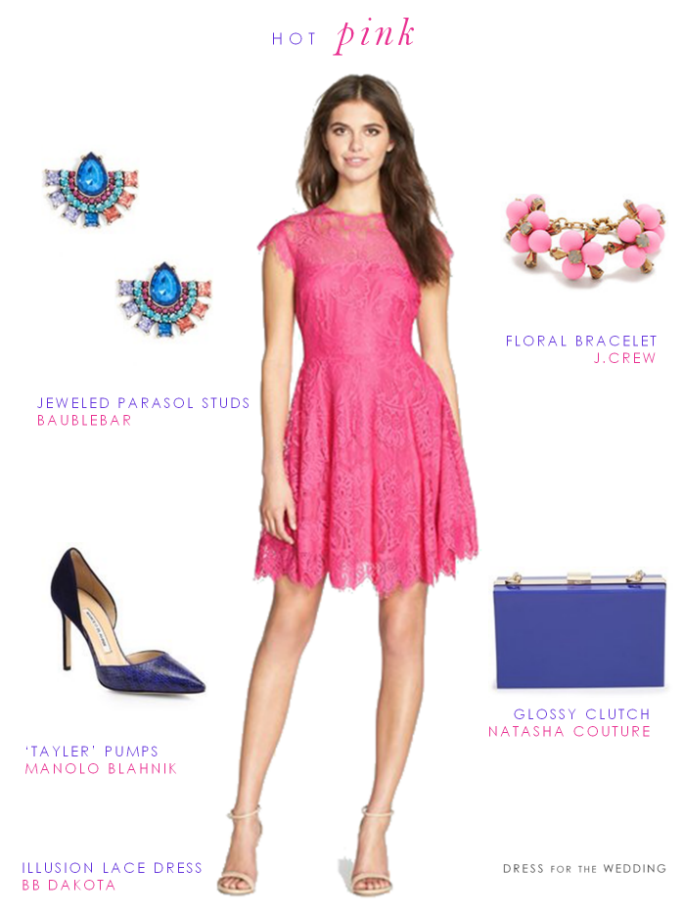 Dress: Pink Lace Dress from Nordstrom | Earrings: Jewel Parasol Studs | Bracelet: J.Crew Floral Bracelet | Clutch: Natasha Couture Clutch | Shoes: Manolo Blahnik Pumps
Printed Dress for a Wedding Guest
This pretty printed gown works for spring garden weddings, beachside weddings or any event where a long flowy gown with pretty pastel colors would be a great look. I especially love that this dress has so many colors to pick up on and play off of. It could even work as a bridesmaid dress! Get this Printed Chiffon Gown, or see the full post: Pastel Printed Maxi Dress for Weddings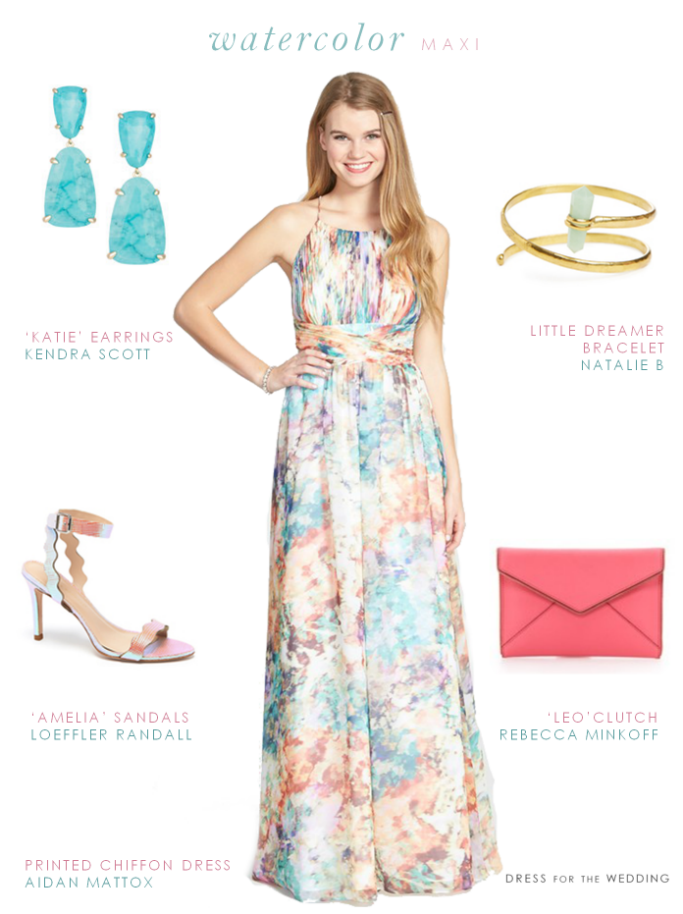 Links in italics are from sponsors: The Dress: Printed Chiffon Gown | The Earrings: 'Katie' Earrings Kendra Scott | The Cuff: Little Dreamer Cuff in Jade | The Clutch:'Leo' Clutch | The Sandals: 'Amelia' Sandals by Loeffler Randall See the full post: Pastel Printed Maxi Dress for Weddings
Printed Cocktail Dress with Pockets
By now you can see that I love a printed dress! The green, gold, and blue colors in this dress appeal to me so much for an early spring wedding. I love that this cocktail dress has sophisticated structure and pockets!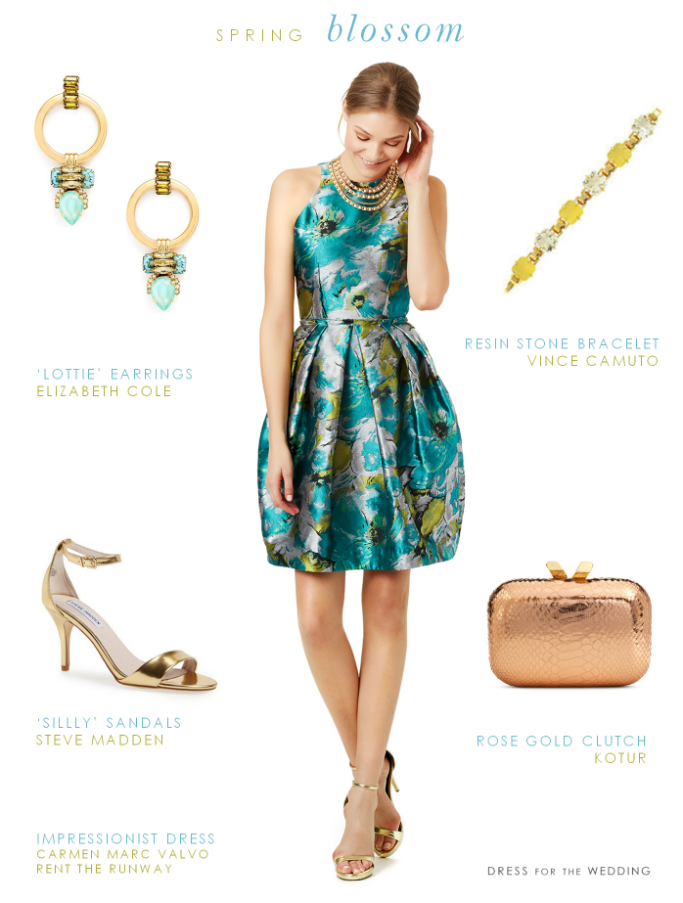 Shopping links from sponsors: Dress: 'Impressionist' Dress at Rent the Runway | Earrings: Lottie Earrings by Elizabeth Cole | Necklace ( shown on model) Harley Necklace | Bracelet: Resin Bracelet at Lord & Taylor | Clutch: Kotur Rose Gold Clutch | Shoes: Ankle Strap Sandals More details from this post: Blue and Green Floral Printed Dress
Pretty Dresses for Spring Weddings
This posts was all about my picks for pretty dresses for spring weddings. I love this range of pastel colors, and this season may be the best one yet for having a really wide selection of all sorts of beautiful looks! Check out this post ( Dresses for Spring Wedding Guests) for more details on these dresses plus many more dress picks!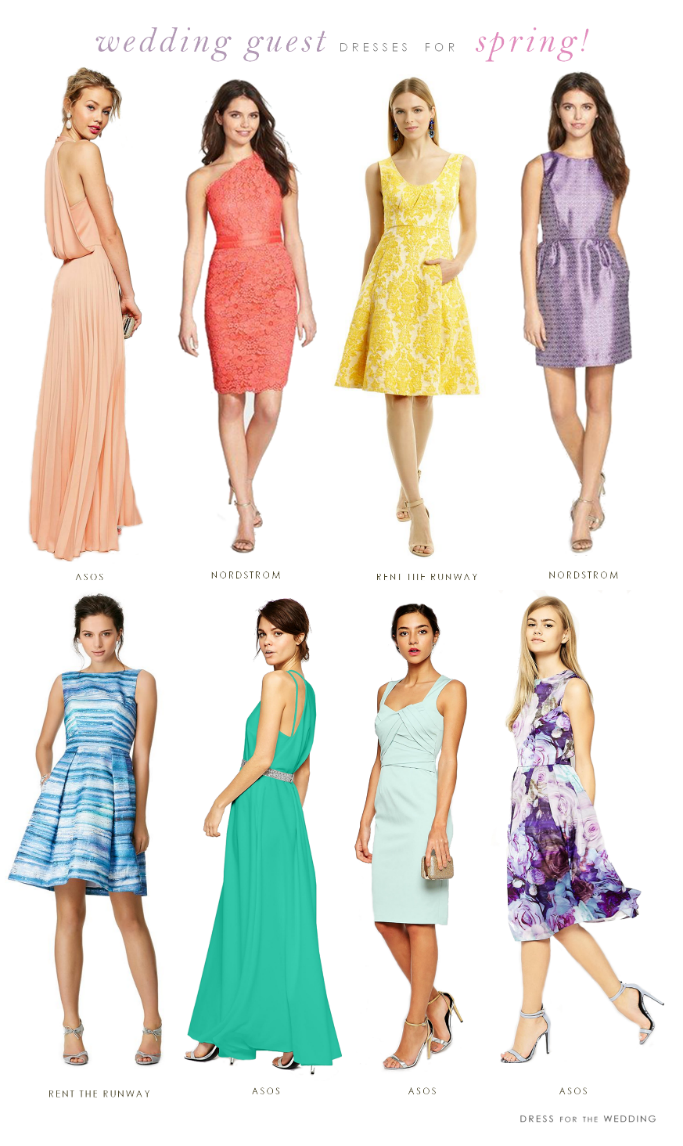 Source links from affiliated sponsors. Top row: 1. Asos Maxi Dress 2. Coral Lace One-Shoulder Dress 3. Honey Jacquard Dress 4. Winnie Bow Back Metallic Dress 5. Blue Gradient Dress Rent the Runway 6. Drape Back Maxi Dress 7. Coast Brice Dress 8. Floral Dress All from the post Pretty Dresses for Spring Wedding Guests
Formal Length Strapless Gown
This pretty periwinkle gown can go from formal black tie events with a bit of spring and summer spirit from its lovely color. While a long gown is still always the way to go for a black tie invitation, I think a long gown pretty pastel color is a nice choice for spring and summer events, rather than sticking to formal-favorite winter tones of black, navy, and deep jewel tones. This gown could be dressed down a smidge and worn to beachy formal events as well! The best part is that you can see how others wore it on the Rent the Runway site! It also comes in a mint and gold version, and this similar gown in coral and gold.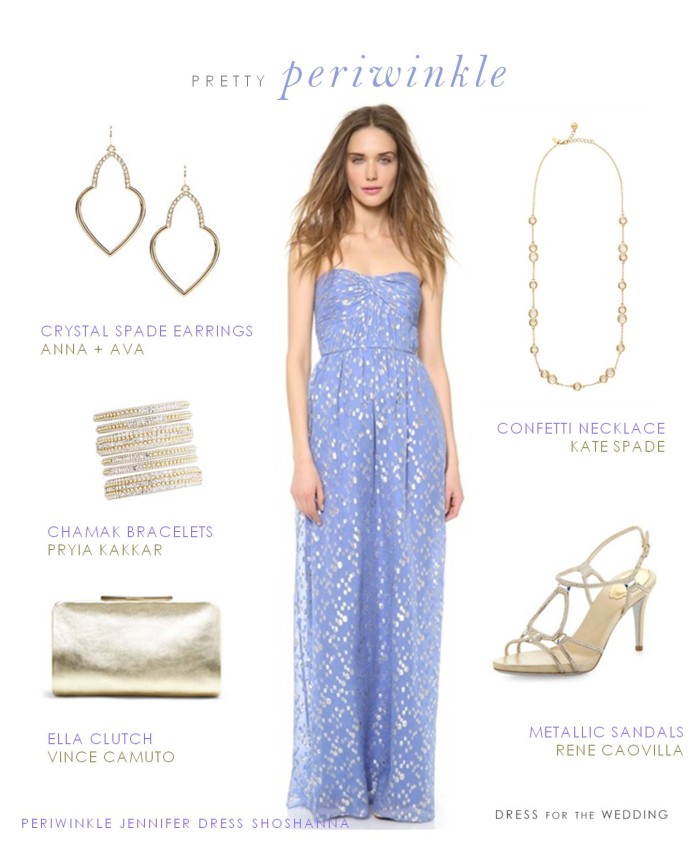 Links from affiliated sponsors: Dress: Jennifer Dress | Earrings: Crystal Spade Earrings | Necklace: Crystal Confetti Necklace | Sandals: Metallic and Crystal Sandals | Clutch: Ella Clutch by Vince Camuto | Bracelets: Pearly Crystal Bangles See the full post: Periwinkle Blue Formal Gown
Beach Formal Wedding Guest Outfit Idea
While this gown can go to nearly any semi-formal or formal wedding, I thought the color combination here was perfect for a coastal or beach wedding. This violet cobalt blue gown is a dazzling color, and I love the split one shoulder sleeve and skirt. See more details here: Idea for What to Wear to a Beachside Wedding.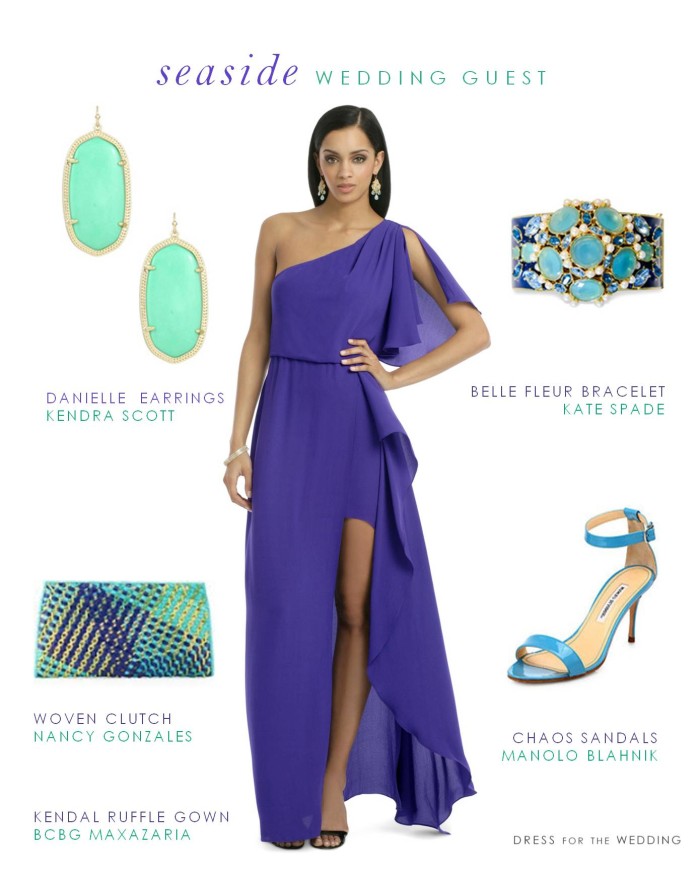 Sources from sponsors: Dress: BCBG Maxazaria Kendal Ruffle Gown | Earrings: Kendra Scott Danielle Earrings | Bangle: "belle fleur" bangle to rent or buy | Heels: Manolo Blahnik Sandals |Clutch: Woven Clutch
Outfit Idea for a Beach Wedding Guest
Here was another look I created last year with a beach wedding in mind. This coral style doesn't have to be limited to the beach, but it will certainly look good there!You can rent the dress here Mia Maxi at Rent the Runway, and see more of the post: Coral Maxi Dress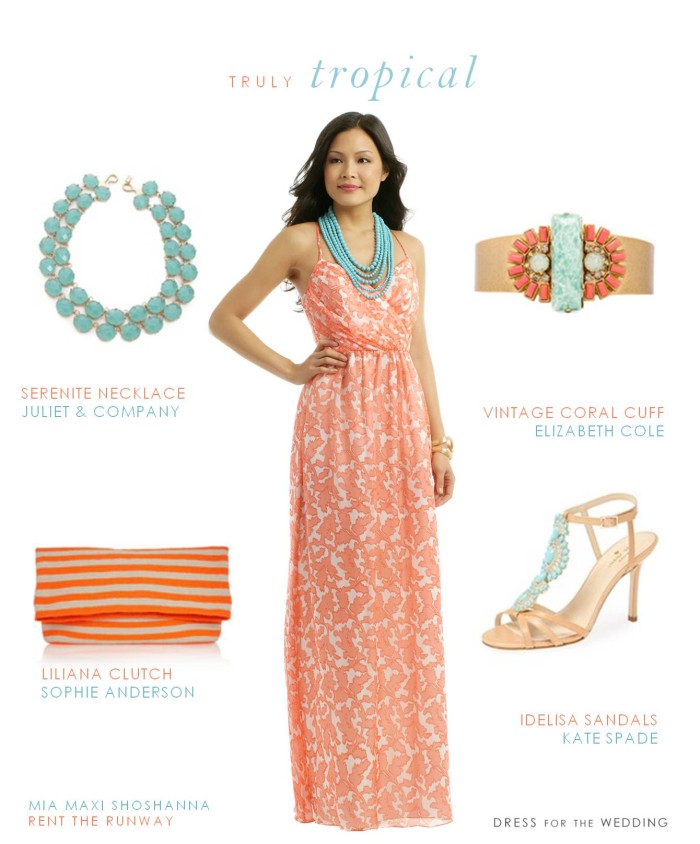 Shopping links from sponsors: Dress: Mia Maxi By Shoshanna | Necklace: Serenite Necklace Juliet & Company | Bracelet: Elizabeth Cole Cuff | Sandals: Kate Spade 'idelisa' Sandal | Clutch: Liliana Woven Clutch
Classic Cocktail Dress for a Spring Wedding Guest Outfit
This Tadashi Shoji Lace Sheath in Deep Amethyst has remained a favorite for several seasons; it's definitely a dress you won't mind having in your wardrobe ( it also comes in several other colors!). This little lace dress in a pretty color is the classic wedding guest outfit for me - it can do no wrong! See more details about this purple lace cocktail dress.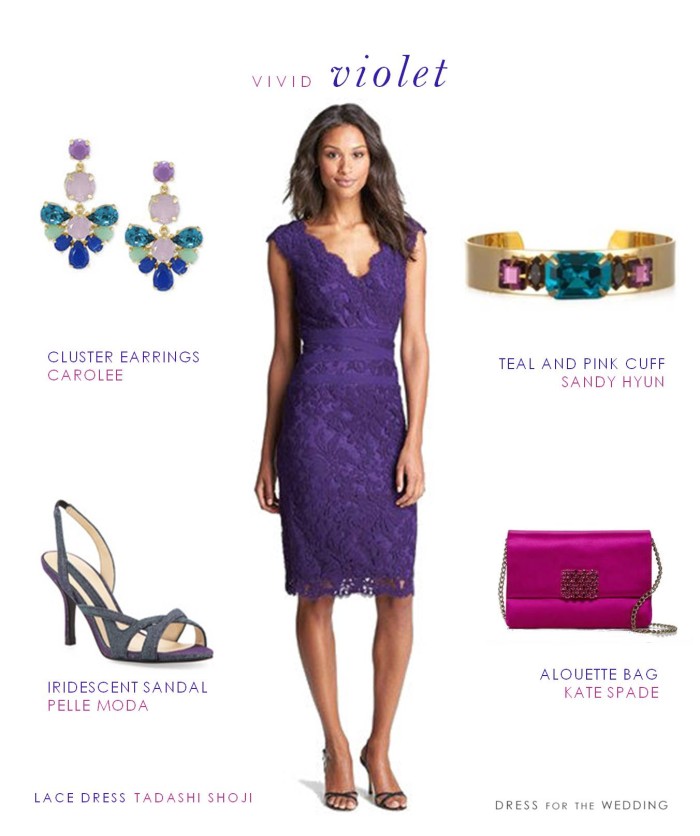 Shopping links from are from sponsors: Dress: Embroidered Lace Sheath in Amethyst | Earrings: Carolee Cluster Earrings | Bracelet: Teal and Pink Cuff Sandy Hyun| Clutch: grand parade alouette bag by kate spade new york | Sandals: Pelle Moda Iridescent Sandals in Azure
With any luck, you now have a few ideas for what to wear to your next wedding, and I'll be bringing you even more throughout the season! Also check the wedding guest dress shop for hundreds of my wedding guest dress picks, or see more wedding guest outfit ideas!