Dress to be WEDnesday: Emerald Green Weddings and Spring Trends
Hello, everyone! We're back from a long break over the holidays to return with some bold color inspiration in the form of emerald green. We're not sure if it's just because the wedding industry really takes notice when Pantone announces the Color of the Year, but this year, when it was revealed that emerald green was the selected color, it seemed like it was really big news everywhere we looked. Now we can't peek at a website or Pinterest without seeing someone dressing in, or decorating with emerald green!
While we agree it's a great color, KristynJennifer Events – LiveEventfully and I decided to break things up  a little and show you different ways to incorporate this great green  hue with a few other trends that are happening right now.
If you can't get enough emerald green, and want some more green wedding inspiration, we've pinned plenty of it here. If you enjoy these  pins, be sure to follow KristynJennifer Events  – LiveEventfully! and Dress For  The Wedding , and see the three looks: Emerald and Pink, Emerald and Purple, and Emerald and Lime Green.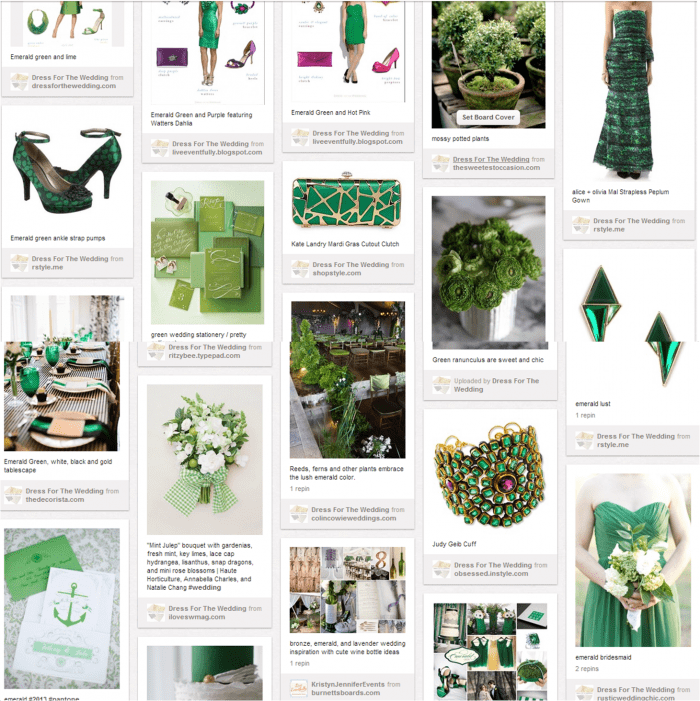 First up is Emerald and Hot Pink. Read more here.
More style ideas you might enjoy :