Cowl Neck Bridesmaid Dress
I have an update to this post! See below for details...
I thought I'd give you a little a little break from all the darker wintry styles I've been showing, and bring in a little tropical influence with this cowl neck coral bridesmaid dress from Anna Elyse. But that's not where the story ends -- this dress as many neat features that I can't wait to tell you about -- but first, here's how I'd style it: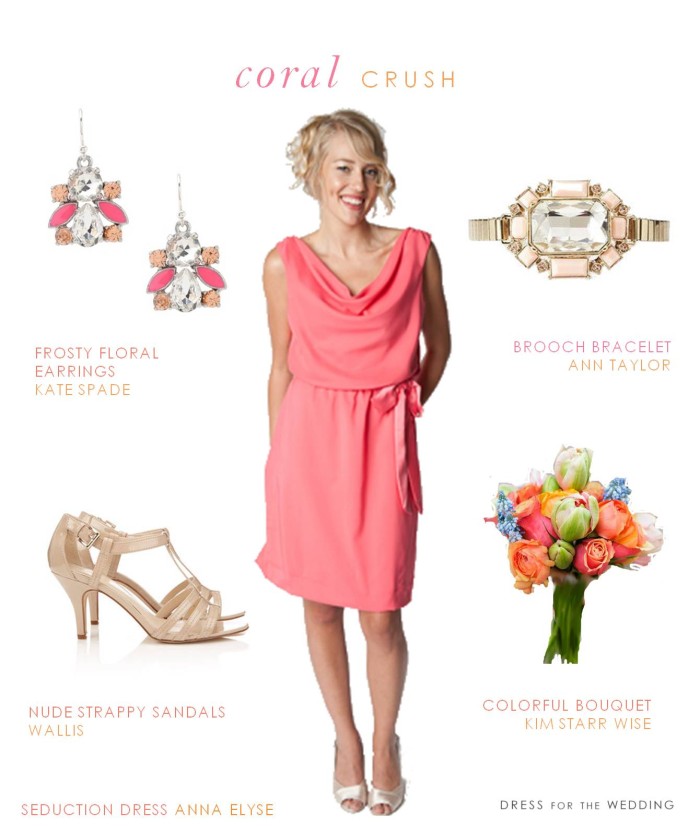 Seduction dress by Anna Elyse in Coral  Image by Lizzi Photography/ Frosty Floral Earrings by Kate Spade / Brooch Watchband Bracelet by Ann Taylor /Bright Bouquet image via Style Me Pretty Photographed by Greer G Photography Floral Design by Kim Starr Wise / Nude Strappy Sandals by Wallis /
Ok, I might start sounding like my former retail salesperson-self about the "features" of this dress, but this isn't a sponsored endorsement, it's my genuine excitement for this new approach to dressing your bridesmaids. After all, you know how I love it when practical and pretty come together!
Let's start with alterations -- this dress is from the Unzipped collection, which is designed so that there is barely a need for alterations.  Have I told the story of how I specifically purchased a tea-length bridesmaid dress for a friend's wedding, only to have a seamstress with a mind of her own decide to lop off 8 totally un-discussed inches because she thought it was more flattering? Oooh.  Fun times.  The point is, alterations are no fun, they take time, and they cost a bundle too. Anna Elyse has designed this dress in a style that flatters and fits many figures, without the hassle of  meticulous fittings. I can see this being a great maternity option for a bridesmaid who might be expecting, but doesn't quite know what size she'll be at the time of the wedding, or a bridesmaid who might be a very new mom and wants something with some give. ( I had both of those scenarios in my own wedding party.)
The other amazing thing about this style is that it is reversible! It's made of a dual-sided silky charmeuse: on one side it's a "sponged satin" fabric, and on the other it's a matte crepe fabric -- so you automatically get two dresses in one. I'm sure you see why that's so great; it makes for 2 dresses in this wear-it-again style, and if you want a slight mix-and-match look in your wedding party, you could have your bridesmaids alternate by wearing different sides of the dress.
The third thing I love is the range of colors and that these dresses are on sale (25% off).  I just love this easy and drapey style; it's a dressed up look but has a modern ease to it too.
I hope I've brightened your day with this color, and opened your eyes to the possibilities of this innovative bridesmaid style. For more information on Unzipped and the other bridesmaid options Anna Elyse offers, visit www.annaelyse.com
Update:
After this post I had the chance to learn more about this fantastic dress directly from the wonderful people at Anna Elyse. Not only does it reverse to a different fabric texture  in the same color, but also can be made to reverse to a different color like in this image below. There are many color combinations available, although, some pairings with a strong dark and light contrast between the two colors may not be possible. Reversible colors aren't yet available for ordering online, but can be customized and ordered by contacting Anna Elyse directly at annaelyse.com/stores .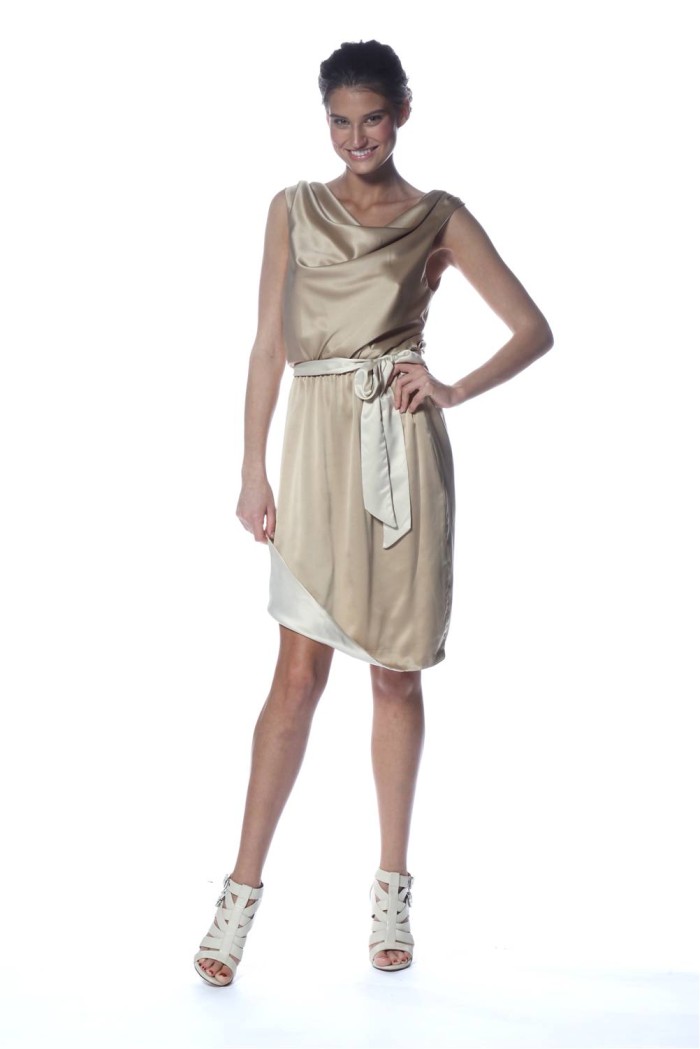 Seduction dress by Anna Elyse with reversible fabric, Photo by Robert Mitra